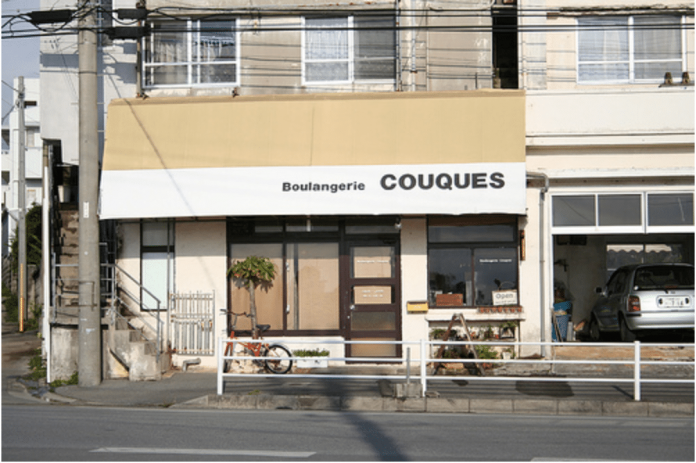 CONTRIBUTED BY KEELYERACE

What is it about scarcity that makes you want something all the more? I don't know, but that's the feeling that comes over me whenever thinking about the crusty, fresh-baked baguettes from BOULANGERIE COUQUES on Route 6 in Yomitan. On occasion I find myself fantasizing about their bread all day long…ummm…maybe using it for bruschetta or simply tearing off the end of a loaf and cramming it down my face while still in the car. Boulangerie Couques is a one woman affair and as such, the hours, and quantity and variety of goods are limited. The quality, however, compensates for all that, and if you manage to get your hands on one of the excellent baguettes, count yourself among the fortunate few. By 4pm or so, they are usually all gone. You'll just have to console yourself with one of the flaky ham and cheese croissants or sweet, nut-sprinkled danishes. If you read Japanese, you can consult a chalkboard in the storefront and plan your bread buying around that. It lists the time that each batch of goodies is set to come out of the oven. At least I think it does, but since I can't read Japanese I'm not 100% sure.
The hours of Boulangerie Couques are 11 am to 6pm Tuesday through Saturday. It's located on Route 6 in Yomitan, about 2.5 km down from Torii Station's main gate (going towards Cape Zanpa). It's on the right hand side of the road, just at the 1st traffic light after Lawson' – directly across from a supermarket with two red birds on the sign. (Right after that light there's a split in the road with a sign for Alivia Hotel right in the middle of it. If you've passed that, you've gone too far. If you pass the little police station, you've gone too far too.) Phone # 098-958-0172
I hope some of you go there! If you do, let me know what you think.