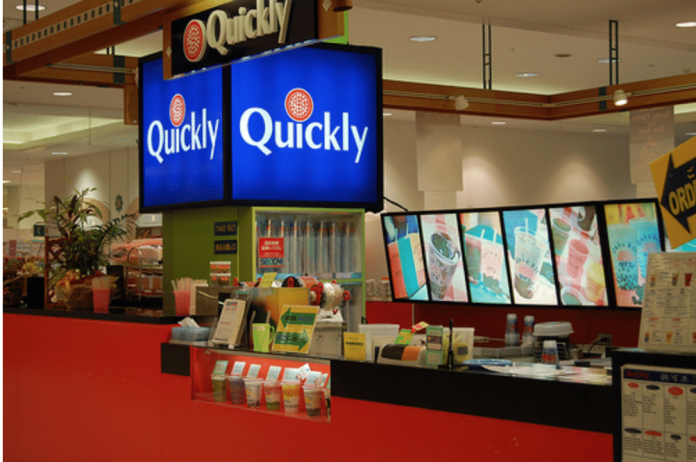 Quickly, originally uploaded by juliamagnolia.
CONTRIBUTED BY JULIA
It can be hard on the wallet but on a typical day I have to get my caffeine fix.  Usually it's in the form of a grande iced cafe mocha that I conveniently snag from the window of a drive-thru.
If Quickly had a drive-thru though I'm sure that it would be a toss-up.  The first time I had a bubble tea I wasn't that impressed.  It was a pearl milk tea that I have now grown to love but at the time I didn't understand what the big deal was.  Well, I went back to the store the next day to try a lychee bubble tea and after that it was all over.  I was back every day for the next month or two.
It's a little strange to drink a beverage and have these chewy tapioca balls come up the straw with your drink but I've grown accustomed to it and even crave it sometimes.  I'm glad that I don't have to go without bubble teas until I return back to the States.  Luckily there's a Quickly nearby with a great selection including a yogurt mango drink and green tea shake. For a closer look at their display of drinks check here and here.  My favorite is the Passionfruit Black Tea.  I haven't gotten around to trying much else as I tend to latch on to what I like and stick with it.  Lucky for my hubby too!
If you haven't tried one yet and are intrigued there is a Quickly located on the 1st floor of the American Village Jusco.  There is also another one in Naha near the Toys R Us and Pasta Marino's.  Sorry I don't have specific directions for that one…I just remember spotting it the last time I was down there.