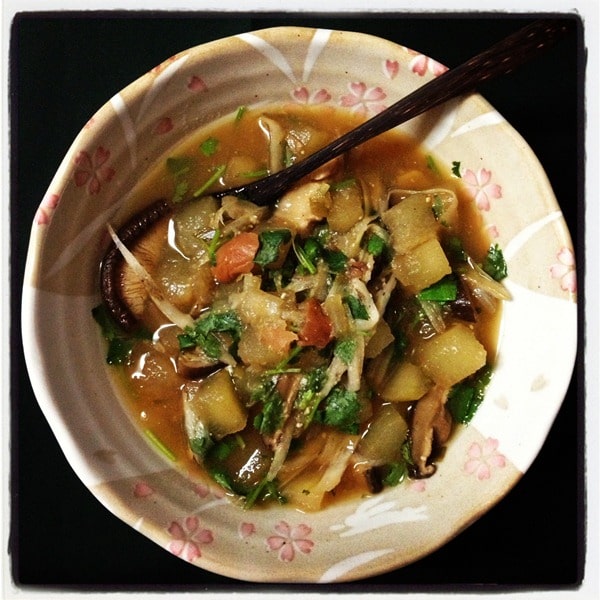 CONTRIBUTED BY KELLY GILLOTTI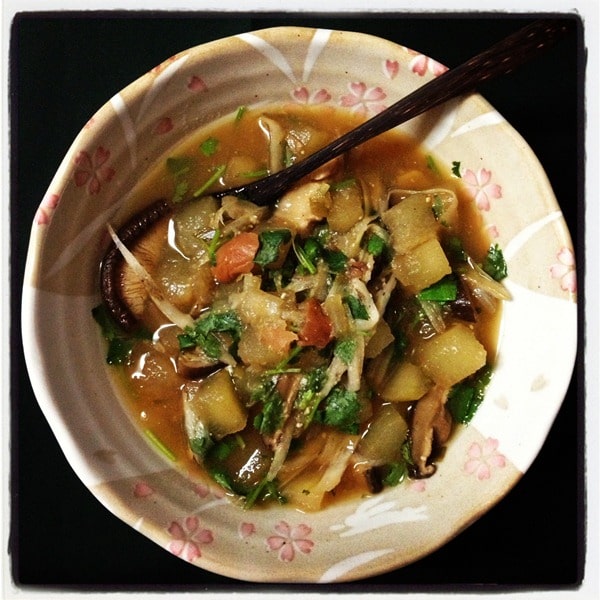 Winter melon, Ash gourd, Wax gourd, or White gourd … so many names for this guy! So, is it really a gourd or a melon? When ripe, it's used as a vegetable, but the unripe "fruit" is very sweet, and is used as a fruit. Interesting? I think so too! At least the Japanese could decide on one name. It's called a Tougan (冬瓜).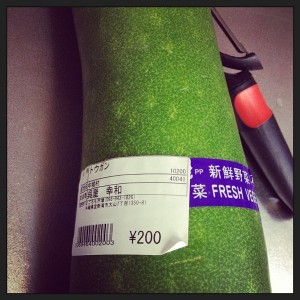 The kanji in this word is for winter 冬and melon瓜. Why did this winter melon show up at the farmers market last month and not in December? It actually ripens during the summer, but because of the waxy exterior, it lasts long through the winter.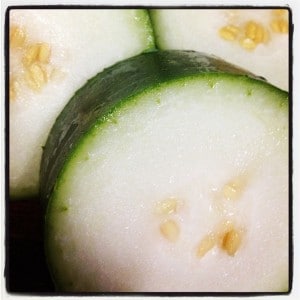 The recipe:
1 small tougan (とうがん)
1 burdock stalk or gobo (ゴボウ)
9 fresh or dried shiitake mushrooms (しいたけ)
½ inch piece of ginger or shouga ( ショウガ)
1 leek
½ cup chopped cilantro
1 tbsp miso (みそ)
Black pepper to taste
2 tbsp soy sauce or shoyu (しょゆ)
8 cups of water
5 umeboshi  or pickled plum (うめぼし)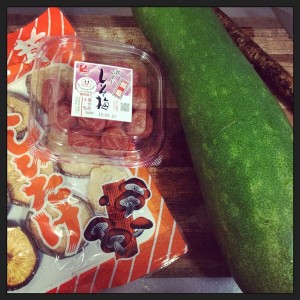 Bring water to a boil. Slice ginger into thin discs and add to water along with black pepper. Thinly slice leeks (soak in a bowl of water to remove dirt) and add to pot. Peel the gobo stalk, and then use the peeler to make thin strips of gobo and add right into the pot. Peel, deseed and chop tougan, then add to pot along with dried sliced shiitake mushrooms, miso and soy sauce. Remove and discard pits from umeboshi, chop and add to soup.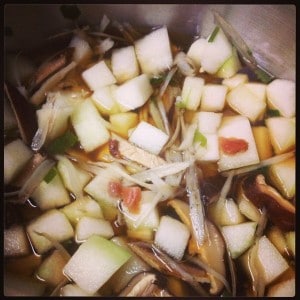 Cook for 20-30 minutes or until tougan is translucent. Turn off heat, add cilantro and serve.