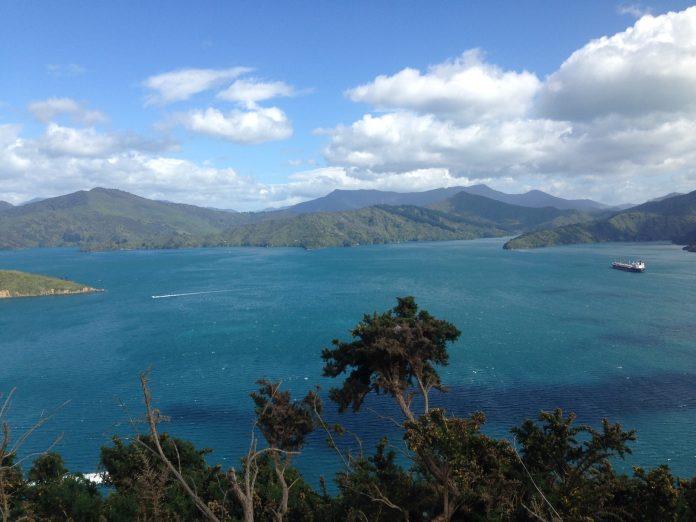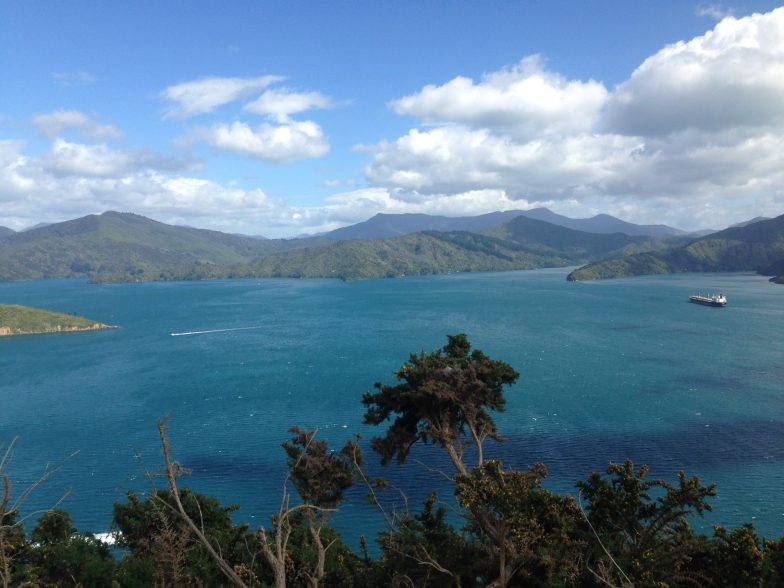 CONTRIBUTED BY MICHELLE BUDZIEN
Are you interested in traveling to New Zealand and Australia, but you don't want to have to worry about transportation between cities and packing up all of your luggage to switch hotels? A cruise is a great way to experience as much as possible during a relatively short time! To learn more about how we got to New Zealand and how we decided on this cruise, Cruising New Zealand and Australia Part 1.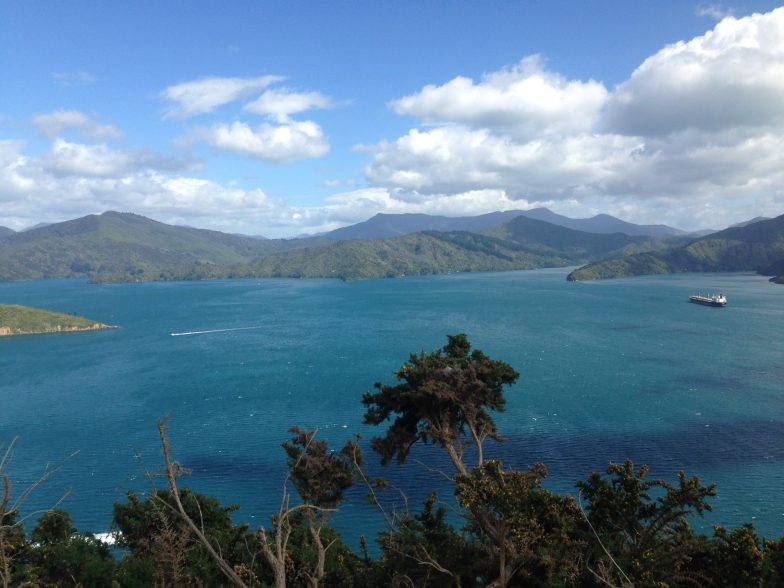 Here's what we did in each city:
 Auckland
We arrived in Auckland a night early so that we could do some sightseeing before the cruise began!
Hotel:  Ascotia Off Queen (booked on Orbitz for $91.24 – 15% coupon = $68.92) Definitely not the quality you'd expect in America, but for the price, it was fine for the two of us.  It was a great location right on the main drag. Small rooms, basic amenities.
Transportation:  The Airbus Express is about $16/person one-way from the airport to downtown.  It's very easy to use and the bus driver told us what stop to get off at just two blocks from our hotel. Around the city there are a few different public buses that are also very simple.  They organize them in loops, the city circle, inner circle, and outer circle, as well as different numbered routes.  We hopped on the inner circle bus just to get a feel for the city's edges without having to walk.
It's a very student-friendly town, with a large university nearby.  Plenty of inexpensive, small restaurants including Japanese, Thai, American, and more.
During our day in Auckland, we walked to the Sky Tower, but decided not to pay to go to the top.  Then we walked across town to Parnell Village.  It was a small shopping street, but nothing too exciting.  Everything is fairly close together, even the cruise terminal is right there! If we had more time, we would have taken a city highlights tour or possibly gone to the Auckland Fish Market or on a harbor tour.
I'd recommend two days in Auckland, but you probably don't need more than that unless you're taking day trips out of the city.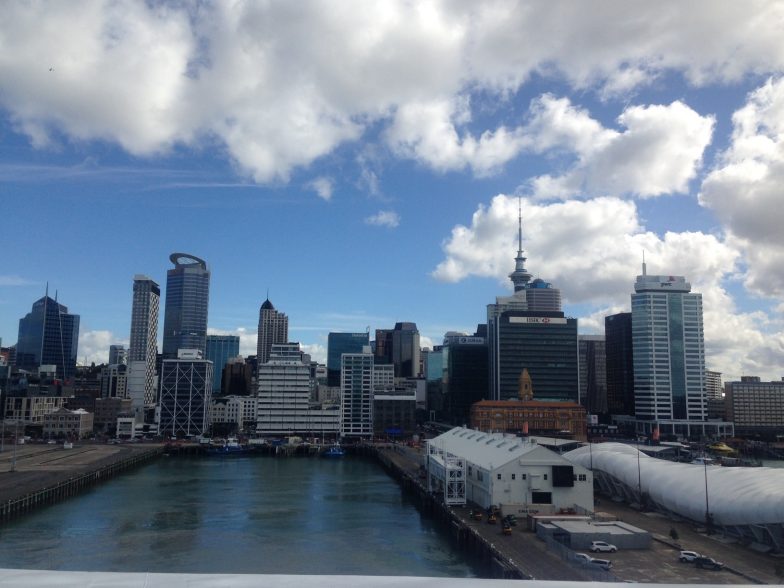 Tauranga/Rotorua
8 Nov 2014
We docked at Salisbury Wharf at the Port of Tauranga, which is just a short walk from Mount Maunganui.  You can walk around the small town, there is a beach and a nice hiking trail up the mountain.  We booked a private tour to drive us to Rotorua. (I had researched excursions through the cruise ship, but then found private tour companies that offered the same tours for half the price. Many others did the same.)
Hinterland Tours ($106 ea)
We visited the Living Maori Village "Whakawerawera," a geothermal hotspot with geysers.  It was very cool, but a little touristy.  The people claim to be living there on top of the earth where the geothermal activity is making the ground around them cave in. We watched a traditional Maori Haka cultural performance too. The tour also stopped at a kiwi plant, we drove through the Rotorua government gardens, around Lake Rotorua, and stopped at Rainbow Springs to see birds, wildlife, and a Kiwi (animal).
Back by the cruise ship, we decided to run up Mt Maunganui.  I'm so glad we did it!  It was only about 1 mile from the ship, and as we started running, we started hearing "bahhh bahhhh." There were sheep and lamb all around us!  We didn't expect that at all, and it was so beautiful looking at the harbor and the green hill speckled with white sheep!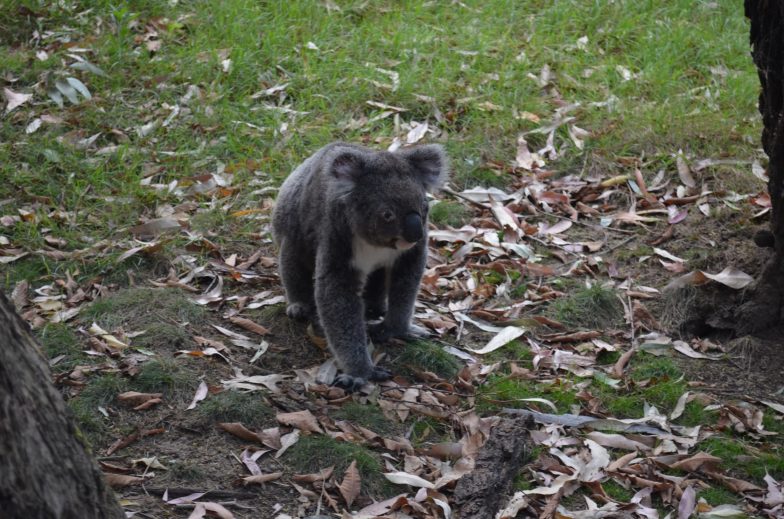 Napier
9 Nov 2014
 Transportation:  There's a free shuttle from the cruise ship into town.  If we wouldn't have booked our tour, we noticed a cute bike shop where we could have rented bikes to tour the town.  The cruise ship is docked at an industrial port, so you have to take the cruise shuttle or a tour out of the port into town (approx. 1.5 miles).
A1Tours4U Half Day Wine Tour ($63/person)
We had a great tour guide who took us through the city to see the art deco, drove us up into the hillside to view historical houses and a great view of the city, took us to two wineries, and we ending the tour at the famous Te Mata Peak.  The wineries were great. The wine has very few toxins making it easy to drink.  The views from Te Mata Peak are beautiful too! We didn't get to walk around the downtown area, but it looked very nice and there was a long stretch of beach too. It was a very cute town, I would have liked to spend a bit more time there.
Wellington
10 Nov 2014
Transportation:  Public bus available, but we walked!
From the cruise ship, it was about a 20-minute walk into downtown (very easy).  We went to the Te Papa museum (free entry), a National Museum of New Zealand.  It had very good exhibits.  Then we walked along Cuba Street featuring Bohemian shops and cafes.  We continued on to the Historic Wellington Cable Car.  We took the cable car up to the Cable Car Museum and there were great views of the city.  There's also a zoo at the top, but we didn't go there.  Back in the main area of town there's plenty of shopping.  The city is beautiful and easy to walk!
Other options are the hop-on/hop-off Wellington sights tour, the seal coast safari, or a Lord of the Rings tour.
Picton
11 Nov 2014
Transportation:  You have to take a cruise shuttle from the port into the town.  The town is very small and walkable.
We decided to hike the Queen Charlotte Track.  You'll see it on your map.  It's about a 10-minute walk from the town.  The trail starts at a small boat harbor (not for the cruise ship, but for personal sized boats).  There are a few trails that you can take to the top. We just guessed and we were right!  It's about a 1.5-hour hike to the Queen Charlotte Lookout. We enjoyed gorgeous views of the bay!  All of New Zealand is full of breathtaking views. We jogged back down in about 30 minutes. After that, we walked through the town.  It's really only about three blocks long by two blocks wide. It's a quaint town, but there's not too much to see. Other options are sea kayaking, scuba, or a wine tour.
Akaroa (Christchurch)
12 Nov 2014
Transportation:  The boat can't fit in the harbor, so you will take a tender to shore.  It's a bit of a lengthy process, but we managed to get on the 1st tender at 7:10am so we got to shore by 7:40am.  In town, you can walk around or book a private tour.  There are plenty of tour guides waiting at the pier with options.  We pre-booked a tour since we knew we wanted to go sea kayaking here!
We loved our excursion!  We booked a sea kayaking trip with Pohatu Penguin Habitat ($75 each for the early bird option from 8am-11:30am).  Our guide picked us up at the port.  The tour was great!  We kayaked around a bay with dozens of fur seals and penguins!  Of course we forgot our waterproof camera on the cruise ship, but we still got some pictures with our iPhone.  (TIP: Don't forget your camera!) We kayaked for 1.5-2 hours. The habitat also had baby penguins for which they had built little huts around their farmland. The huts were little boxes but had doorways in and out so the penguins could come and go as they please.
Another option is taking a tour to Christchurch.  Since we kayaked, we didn't do this, but it was a very popular option for other guests on the ship. There were also Lord of the Rings tours and other scenic options.

Port Chalmers/Dunedin
13 Nov 2014
Transportation:  Public bus (You can pay for the cruise ship shuttle to Dunedin for $10, or take the public bus for about $4.)
The cruise ship docks in Port Chalmers.  They had a huge tent with free wifi right when you get off ship!  Inside the tent there were also lots of tour options.  At first we were going to take the hop-on/hop-off tour, but thankfully we were able to get our money back because we realized the city was very walkable (once you actually get to Dunedin).
We decided just to explore the city by foot.  It was a very windy day and definitely the coldest of our trip.  We visited the Dunedin Railway Station (right in the center of town), walked to the Cadbury World Factory (purchased some delicious chocolate), stopped in at the local Speight brewery, and shopped at a local version of Sam's Club.  The Cadbury Factory offers tours, but we opted just to buy some chocolate.  (Later we found out they have an option for just a tasting tour that would have been fun.)  It was a nice city (smaller than Wellington but bigger than Tauranga, Picton, and Napier), but very chilly!
Some other options here are visiting the Larnach Castle, the Olveston House, Otago Peninsula (for penguins and seals – this was our backup option if they day prior had bad weather), or taking the Taieri Gorge Railway Tour (scenic railroad).
Unfortunately, our cruise ship was unable to make it to Tasmania due to rough waters in the Tasman Sea.  Instead, we spent two days in Melbourne versus one day.
Melbourne
18-19 Nov 2014
Transportation:  Public bus or tram ($15)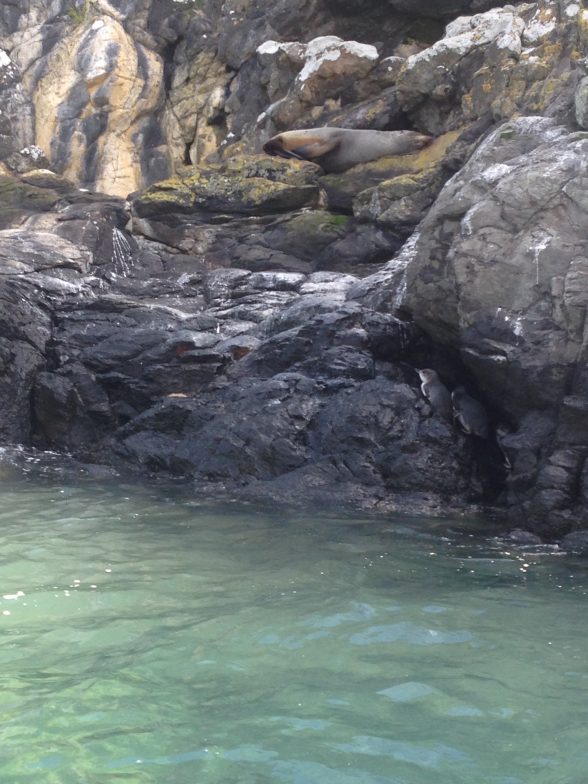 When you get off the cruise ship, they will have a ticket booth in the terminal for you to purchase a public transportation card that is refillable.  For $15, you get one day of unlimited travel.  The next day we paid about $7 each for a 2nd day of travel.  They admitted that it's not the most efficient system since tourists are forced to buy this permanent public transportation card, but it was easy to use.  You can take the bus from the cruise terminal to downtown (the bus is specifically arranged for the cruise ship), or walk to the end of the harbor to catch the tram into town.
We took the 10:30am "I'm Free" walking tour.  If you haven't heard of these tours, they're great.  They offer similar tours around Europe and in Sydney.  Typically, college students will give a 2.5-3 hour walking tour around the town for no set price, just a tip. Our tour guide gave us some great information as she showed us all of the main areas downtown.  She explained Melbourne's famous street art too (legal graffiti).
After the walking tour, we stopped in the State Library to see the Ned Kelly museum and access the internet.  It's a beautiful library and we enjoyed the mini-museum upstairs. Back at the main square, Fed Square, the Federal Building has a free TV/media museum in the basement.  The architecture of Fed Square was pretty too.
At night, we took the tram to St. Kilda to see penguins (for free)! Instead of paying go to Philip Island, you can see the penguins here coming back to their nests at sunset at St. Kilda pier!  We saw a dozen or so penguins waddle on to the beach and back into their nests.  It was very cool!  There were a few local volunteers to explain information about penguins (and make sure we didn't use our flash).
Day 2 in Melbourne: We took the $5 city tour shuttle around the city.  It's basically a hop-on/hop-off tour bus.  It was fairly interesting and allowed us to see more areas of the city.
War Memorial:  A a very impressive monument just a short walk from Fed Square.  There was a museum in the basement explaining all of the wars that Australia has been involved in.
Other options in Melbourne: Since our port of call in Hobart was cancelled, we wish we would have booked the "In the Wild! Kangaroos and Koalas" excursion here.  It would have been $170 each, but we heard they saw the animals in their natural habitat.  There were also tours to the Healesville Sanctuary and Ballarat Sanctuary.  Other options included the Melbourne zoo, gold rush tour, Melbourne cricket ground, or the Great Ocean Road.
Sydney
21-22 Nov 2014
We found an inexpensive (for Sydney…) hotel on Orbitz ($100) hoping it was as good of quality as it claimed, but we've learned that quite a few of these big cities (like Singapore and Auckland) offer 3-4 star hotels that are not the same quality as most 3-4 star American hotels.  The location was fine (Chinatown), but the room was a bit dirty (it definitely needed a paint job, leaky faucet, and cheap furniture).
Transportation:   Public bus (or train)
Buy the unlimited pass!  We didn't buy it at first, but we learned if you buy their transportation card, it will never subtract more than $15 per day.  We took the bus to our hotel, the bus to Bondi Beach, then the ferry to Manly Beach, and a bus back to our hotel (all for a max. of $15).  You can only put $10 increments on the card, so technically we "lost" $5, but it would have cost more than $20 if we had purchased individual tickets.  You can buy, or top-up, the cards at local convenience stores.
After disembarking the cruise ship and dropping our bags at the hotel, we took the 10:30am "I'm Free" walking tour of the city.  Afterwards, we walked across the Harbour Bridge.  We didn't not pay for the Bridge Walk, as we thought it was overpriced.  I've heard it's worth it, but we were still able to walk across the public sidewalk and get a great view of the opera house!
Bondi Beach:  It's about 45 minutes one-way by public bus.  It is a big beach with hundreds of people, but since we live on a beach, it wasn't too special for us.  There were lots of surfers, students, and biting flies.
Back in Circular Quay (downtown Sydney) we took the ferry to Manly.  The ferry ride is beautiful (great for pictures of the bridge and opera house). We walked through the cute town to get to Manly beach.  It was smaller than Bondi beach, but we liked the atmosphere more. There were nice waves for surfing and some shops along the edge.
The Rocks: A beautiful area of downtown to stroll, enjoy the street markets, and eat dinner.  There were lots of food stands and some evening entertainment.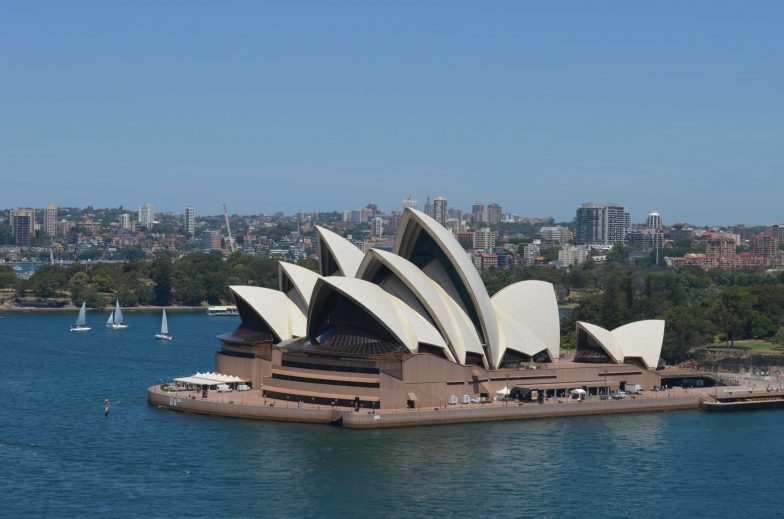 Day 2 in Sydney: Blue Mountains and Koala Park (it cost about $112 each)
I really wanted to pet kangaroos and koalas.  A zoo-like setting, but I really wanted to pet koalas and kangaroos! They also had wallabies, wombats, and other native animals.  Our tour stopped in a small village for lunch before we headed to the famous Three Sisters Lookout at the Blue Mountains (similar to a smaller version of the Grand Canyon).  I didn't expect it to be so covered by trees (not desert). On the way home, our tour guide drove us through the Olympic Village before we boarded a river taxi back to Darling Harbour.  It was a decent tour for the price.  I would recommend doing some research on tour companies because there were a lot of companies offering the same tour.  We decided last minute and just used the one that our hotel recommended.
Other options in Sydney include the Taronga Zoo, the Bridge Walk, seeing a performance like The Lion King, an Opera House tour, or going up Sydney Tower.
That concludes our whirlwind tour of New Zealand and Australia! We're glad that we took a cruise and were able to maximize our time seeing so many cities. I hope our experiences give you some insight to help you plan your next vacation! Happy Travels!