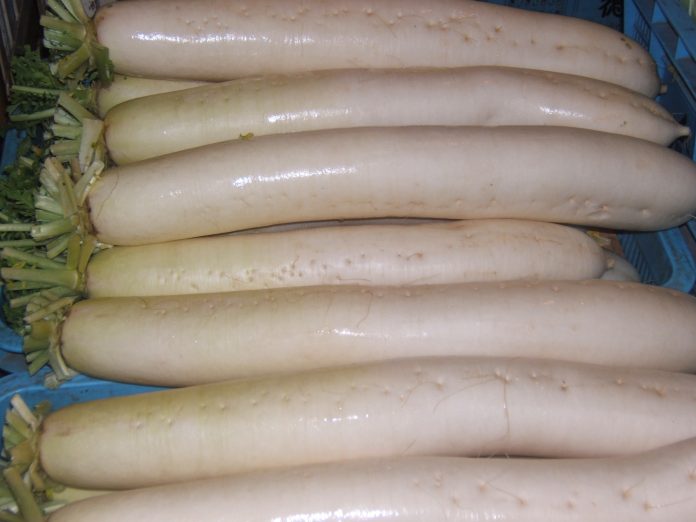 CONTRIBUTED BY STACI HAWLEY
Have you ever been curious about that huge albino- carrot looking vegetable that you see? The first time I noticed one, I thought it could be something straight out of a Dr. Seuss book. Behold, it is a Japanese Daikon, which actually in Japanese means "root". When I first moved to Japan, I was not quite sure how one would "deal with the daikon". How do you cook it? What does it taste like?
Chances are, if you have eaten in town you have had it sliced thinly in your salad. It is a really mild raddish, compared with those that were are used to in the states.
So, be daring. Get out of your usual cucumber and tomato routine. Try something new with my painfree, preparation-less dinner recipe:
I usually buy about 1.00 worth of daikon at the comissary-
and then I "strip down" a rotisserie chicken, slice the daikon thinly- place over a bed of prewashed lettuce and then apply (sparingly), my favorite Japanese dressing (you can buy at the comissary):
The nutritional value of a daikon is well…not that impressive. Sort of in that watercress/watermelon group:
Amount Per 1 cup
Calories 58.97
Calories from Fat 37.36
% Daily Value *

---

Total Fat 4.15g
6%

---

Saturated Fat 0.84g
4%

---

Polyunsaturated Fat 1.21g

---

Monounsaturated Fat 1.9g

---

Cholesterol 0mg
0%

---

Sodium 406.41mg
17%

---

Potassium 422.14mg
12%

---

Total Carbohydrate 5.1g
2%

---

Dietary Fiber 2.36g
9%

---

Protein 1.03g
2%

---

Alcohol 0g
Vitamin A

3 %

Vitamin C

37 %

---

Calcium

3 %

Iron

1 %

---

Vitamin D

0 %

Vitamin E

1 %

---

Thiamin

0 %

Riboflavin

2 %

---

Niacin

1 %

Folate

6 %

---

Vitamin B-6

3 %

Vitamin B-12

0 %

---

Phosphorus

4 %

Magnesium

3 %

---

Zinc

1 %

Copper

7 %

---
*Percent Daily Values are based on a 2,000 calorie diet. Your daily values may be higher or lower depending on your calorie needs.
Other sites devoted to our dear daikon:
Check out this blog and a step-by-step recipe on making daikon horseradish.
A truly Japanese website, showcasing daikon in all forms here.
You can also peruse a plethora of daikon recipes here.
So dear readers, have you adapated other "truly Japanese" foods into your everday diet? Do share.