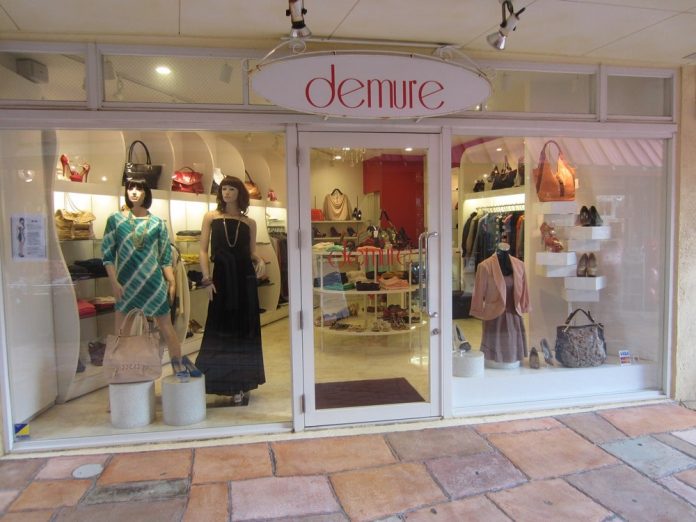 CONTRIBUTED BY JEANINE CZUBIK/UPDATED PHOTOS BY MARIE LEWIS
You've probably seen Demure on Gate 2 Street. But did you know there are now two additional Demure locations? This March 2013 update has all the details.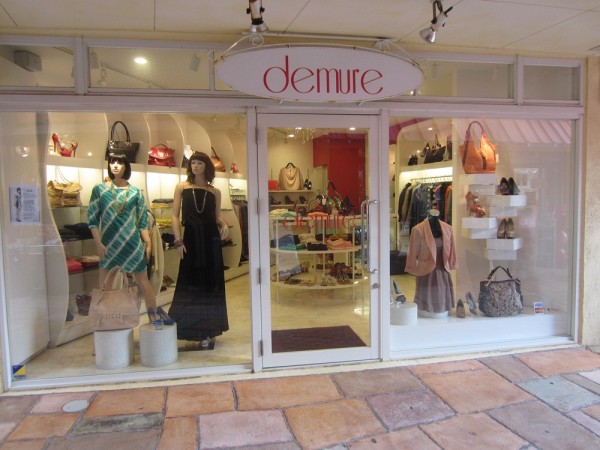 You probably already know this story: your spouse comes home and informs you there's a dinner. Tomorrow. And you must have a tea length dress. Your mind starts racing. Do you have the appropriate length dress? Ahem, in your current size? And one that you can accessorize and tailor to fit the current season? If the answer is no, no, no, Demure is the place to go.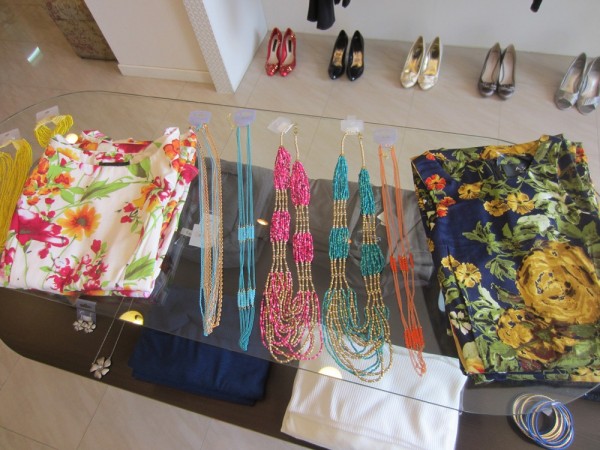 Demure now has three locations to meet your fashion needs. One is on Gate 2 Street, one on Depot Island in American Village, and one in Naha.
Demure Gate 2 specializes in occasion wear including ball gowns, accessories, shoes and bags to match. Dress sizes range from US 2-18 in short, tea and floor lengths. There is a vast selection of shoes in sizes US 6-10. This location also has a selection of semi-formal and casual clothing in varying sizes. Some of the labels they carry include Adrianna Papell, JS Collections, Faviana, Dynasty, Renee C. S-Line, Ezra, Carlton Shoes, and Lunar London Shoes.
Demure Depot Island (on the first floor, near the staircase that leads to Bollywood Dreams) carries a feminine and casual collection as well as an extensive selection of shoes and bags. Labels include Dylan&Rose, UKnow, Anya B Shoes, and Sonya Roberts New York.
The third location, in Shintoshin, Naha, has a more eclectic style of modern cuts in dresses, tops, bottoms and accessories. Here you can find Rinascimento Italy, Little Mistress London, JusDeorange Paris, Motel Italy, and Moda in Pelle Shoes.
Demure's owner shops in Tokyo, Hong Kong, the U.S. and Europe and brings in new selections regularly. Prices seemed average for new formal dresses starting at $100.
---
Demure Ladies Boutique
Website: https://www.demure.co.jp/index.html
Demure Gate 2 Street
Hours: 11:00 – 8:30 p.m.
Phone: 098-938-1991
Address: 27-5 Chuo, Gate 2 Street, Okinawa City, Japan 904-0004

Directions: (To Gate 2 Street store) Route 20 between Kadena and Route 330. From Kadena Gate 2, Demure is just after the third light on the left side of the street, approximately 0.3 km. Giorgio's tailor is located on the left and en empty building is to the right. Riga's and Shanti Shanti shops are across the street. There are parking meters along the street – have yen handy for these.

Demure Depot Island
Hours: 11:00 a.m. – 9:00 p.m.
Phone:  098-936-7188

Address: Depot Island, American Village, Okinawa City, Japan 904-0115 (1st floor, diagonally across from Bollywood Dreams staircase)
Demure Shintoshin, Naha 
Hours: 11:00 a.m. – 9:00 p.m.
Phone:  098-943-4499

Address: 4-8-1 Omoromachi, Naha City, Japan 900-0006
(Note: map pin is for this location – at this time we can only pin one. Addresses for the other two are below.)