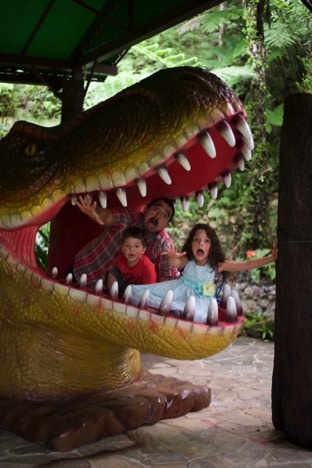 CONTRIBUTED BY GRACE KEIRN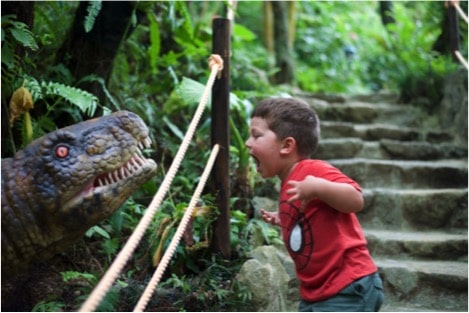 There is a brand new knock your socks off attraction in Nago. The Dino Park is incredible! My kids have been non-stop asking to go back because we all enjoyed it so much. It's worth a trip up north just by itself.
You land in the parking lot and a life-size Triceratops towers over your car. Make your way across the road and walk through the jaws of a giant monster to reach the ticket booth. Next up you overlook a prehistoric looking valley with the incredible ambiance of… you guessed it – DINOSAURS! It's worth taking a moment to feel like you just walked into Jurassic Park before you continue on your way.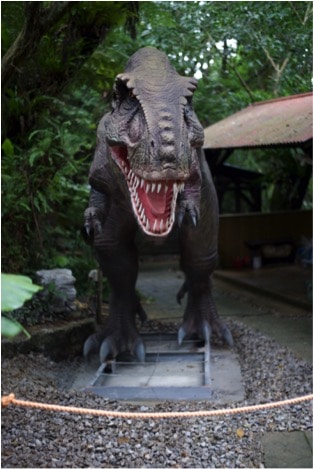 The park is more like an overgrown forest with clear paths through it. There are ropes and roughly paved paths. Although there were some slick spots, my 2-year-old and 8-month pregnant self had no problems traversing the terrain. Because of the incredible fauna the majority of the walk was shaded but humid and muggy. I would highly recommend bringing your camera, bug spray, and water along with your hiking shoes.
The dinosaurs are mostly mechanical, so some make noises, some roar, spit water etc. It's entertaining and the kids got a huge kick out of it. Even as someone who couldn't keep a plant to save her life there was a lot to be admired in the obvious work they put into the foliage in the park. The flowers were bold and beautiful while the greenery gave a realistic feel of the prehistoric. It might have been my overly sensitive nose but the smell of flowers permeated the valley and was rather pleasant.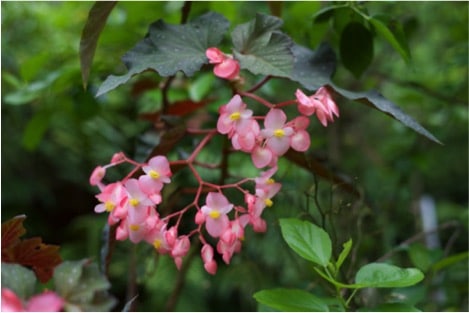 Just like your typical attraction, there are plenty of photo opportunities. There is also a shaded area with incredible tables and chairs carved from giant trees where you can bring your lunch and take a break.
When you get to the end there's a good sized dinosaur shop with plenty for your kids to ooh and ah over. There was everything from small trinkets, rubber dinosaurs, Tshirts, mugs and realistic skeletal replicas in the several hundred dollar ranges. They have a sweet shop connected where you can watch dinosaur shaped treats riding a conveyor belt along the window. Just outside are some really neat dinosaurs your children can ride on that walk around for 200 yen along with a Stegosaurus your kiddos can climb in and slide down. There are a few last photo opportunities and some bathrooms. There was a family friendly bathroom too!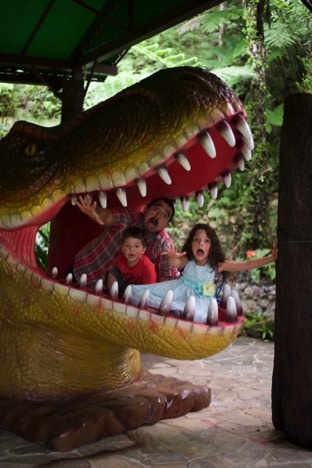 Next door and semi-connected is a restaurant and one of your typical tourist spots if you feel so inclined after your prehistoric adventures.
---
Dino Park
Price: Adults – 800 yen; Children ages 4+ – 500 yen
Payment: Yen and cards
Hours: 10:00-18:00 Daily
Phone: 0980-54-8515
Website: www.yanbaru-ikoi.com
Address: Nakayama, Nago-shi, Okinawa-ken 905-0004
GPS Coordinates: 26.6354311, 127.96162419999996
Directions: Take the Expressway north to the end; follow 58 north into Nago until you reach 84. Look for signs for Ocean Expo Park/Churaumi Aquarium; take a left onto 84 and follow for approximately 5 km. The entrance will be next to next to Okashi Gotten Nago, on your left.