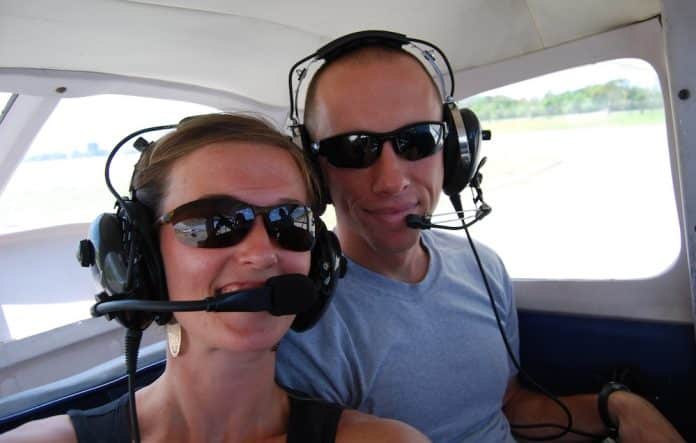 CONTRIBUTED BY SARAH FILLMAN
My husband and I are pretty new to Okinawa and we went by the Schilling Community Center on Kadena AB to grab some good maps of the island. While we were there, I noticed a table full of drawings and giveaway. I dropped our names into a few of the drawings, without really knowing what we were signing up for and not too hopeful.
Well, we WON! Our names were drawn to take a free flight around the island called the 'Discovery Flight.'

Discovery Plane
We went to the Aero Club on Saturday and met our pilot, Asst. Chief Pilot Lance Dale, who is also a flight instructor for earning your pilot's license on base. He led us out to a Cessna 172, four-seater airplane for our flight around the island. It just so happened that it was a beautiful and clear day!

Discovery Inside
Okinawa is beautiful on the ground, but seeing the island from the sky was a totally different experience. It really put the size of Okinawa into perspective. We flew from Kadena, up the western coastline over the East China Sea. From there we flew along the coast up to Nago, and then we turned around and came back. From the air we saw the Kadena Marina, all of the beautiful beaches along the coast, Zampa Point and the cliffs, Maeda Point, Onna Village, Nago, a limestone quarry, Ina island and a really neat topographical view along with several other awesome sights.

Discovery Flight 3
The mountains! I had no idea there were so many mountains on Okinawa. We haven't been to the northern part of the island, but now we know a little of what to expect. The tallest mountain on the island is 1600 ft.

Discovery Flight 1
We even flew over our neighborhood in Yomitan! This photo shows Nirai Beach.
Probably my favorite thing to see was the gorgeous Zampa lighthouse. We go to Zampa a few times a week, so to see it from the sky was really spectacular. The pilot had us flying between 800-1,000 ft. which gave us really gorgeous views.

Discovery Zampa
During the flight, our pilot told us some pretty cool facts about Okinawa. The island is not volcanic but actually limestone. It is quite literally the top of a submerged limestone mountain that was once completely underwater until the top poked its head out of the ocean and Okinawa was born. The widest part of the island is 18 miles across, the narrowest is 2 miles across, and 70 miles from top to bottom. Okinawa also includes 160 smaller surrounding islands.
If you are interested in signing up for a flight, call the Aero Club on Kadena, or drop your name in a giveaway box at Schilling and you might just win a free flight!
Aero Club Info:
Comm: 098-959-5655
DSN: 959-5655
Open M-F 1000-1800
Sat 1100-1500
Pricing for the Discovery Flight:
1 person is $150 for 1 hour
2 people is $180 for 1 hour