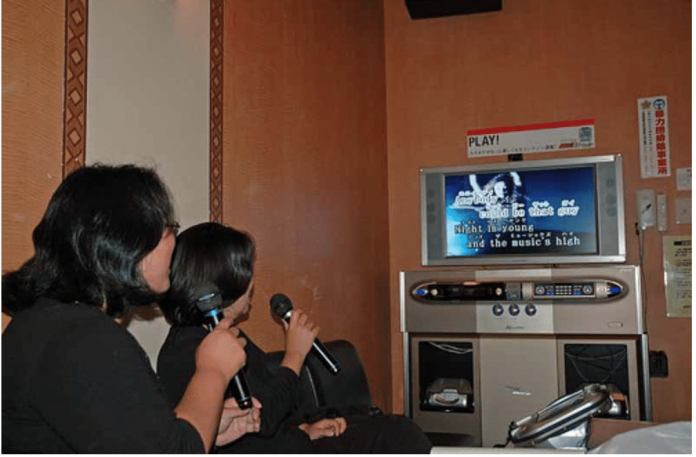 DO YOU KARAOKE?, originally uploaded by okimamas&papas.
CONTRIBUTED BY JULIE
At a recent girl's night out, a bunch of us ladies decided to try karaoke. After all, it is Japan and when else will you get the chance to do this? We went to a place near American Village called Big Echo. The karaoke places here are wonderfully private because for an average of 500 yen per person per hour, your group gets their own karaoke box. It's basically a small room with a sofa, television screen, and karaoke machine. Snacks and drinks are available through the wait staff. They will also supply tambourines and ice water for free. Big Echo does have some English speaking staff but it helps if your group has someone fluent in Japanese as the karaoke machine is labeled in Japanese. However, it's not rocket science and they have several hundred English songs to choose from.
Suffice it to say that at the end of the evening several of us had gone from stay-at-home-moms to wild things, dancing queens, rappers, and biker chicks. With a healthy dose of the macarena thrown in. I personally had a blast and a few of my shyer friends (not naming any names or anything) completely let loose. I totally recommend it. Go ahead, Release YOUR inner DIVA!
Directions for Big Echo:
Big Echo, located in Mihama's American Village, across the street from the giant Ferris wheel, is a karaoke box-style club. Here you can rent a private room and sing with friends or family. To get there, head south on Highway 58 from Kadena gate one and turn right at the Jomo gas station near Camp Lester's gate two, the smaller gate. Make your first left, and Big Echo is on the left hand side.