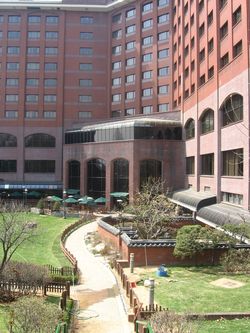 I have a riddle for you! I'm thinking of a place. You can say it in German: "Edelweiss," Hawaiian: "Hale Koa," Japanese: "New Sanno," or even Floridian: "Shades of Green"  and Virginian: "Cape Henry." You can sleep, eat, shop, swim and travel to and from here. Do you know what I'm talking about? Military MWR resorts! Military MWR (Morale, Welfare and Recreation) resorts are one of those little "perks" that are available to military families. Located worldwide, they offer fabulous accommodations for those wishing for an adventure or a break from it all.
While none of these are on Okinawa, both the New Sanno and the Dragon Hill Lodge are close enough for us to take advantage of pretty easily. Last spring my husband and I used Space A to fly to Osan Air Base in Korea. From there we took a bus to Dragon Hill Lodge and used that as a jumping point to see both Seoul and the DMZ. Recently I was able to spend a week at the New Sanno for a work-related conference, but I was thinking of you and did some research! Part One will cover the Dragon Hill Lodge and in Part Two we will take a trip to Tokyo's New Sanno Hotel.
Unless you are a fabulous swimmer, you will be flying from Okinawa to Korea. If you fly Space A to Osan, there is a bus line that runs from Osan to the Dragon Hill Lodge (DHL). Once you reach the PAX terminal, ask for directions to the bus station near the Turumi Lodge. The bus gets pretty crowded on the weekend so you may want to get tickets in advance. One way tickets cost $5.60. There is a free bus that runs between Incheon International Airport and DHL. Bus schedules for these routes and other U.S. military bases in Korea can be found HERE.
Dragon Hill Lodge is within the Yongsan Army Garrison and there are a few options available for travel near and far. Within walking distance from the nearest gate you can access Seoul's subway system. Once you have learned the ropes of the system, the city is yours!
A set of taxis were always available just outside the front entrance to Dragon Hill Lodge. Since the lodge is located inside the garrison, only certain taxis are able to come back on base to drop you off. Once off base, it may be harder to locate one of these taxis. Those without base privileges are able to drop passengers off at a nearby gate. One tip for using the taxi system: be able to communicate how you want to get back! Our driver from the hotel to our off-base destination wrote directions in Korean for us to give to our return-trip driver.
Inside the lobby, around the corner from the front desk is the Discover Korea travel information desk. We found the staff to be accommodating and informative. There were many brochures offering a variety of tours. Some of these tours can be arranged ahead of time either by phone or their website. Sample tours for the Dragon Hill Lodge include bus tours of Seoul, full and half day tours to the Demilitarized Zone (DMZ). We decided on the full day tour of the DMZ and had no regrets. It was fascinating and so relevant to our military lives in the Pacific. If you are interested in this tour, pack accordingly. We were instructed to wear conservative clothes: long pants or skirts, close-toed shoes, and sleeved shirts.
If you would rather stay and relax, the DHL can be the place for that too. Our room was very comfortable and we were able to see the North Seoul Tower from our window. Guest rooms at the DHL include a queen size bed, a fold-out couch, TV/DVD with cable, iron, ironing board, in-room safe, small fridge and microwave. The hotel also boasts a world-class fitness center (named The POiNT) including saunas and pool. The grounds immediately around the hotel are well landscaped and cared for.
The Dragon Hill Lodge has its own food and shopping experiences too!  There are six restaurants inside the Lodge and one just outside. They offer a wide variety, from Pizza Hut and Subway to fancy sit-down dining with multiple courses. One restaurant, Oasis, is dedicated to Mexican food. Nine different stores are also available selling flowers, clothes, souvenirs, and shoppette basics.
As with many things military, the price-points for the rooms are set on a sliding scale based on rank. Even at the highest price, I think you will find the prices to be very affordable when you compare them to an off-base hotel. At the time of this writing, a comparable hotel room in Seoul was about double the highest rate at the DHL [$210 for a grand twin at the Hyatt vs. $101 for O4-O10 on leave at the Dragon Hill Lodge]. Unfortunately, you have to pay to access the internet anywhere in the lodge ($5.95/day if you are there on leave). We discovered the base library (just down the street) has free WiFi.
You can look the Dragon Hill Lodge up on Facebook or check out their website HERE.