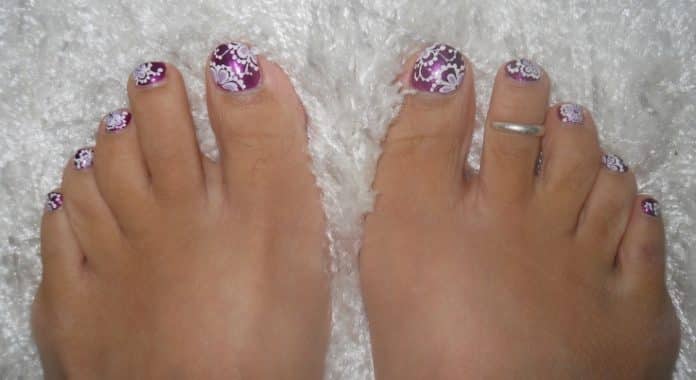 Dulce Toes
CONTRIBUTED BY MEGAN PARKER
Dulce, indeed! Everything about this nail salon is sweet – the location, the nail art, the price, and most of all, the relaxation. I'll admit that when my mother's day flower bouquet showed up with a gift certificate for a pedicure attached to it, I was a bit disappointed that it wasn't to Dulce's main competitor. However, I do like to try new things so I soon got over it and I had a wonderful experience at Dulce. I'll be back!

Dulce Sign
I entered the store, located right across from Camp Foster on 58, and was immediately whisked into a comfy, oversized chair for my pedicure. But this was not just any old chair…. it was a massage chair! Score one for Dulce! As the nail technician got busy trying to undo the havoc wreaked on my feet by two toddlers, I got busy relaxing. The nail technician popped Little Fockers into the flat panel TV on the wall in front of me and I hit the recline feature on the remote control. Soon I had the chair massaging both my neck and back, and the nail tech massaging my legs and calves. Bliss!
Another thing that stood out to me about this pedicure is that she did an excellent job scrubbing the calluses off my feet compared to other places I've been to on island. She spent quite a lot of time on this area and my feet are softer now than I remember them ever being on this little tropical paradise!

Dulce Front
The salon probably has seating for about six or seven pedicures at once (in addition to a separate area for manicures), giving it a nice cozy feeling. This is exactly the type of place I was looking for a few months ago to host an intimate little baby shower, but had trouble finding. It would be an excellent place to rent out for a small group of friends!
Another sweet perk is that at 3,500 Yen for the pedicure (including your choice of nail art from their book of many samples), Dulce is priced a few hundred yen below most competitors, even with the small amount of tax added on. Low price tag, high reward, and excellent customer service as well. The staff even offered to accompany me to my car with an umbrella when the skies suddenly opened up in a heavy downpour and I was caught without an umbrella! So give Dulce a try… it's a sweet departure from the norm!
Hours: Mon. – Sat. 9:00 a.m. – 6:30 p.m. (last appointment)
Phone: 098-989-0218 for reservations
Payment: Yen, U.S. dollars, Visa, Mastercard, American Express accepted
Website: www.dulce-nails.com
Directions: From Camp Lester, head south on 58 until you pass the Camp Foster commissary gate/stoplight. Dulce will be on your right, so you'll need to make a U-turn at the next stoplight (at the Ginowan Bypass where you would turn Right for the Okinawa Convention Center) and head back north briefly before turning left into their parking lot.