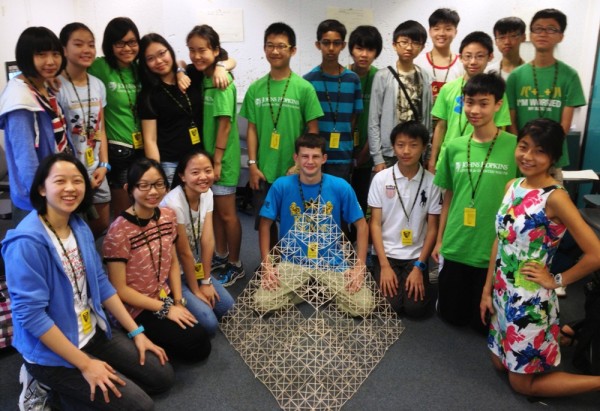 CONTRIBUTED BY TERRI SYKES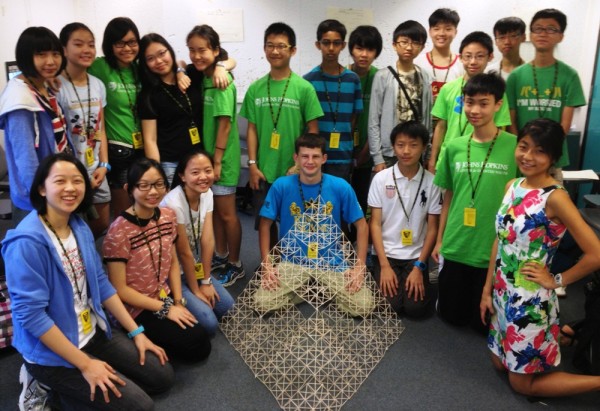 My 14-year-old son, Christian, is a freshman at Kubasaki High School. He spent several weeks this past summer studying advanced math in Hong Kong as part of an international studies program for gifted students. It was a wonderful experience for him, and I want other families of gifted children to know they too can have these opportunities while stationed in Okinawa.
After being accepted into the Johns Hopkins Center for Talented Youth summer overseas study program, Christian spent nearly three weeks studying advanced mathematical modeling. He was one of approximately 280 students attending the Hong Kong University of Science and Technology, and one of 10 attending as international students from Singapore, India, Japan and the U.S.
I found out about the program while researching advanced studies for Christian, because his teachers said he excelled at math. I knew he needed something more challenging, so I started looking for summer programs. 
I first started by looking within the United States, but when I realized that there were great courses of study available overseas, even here in the Pacific, I realized what a great opportunity this was. Who could pass up an amazing chance for their son to study in Hong Kong among international students of the highest caliber?
I found the program just by using an online search engine and looking for "talented youth programs."  While there were many programs available from tons of universities including Duke, MIT, Yale, Vanderbilt, and Johns Hopkins, I felt that the opportunities available through Johns Hopkins University's (JHU) Center for Talented Youth (CTY) were more flexible and rewarding for military dependent children (my husband is an active-duty Marine). Their website lists all the summer programs as well as online learning programs that are available. 
To qualify for certain programs there are testing and score requirements. These tests may include the Scholastic Aptitude Test (SAT), the American College Test (ACT), the Advanced School and College Ability Test (SCAT), or the Spatial Test Battery (STB). To qualify for the Johns Hopkins program, Christian took the SAT at age 13. Each program is specific, and has different requirements.
I think any parent who has a gifted child should look at opportunities overseas to advance their child's studies. There are so many programs available. Parents just need to find a program that suits their child's strengths. Many top-notch universities have talented youth programs.
Christian told me that he enjoyed the program immensely, even with the challenging course work and schedule. An average day was waking up at 7:00 a.m., going to classes from 9:00 a.m. to 3:30 p.m., then dinner and activities, then more class from 6:30 to 8:00 p.m. Going to class that much, every day for several weeks, was intense, but he made it and he did great!
It was also a good opportunity for my son to have a brief taste of independence, away from his father and me. Familiarizing your child with being responsible while being separated from family is so important. Then, going away for college is not an entirely new experience when they finally graduate high school.
Christian studied subjects including algorithms, networks, symmetry, Fibonacci numbers, fractals as well as linear and exponential growth models, all designed to increase understanding of real-life applications of mathematics.
Here is part of a letter we received from his instructor at the program, Mollee Huisinga:  "He used the nearest neighbor algorithm and the cheapest-link algorithm to find the best route. Because of his relaxed, assured composure, he was chosen to present in front of the entire CTY session."
My son said that attending university in Hong Kong made him think outside the box, which is what I wanted. And being able to present his work in front of the entire class of international students, some more advanced, was an awesome opportunity for him.
I wanted Christian to see why we want him to work so hard. With teenage children, it is often difficult for them to understand why they need to keep good grades. But through a program like this, they gain an appreciation for going to college, and understand what opportunities await them if they succeed. I'm happy to report he's doing well in his first year of high school!
If you want your children to have a drive for success, putting them in a program like this is a huge opportunity. It gives them a taste for independence, but under a very strictly supervised setting.  And being in an environment where they are surrounded by children of a different culture and background is extremely valuable for their future.