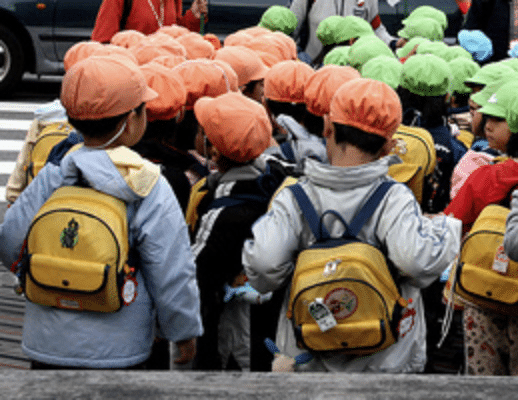 originally uploaded by jk..
CONTRIBUTED BY MEREDITH NOVARIO
Eli starts preschool next month at O-Seibo kindergarten. Because I'm in denial I'm not totally sure that's the name of the place. It's a Japanese school and he'll be the only kid in the class who doesn't speak Japanese. His little girlfriend will be with him but everything else will be brand spanking new. I can't wait. And also, I can wait.
He's been home with me for each day of his two years and so this is a colossal leap. For both of us. I've been preparing him (and myself) a bit for the change. Mainly I point stuff out. A school! A school bus! Students! A backpack! Pencils! Then I make some terrible segueway into what school is and how he will go to school soon. This morning we passed a parade of yellow American school buses and he watched them out the window without moving a bone and quietly said, "Eli go kool."
Yes, yes, yes. Eli will go to school. It's happening.
Further proof that it's happening is that  postcard in the mail from his school that I read with my own very eyes because it was in English. The school does not operate in English, does not employ English speakers but there it was in English inviting us to come for orientation.
Please bring your own slippers, note and a pen.
The gesture floored me. I know that Japanese people have studied English in school so the average person can pull out a few sentences here and there. Conversely, Americans have, for the most part, not studied Japanese. Therefore, the likelihood of an American being able to bust out a Japanese postcard for the lone Japanese kid in an American school isn't great or even probable. BUT STILL, I was grateful for the gesture and in the softest, warmest way it calmed my pitter-pattery heart. He's going to be okay. He's going to love it. He's going to come home speaking a different language. He's not my baby any more.
My boy done grew up.