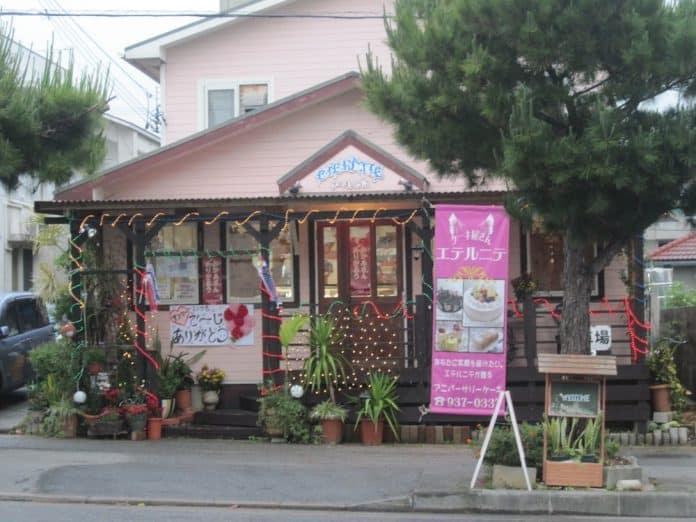 Eternite Front
CONTRIBUTED BY MONETTE EAMES
There are times when I have to remind the boys in our family to 'taste the food' instead of wolfing it down. Often, I also find myself reminding them to breathe in between bites. In fact, a couple of my boys have choked on their food because of the quick, huge, 'chew-less' bites they've taken. I on the other hand, although not a leisurely eater, like to taste every ingredient in my food. I like to taste that touch of garlic or that twinge of basil. I like trying to figure out what was put in that secret sauce and yes, I'm the frequent borrower of the book "Top-Secret Restaurant Recipes."
Driving to Kadena from McTureous, we are always passing by this cute little pink house that's usually lit up with Christmas lights at night. It's taken a year for us to finally step in, and I'm so glad we did. We walked into the little bakery and were greeted by a man wearing a Chef's jacket, pants, topped with a Cordon Bleu Pleated Chef Hat.

Eternite Showcase
We were surrounded by cookies, desserts, and cakes, all delicately made by the man who greeted us, I'm sure. After taking it all in, we finally decided to get the cream puffs. Who can ever go wrong with that, right? After paying for them, the man gave us a few wrapped cookies for free. I indulged in one of the cream puffs once the kids were in bed. Delicious custard filling with some kind of crisp topping (think rice crispies with a slight touch of caramel) on top. I took a little bite, trying to figure out all the ingredients. It was delicious. I devoured it all. In fact, I ate my share, then my husband's.

Eternite Inside
This bakery isn't huge at all. However, the cream puffs make up for its size. Like many of the little places we come across in Okinawa, I'm sure you'll find something in this treasure trove of sweets.
Directions: From Kadena Gate 3, go straight on 26. Take a left on 329/ Noborikawa. Take an immediate right at KFC/Kariyushi Dori. Take a left at Family Mart and drive .2 Km. Eternite Bakery will be on your left.
Hours: 10:00- 21:00 daily except Wednesdays
Phone:  937-0337
Payment: Yen