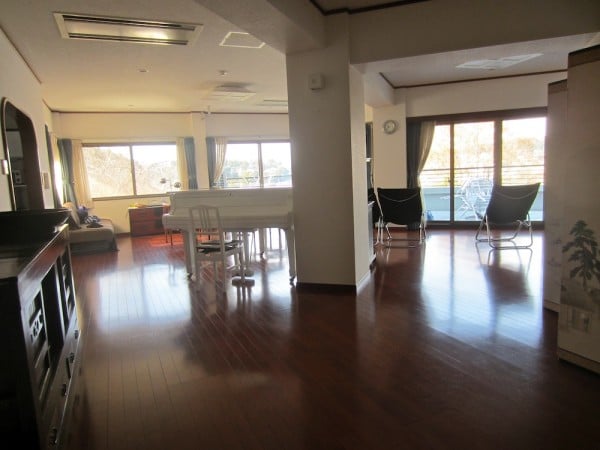 CONTRIBUTED BY MARIE LEWIS
Editor's Note: Marie was recently invited to enjoy a complimentary stay at two rental homes by Japan Experience, a European travel agency specializing in mainland Japan tours. Marie enjoyed the experience, but the opinions below are all hers.
I had never vacationed in a rental home before, so I wasn't sure what to expect when my husband and I were invited by Japan Experience to stay at a home in Kyoto. The European travel agency, also known as Vivre le Japon, has 28 different homes in and around Kyoto which it rents out to travelers from around the world. Most of its clientele is European, but the company is looking to draw in more Americans. I was contacted directly by one of the agency's "Travel Angels" (they use this term rather than travel agent), who walked us through every step of the planning process for our trip.
Nikki, our Travel Angel, first helped us choose a house by asking about our personal preferences. We told her we wanted to be near the center of the city, in Gion, in order to have a convenient base from which to explore Kyoto's many sights. However, we were also curious about staying on the eastern outskirts of town near the Silver Pavilion, which we thought would be quieter and more relaxing. Nikki arranged for us to spend two nights at Gion Rokudo House and a third night at Terrazza House to fit these preferences. (Note: typically the agency requires a minimum 4-night stay at each house during high season and 3-night stay during low season. High season refers to Cherry Blossom season, fall colors, and summer months.)
We flew into Osaka on a Friday night on Peach. Because of our late flight, it was too late for us to go directly to the first house in Kyoto. So, we had to spend the night at Kansai Airport Washington Hotel, which I booked through Kayak for $90. The hiccup here was that we didn't know we wouldn't be allowed to check into the house that late until after we had booked our flight, so having to book a hotel for the first night was a surprise that came a few days before we left Okinawa. Aside from this though, the rest of the weekend turned out phenomenally. (For future travelers, find out before you book a flight how late you'll be able to get into the house, and know that you'll have an 80-minute train ride from Kansai International Airport to Kyoto Station, then a short taxi or bus ride to your house.)
Nikki had sent us information about getting on the Haruka train from the airport to Kyoto Station, including departure times and cost (about 2900 yen per person), and had also sent us maps and directions to each house in English and Japanese for our taxi driver. We also had her cell phone number just in case. Our taxi driver to Rokudo House dropped us off a few blocks from the house and we were a little disoriented when he drove off. But not a minute passed before a friendly Japanese woman saw the confused looks on our faces and came and looked at our directions. She walked us up the street and pointed out the house to us, and Nikki was at the front door waiting!
Nikki gave us a tour of the house, which included a sitting room, kitchen, full bath, and two bedrooms upstairs.
We had a choice between sleeping on Japanese futons or a Western-style bed. This house could have comfortably slept four people. It was small but charming and immaculate. Nikki showed us how to use the appliances (stove, washer, etc.) and heaters, and also supplied us with a "house manual" should any questions arise later. Then we sat down to plan our weekend itinerary.
Nikki had detailed city and bus maps ready for us, and we planned our days around our house locations. She marked where our first and second homes were, and all of the attractions we wanted to see. Then she helped us plan our routes to each, highlighting bus stops and train stations we would need to use. Being in Kyoto for the first time, this service was really important to us. It was awesome to have someone sitting down with us to help us figure out how to get the most out of our short stay.
When our appointment was over, Nikki walked us to the train station on her way out. This was the train to Fushimi Inari Shrine, famous for its thousands of torii gates.
After Fushimi, we went back to Gion and explored the sights within walking distance of our house: Kiyomizu-dera Temple, the entire Higashiyama area, and the Gion shopping district.
We enjoyed a comfortable night's sleep and made our own breakfast the next morning (we had earlier stopped at a nearby supermarket which Nikki had marked on our map.) We caught an early bus to the Golden Pavilion, and we were incredibly lucky to arrive right after a snowfall. The place was mobbed with photographers, and it was easy to see why…
We spent the rest of the day exploring the Arashiyama area (Monkey Park, Bamboo Forest) and even had time to visit Nijo Castle before going home.
On our last day we took a bus to Terrazza House, and we were in for a treat. This house is GORGEOUS and quite large.
It had a full kitchen, bathroom shared between two bedrooms, sitting room (which can sleep a few more people on futons), and a great room featuring a white grand piano. (There was also a washing machine in each house, should you need to do laundry.)
Oh, and did I mention there's a giant balcony overlooking Kyoto? Not much of a view in January, but I imagine it's gorgeous in the fall or when the cherry blossoms are in bloom.
This house was just plain amazing. It was literally a stone's throw from the peaceful Philosopher's Path, directly across the street from the entrance of the Honen-in Temple, and a five-minute walk from the Silver Pavilion.
As before, Nikki was there to greet us at the house and show us how everything worked before leaving us to explore.
We soaked up this last day seeing the quieter sights near the house. I imagine it's not nearly as quiet during the high season, but we loved the peaceful surroundings.
Nikki recommended a great Udon restaurant nearby, and in addition to marking the nearest supermarkets on our map, she also marked the nearest post office/ATM location. A few times during our trip I called her cell phone ("Which bus were we supposed to take to __?", "How do I turn off the funky blue nightlight?") and each time she either picked up right away or called us back quickly.
We had a blast staying at these two homes and would do it again in a heartbeat. The personalized service can't be beat, and it's a wonderful feeling to be coming "home" after a day of sightseeing rather than back to a hotel room. I perused the guestbooks at each house to find glowing comments from other visitors. While I couldn't read those in French, the English comments were all positive!
Prices vary widely from house to house, depending on size, location, and time of year. Obviously you can expect to pay a little more for a larger house and during peak seasons, but prices on their website range from 7,100-23,800 yen per night. This would be a great option for a family or a group of adults looking for an adventure!
Also, while the company has 28 homes in Kyoto at the time of this publication, they plan to have even more available in the coming months.
So how far in advance should you plan? For cherry blossom season, Nikki recommends booking at least six-eight months in advance. For Christmas and New Year's, book two months in advance. From October-November, during fall colors, Nikki says two-four months ahead is a good idea. Aside from those specific times, you should be able to find something available on much shorter notice.
You can book or request more information on their website, and a Travel Angel will contact you directly. The company also offers home rentals in Tokyo. Happy house hunting!
Website: Japan Experience