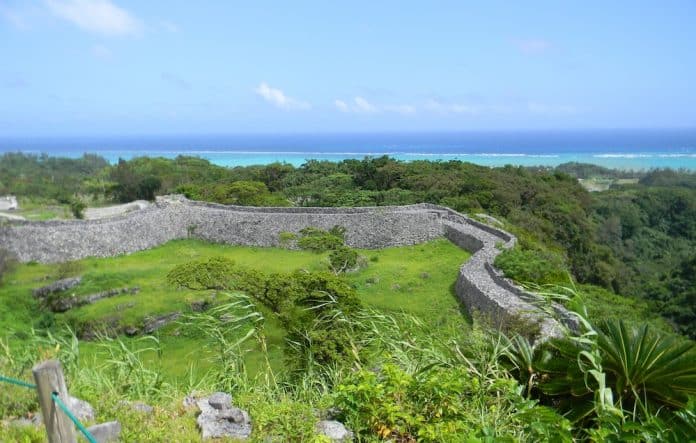 CONTRIBUTED BY SUZIE SMITH
What do castle ruins, yakaniku lunch, pineapple wine, glass blowing, and a beer factory have in common? We all know how fun they all individually are; but did you know you can do all this in one day on Okinawa! Kadena ITT facilitates a monthly Explore the North tour that includes all these attractions.
Our tour started at 0845 at the Schilling Center on Kadena (the same building that Kadena ITT is located in). We rode up to Nago with about 40 other "tourists" and an extremely friendly tour guide. She let us know some interesting facts about Nago (like why there are dolphin statues everywhere!) as well as gave us important logistic information. She also was always there to take that perfect picture when we didn't have enough hands.
The first stop was Nakijin Castle ruins. Our tickets were good for both the ruins and the museum that contains old pottery and things of the sort. Definitely take the time to walk up through the ruins; the view is incredible!

Explore Nakajin View
After the ruins we headed off to a yakiniku (Korean BBQ) lunch at FruitsLand. We didn't have time to check out that park, but lunch was great! Just make sure to wear your bib, it gets messy.

Explore Lunch
From there we walked a couple blocks to the Nago Pineapple Park. This was my favorite place. Once you walk in you are surrounded by pineapple fields and can even take a free 10 minute kart ride around them.

Explore Pineapple

Explore Winery
But the best part is inside. Once you pass all the ocean displays and souvenirs you will be in the "tasting rooms". There are several different types or wines, juices, sweets, and other fun things to taste and buy if you'd like. Beware of the pickled pineapple though.
Up next was the famous Ryuku Glass! Here we were able to watch their glassblowers create beautiful glassware and even got to create a piece of our own! It was an amazing experience. Take time to walk through their shop and see all the cool little things they create as well.

Explore Glass

Explore Orion Sign
The last stop on our tour was the Orion Beer Factory. This was my husband's favorite. Our tour guide teamed up with Orion's tour guide to give us a tour of the facility. It was very interesting.
After the tour we were given tickets for free beers! (or juice/soda if underage). They also had a great gift shop with lots of fun Orion merchandise.

Explore Orion Glasse
After the beer factory we headed back to Kadena. The tour lasted all day, approximately 0900 – 1700. I highly recommend this tour and if you're looking for an amazing day for your family or just a few friends. You will have a great time!
Tour information website
Explore the North is a monthly tour, usually held on Sunday.
Price: Adults – $49, Students – $47, Children – $41, Infant – $11
Time: 0900 – 1700
Call for more information: 959-4322