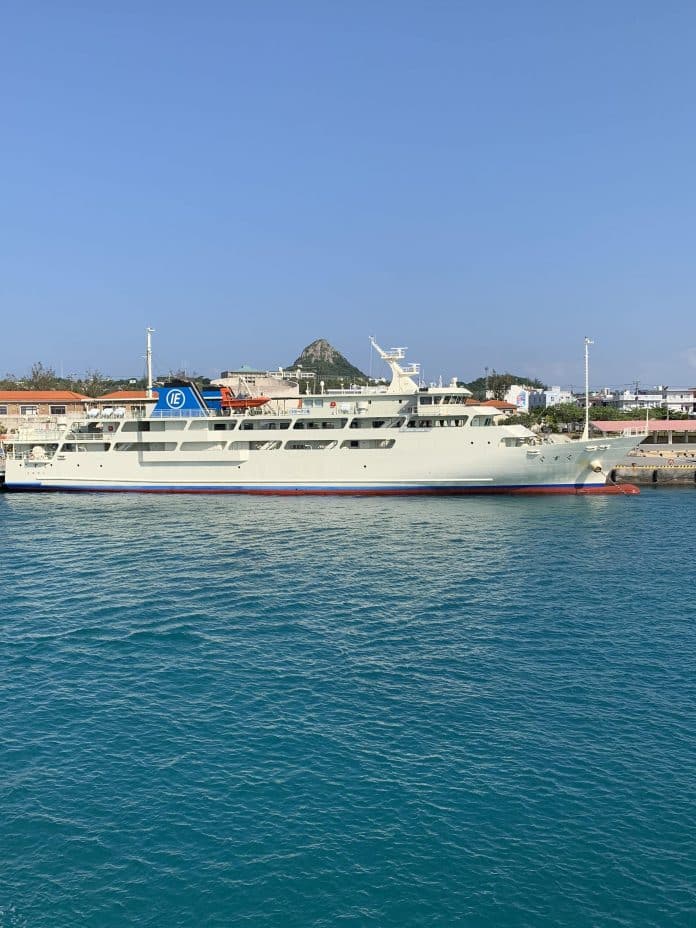 The Journey to Beautiful Ie Island
Have you been looking for a relaxing family getaway from the hustle and bustle of Okinawa? Well, I have the perfect place for you: Ie or Iejima Island! With two relaxing beaches, plenty of water activities, historical landmarks and a mountain to explore, there is something for everyone in the family to enjoy. If you would like to book accommodations to IE please visit their site
Ie island is located 9km (5.592 miles) northwest of Motobu, which is in the northern part of Okinawa. From Kadena Air Base, it is approximately an hour drive to the port using the Okinawa Expressway. Once you arrive at Motobu Port, you can either park your car there free of charge or bring your car with you on the ferry boat. I suggest that you arrive in plenty of time before your scheduled departure due to limited parking space. In order to purchase your ferry ticket, there are two options: a ticket counter or a ticket machine. I highly recommend using the English option on the ticket machine because most of the employees at the ticket counter do not speak English. A roundtrip ticket to the island for an adult is 1370 Yen and for children 6 to 11 years old is 690 Yen. If you plan on bringing your vehicle there is an extra loading fee and a reservation is needed.

The ferry boat ride to Ie island was very quick and enjoyable! Once you board the boat, there are two small closets where you have the option to store your luggage. There is plenty to do to make the 30 minute ferry ride fly by! I chose to spend half of the journey on the balcony to take in the beautiful landscapes, enjoy the salty air and snap some Facebook and Instagram worthy photos. The latter half of the trip, I ventured inside and found a very clean and comfortable seat to relax in. There were plenty of open seats, a number of TVs that were broadcasting a Japanese program and a snack bar with a variety of Japanese refreshments.
Once you disembark the boat, you will see the Ie ferry terminal directly in front of you. Make sure you stop in here before venturing out into the island! There is an information desk that has a myriad of brochures in English, clean restrooms, vending machines, a gift shop with some unique souvenirs special to Ie and also some great local restaurants. Make sure to bring Yen with you for any purchases at the gift shop, for it is cash only.
Whether you choose to drive on the island, bring along or rent bikes or just your best walking shoes, you will not miss out on seeing what this quaint island has to offer! If walking shoes is all you have, take a 2 hour walking tour of the island. You can get a close look at the local farmers hard at work in the island sun, tending to their coriander, radishes and purple sweet potatoes. ( insert picture of farmer) You will see many historical and cultural landmarks, some that reflect WWI's impact on the island. ( insert photos of bombing site) After all that walking and climbing, you are finally rewarded with the breathtaking 360 degree view of the island from the top of Mount Gusuku. Here you can also have clear views of the Churaumi Aquarum, Kouri Island and Sesoko Island in the distance.
Though the island may be small in size, it is bursting with culture, natural beauty and many exciting activities. When I boarded the ferry to leave the island and waved goodbye, I did not say"Sayonara." I shouted, "Mata sugu ni aimasho" (See you soon) because there is still much more adventures that are waiting for me here!