CONTRIBUTED BY ROSALIND ZICCARDI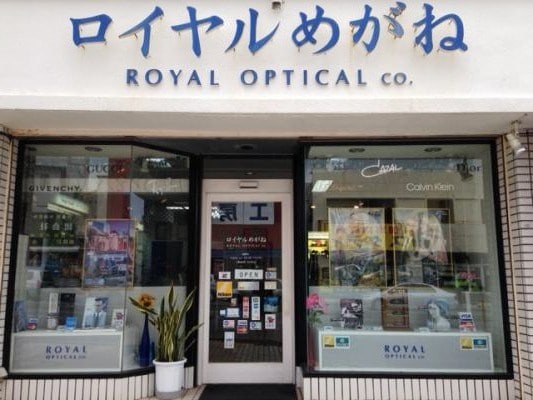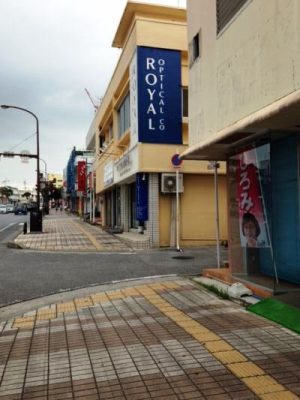 Royal Optical Co, owned and serviced by Shigeo Oshiro-san, was a fantastic find for me when I needed new glasses. I got the glasses I wanted, expert advice and service, had fast turn-around (for glasses with all the bells and whistles), three useful gifts, and a free repair only a week after getting my new glasses (a word to the wise: inadvertent head-butts bend frames); all with a substantial discount. With a favorable exchange rate (I paid yen, cash) and reasonable prices, I saved $40 on comparable glasses I saw in the U.S.
Oshiro-san's full optical service includes: 1 hour service (single vision), special orders, bifocals, free eye test, wide selection of frames, high index (super thin) lenses, Rx diving mask, sport and safety glasses, rapid repairs, and contact lenses.
If you are looking for a high quality pair of glasses, I personally commend Oshiro-san. You will get specialized care, a great selection, terrific customer service, and a SOFA card-holder's discount – all in English. He'll even pay for your parking.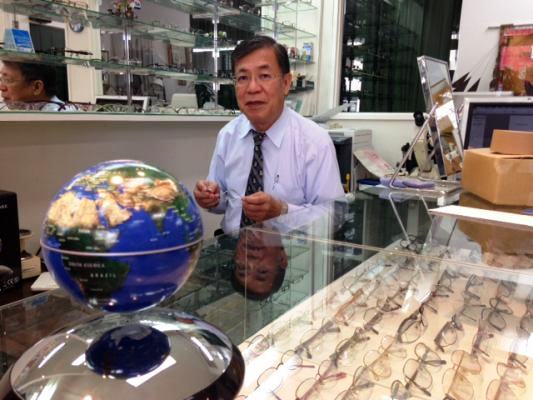 Directions: To get to Royal Optical, go out Kadena Air Base, Gate 2 to Hwy 330, turn right. At the second traffic light turn right. You will pass the parking lot on your left but the entrance is around the block, so turn left at the next (narrow) intersection and left again at the next (narrow) street. Turn left into the Grand Parking lot (directly across from the Docomo parking lot). Walk (right) up Hwy 330 two very short blocks; Royal Optical is well-marked on the second corner. Keep your eye out for the very cool Levitron spinning globe and let Oshiro-san know Rosalind sent you!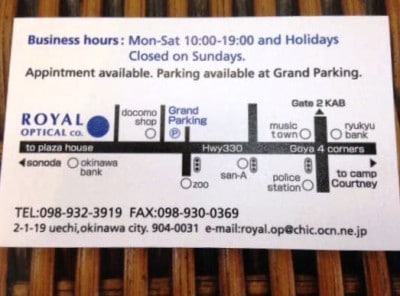 Owner: Shigeo Oshiro, Certified Eye Care Specialist – AO

Address: 904-0031, 2-1-19 Uechi, Okinawa City
Map Coordinates: 26.332053075513, 127.79748233565147
Phone: 098-932-3919
E-mail: royal.op@chic.ocn.ne.jp
Hours: Monday-Saturday 10:00 a.m. – 7:00 p.m., Closed Sundays
Payment: major credit cards, U.S. dollars, yen