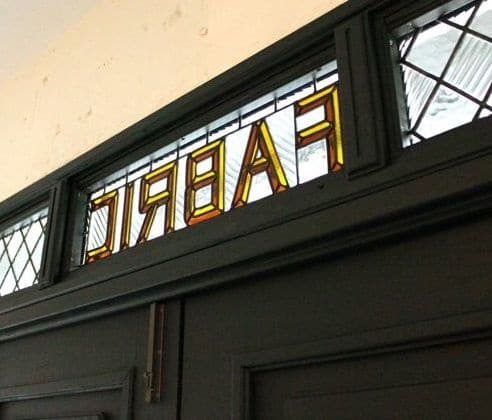 CONTRIBUTED BY CHRISTOPHER DONG
We walked through the small streets of South Sunabe on a sunny weekend afternoon. It was that odd hour of day where we were feeling peckish, energy enough to think about doing something, too hungry to actually accomplish anything. "Tea-time" menus infuriate me, lazily turned out dishes while chefs busy themselves prepping for dinner. And we were just far enough from home that Okinawa traffic was not worth the trouble. No, we'll wait it out.
Turning the corner, we spotted a scarlet spiral staircase and a white US standard mailbox. "That doesn't belong there;" we went to investigate. As we drew closer, we were met with a storefront that seemed transplanted from San Francisco or New York's city streets; hand painted forest green wood trimmed large windows, antique door with brass accents, and the word "FABRIC" in stained glass commanding atop. Reggae-funk lightly pumped through the windowpanes, odd, and as we turned the doorknob, we were greeted by two happy faces and a mounted deer head.

Fabric Sign

Fabric Items
Owner and designer Hatori Yoshio may seem familiar, and if you've ever been to Cactus Eatrip Bakery, you'll quickly notice that his notoriously "majime" (serious) aloofness has been replaced by a kind and welcoming smile. Having spent three years at Bun Ka Fashion College, his sense of modern funkadelic and organic chic has transplanted well from former dough to now textile medium.
At Fabric, Yoshio focuses on the natural, selecting handmade clothing and accessories made locally and in greater Japan. For women, dresses, T-shirts, and shorts are readily stocked for summer. Organic cotton mother and baby clothing abound. And for those that are more yogically inclined, a feather soft free-sized shawl that triples as a skirt, blanket, what have you. Also featured is jewelry made by a local artist, designs available by season and occasion.

Fabric Jewelry

Fabric Interior
For men, Yoshio picks hardy and durable wear, able to fashionably withstand Okinawa's summer heat. Of note is his version of the "fundoshi", stylized underwear of sorts that are seen worn by Japanese men during festivals and celebrations. Made of organic cotton, this breezy accessory comes in assortments of blue, yellow, pink, and green. You have to try it to believe it, though if you feel a bit too embarrassed, it works just as a well as a headwrap.
Fabric takes its stand on handmade seriously, each renovation and decoration on the two-floor space self created or locally collaborated. The second floor serves as Yoshio's workspace where he order-makes clothes. A little chat with Yoshio, and I found out that he designs and produces about one new clothing item a week, sometimes to customer specifications, most of the time from his own imagination. I browsed through some of his creations, and made a mental note that this is a great place for quality presents.
My stomach gurgled, prompting me to check the time. As I looked back up, nostalgia hit; Yoshio handed me an olive bagel bread from Cactus bakery. Turns out he had a tray of it behind his counter. Good habits are hard to break, I guess.

Fabric Items 2
Hours: 1200-2000
Pay: Yen, Dollars, and Credit Card
Directions: Turn left (south) out of Kadena Gate 1.  Right at the third light (the one after the 23).  After the second light, turn at the next left.  Then second right (21 will be on your left on the corner).  Fabric is on the right side across from the Orange Diner.