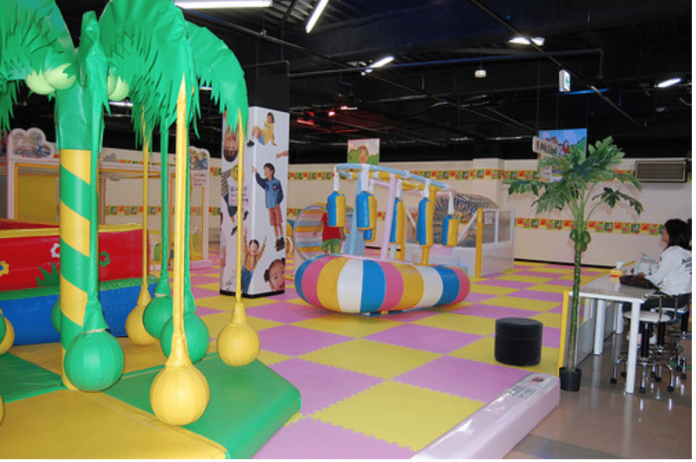 Family Land, originally uploaded by okinawa hai.
(Click on the photo above for more pictures of Family Land.)
CONTRIBUTED BY JULIA
Julie and I recently checked out this indoor play place thanks to a tip from our friend Anna.  The kids absolutely loved it!  It's hard not to love a place that has ball pits, slides, bouncy areas, and plenty of space to run around…well, at least if you're a 2-year-old.   OK, well we loved it too.
Here's what downtownjuliebrown had to say about it:
They have billiards on the first floor for adults and a batting cage on the roof. Kiddos get a play place on the roof (not air-conditioned) and the whole 2nd floor which is air conditioned. There is a bouncy area with all sorts of ball pits, climbing things, etc for the kids. Also they have tons of video games like the taiko drum game and driving and motorcycle games which are FREE! And ping pong. so while the kids climbed on stuff Julia and I played shoot the zombie video games which were cool except apparently I can't shoot to save my life (literally). The kids were entertained by the games as well. They charged us each a one time membership fee of 315 yen and then 105 yen per 15 min per adult. Our kids were free but we weren't sure about what age they start charging.  So, I think its a great rainy day location for the kiddos to run around. The one drawback is not opening till 11:00 but they do serve lunch for pretty cheap prices (soba, hot dogs, onigiri, etc).
OK, so a couple of other drawbacks that I have to mention is that while the kids were playing at the rooftop play area it was REALLY hot and we could also hear rap music with explicit lyrics over the speaker system.  Hopefully the kids were too busy having fun to pick up any curse words.
There are other payment options instead of the 105 yen per 15 minutes.  If you plan on staying a while you can pay 1000 yen up front that will allow you to stay as long as you like Monday-Friday from 11:00 AM – 8:00 PM.  After 5 PM on weekdays you can pay 1500 yen to stay up to closing time.  On the weekends 1000 yen buys you 3 hours. Keep in mind that all payment options are in addition to the initial membership fee of 315 yen.
Overall, Family Land is a great alternative to being outdoors in this crazy heat if you're getting tired of the beaches and water parks.
Hours:
11:00 AM – 2:00 AM Weekdays
10:00 AM – 2:00 AM on Saturday and Sundays
Phone No.: 098-939-5777
Directions from Kadena Gate 2:
Head straight out KAB Gate 2 onto Route 20.
Take a RIGHT onto 329 and proceed about half a block.  Family Land will be on the right side.  It is a big black building with a sphinx in front of it.  Park in their indoor garage.