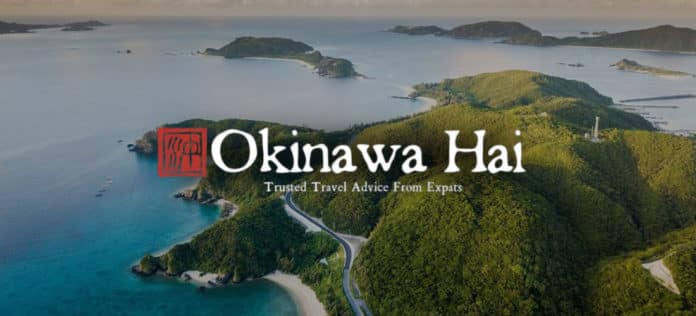 CONTRIBUTED BY CRYSTAL SCHOLLARD
Moving to Okinawa with 2 boys (ages 2 & 4), a bunch of bags and a great husband!
*I write this from a completely personal stand-point (I do not work, endorse, or profit any of the companies listed below).  The following is some of the last minute travel things I wish I had known prior to leaving on this journey.  My personal belief is that you can put a price on comfort, and in some situations, I am willing to pay it.
We began our journey to Okinawa in Tucson.  We were informed of our PCS about 5 months prior to actually leaving.  It was an exciting 5 months for us.  I am a huge planner, preparer, and worrier, so I'm pretty certain I earned a few more grey hairs those five months.  I researched everything I could, spending many hours on Okinawa Hai! and taking in as much as I could prior to arrival.  I had a hard time finding information on the actual flight over, how to prepare for that awful middle of the night departure (especially when you have 2 small ones who still take naps, no hotel room, etc.) and what to expect for the in between (your arrival at the port and then the departure).  Here is what I have learned and what I wish I had known prior to leaving.
We flew from Tucson, AZ to Seattle, WA approximately 36 hours prior to our "show time" time.  The Air Force put us up in a hotel for one night (which we were grateful for) but that didn't answer what to do with our entire day, our huge luggage, how to get around, etc.  After going through it, here is what worked for me, and how we did it.
TLF (Temporary Lodging Facility, as the Air Force calls it):  Don't be afraid to ask for a bigger room.  Both state side and at Kadena,  we were lodged in a 1 bed-room with pull-out couch.  While not the worst, it was very small (especially on Kadena) and not enough room for an extended stay.  We asked for a bigger room, and we got one!  So, don't be afraid to ask!!!
AMC:  Call AMC a few days prior to verify flight and check-in time.  This will also give you the course of travel so you can plan your flight lengths accordingly.
USO at SEATAC:  You can leave your luggage at the USO if you are remaining there.  While I'm sure that will work for some people flying in- that did not work for us.  We were sleeping in a hotel for our one full night there.  Also, at this time (Nov-Dec 2010) they are in the process of remodeling, so there was not a lot of space, and not a lot of luggage space either.  They did have food available, a crib, a shower, etc.  My family and I decided to hang out in a less crowded area, but the USO was definitely an option for those with nothing else/no where else to go.  I would call them if you have any other questions.
KEN'S Storage:  There is a lovely storage facility on the baggage floor level (between carousel 12 & 13 I think- at least close to that!) at SEATAC.  It was very inexpensive to store our bags- $50 total for all 8 bags we stored for 24 hours. (Again- price of convenience/comfort).  This was a well-spent expense for us.  We got off the plane, went to Ken's, dropped off everything (including car seats) except for 1 over-night bag, went outside and caught the shuttle to the hotel for the night. We went  back to Ken's the next morning to drop off our remaining bags before heading downtown for the day.  It was great to not have to worry about our bags, or hang around the airport all day due to someone having to stay with the bags.  They charge based on the size of the bag, and it's for a 24 hour period (regardless of how little time you need to use it).  You receive $1 discount per bag with military ID.
Hotels:  There are quite a few hotels right around the airport.  I definitely recommend staying at any of those.  Just don't eat at "13 Coins" diner- outrageously expensive and horrible food.  We stayed at the Radisson and have no complaints (just make sure when you check in that you have more than one bed if you have kids- they originally had us in a 1 king size bed).
Transportation:  This was a big issue for me having 2 small ones that still require car seats.  The answer:  Public Transportation!!!  The "Light-Rail" takes you from the Airport (8 minute slow/toddler walk to the loading location from Ken's baggage) to downtown Seattle- we took the rail to Westlake Center.  This was a great center point.  From there, we were able to site-see (Pike's Market, the Aquarium, Space Needle, etc.)  There was a little walking involved, but minimal.  We took the Monorail to the Space Needle, which leaves from the top of Westlake Center.  The cost from the airport to Westlake was $5/adult.  My boys were young enough to ride free.  Unfortunately, I don't recall the price for the monorail, but it was minimal as well.  There was no need for a car seat on either rail.  The trip from the airport to downtown was approximately 30 minutes, so my boys caught a quick nap at the end of the day.
Sightseeing in Seattle:  There is quite a bit to do there.  For us, it was important to have kid friendly activities.  We chose to see The Seattle Aquarium (Military discount!), Pike's Market- FLYING FISH!!! and the Space Needle (also military discount).  By that time, my boys were exhausted, so we didn't see much else.  There is plenty to see and do in Seattle, just research a little.
Between Check-in and Departure:  As you may know, you have to check in hours before the flight actually leaves.  Our flight left around 3 am, and we began check-in at 9 pm the day prior.  Once you check your bags, you can actually go through security.  Plan on eating quickly once you are through security as a lot of places closed at 11 pm.  There was a nice play area that my boys enjoyed- soft floor and foam slides.  It is by the food court and can be looked up on SEATAC's website.  "Hudson News" was the only shop still open around our gate.  They also offer a military discount, so make sure to show your ID while stocking up on snacks for the flight.  Our boys went to sleep.  They had a busy day and were exhausted. (Pack small blankets & pillows in your carry on for this reason if you are travelling with young ones).  Try and charge your electronics that you will be using on the plane.  The plugs fill up fast with everyone trying to do the same.
The flight(s):  We left Seattle for Yokota.  This was a 10.5 hour flight.  The attendants served breakfast shortly after take off (when most of us were sleeping) so plan on bringing something to eat when you wake up.  They do show videos, so you can watch those if you are not sleeping.  My boys slept most of the flight, as it remains dark for a long time.  We arrived in Yokota and had to get off for about 2 hours as the plane refueled, etc.  Again, charge your electronics if needed.  My boys slept again, for the remaining short flights.  We touched down one other place, but were able to remain on the plane for that stop.  We then landed in Kadena, exhausted, but so excited to finally be "home".
I hope this helps other wondering about what to do in wait for the AMC flight.  Please let me know if you have any questions, and I will do my best to help!