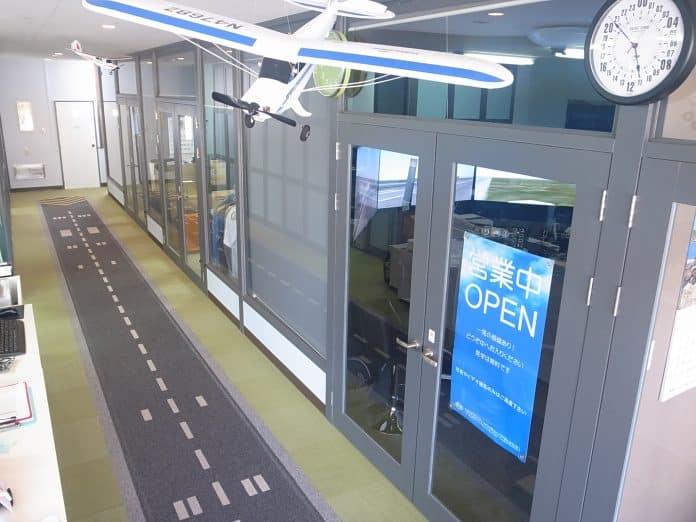 — The Joy of Flight at Flight Simulator Okinawa—
Have you ever wanted to learn to fly, but didn't think you had the time, or maybe you want to get some experience before jumping into a real aircraft? Get the full experience at Flight Simulator Okinawa (FSO), under the leadership of a FAA Certified Flight Instructor – Mr. Naoya Tamanaha and his certified mentor pilots. You will taxi, takeoff, fly to your desired airports worldwide and perform an assisted landing. Flying the sim at FSO feels just like the real thing, from the moment you sit in the enclosed cockpit to the moment you pull the controls back for takeoff for your joy of flight. Flight Simulator Okinawa (FSO) is open to the general public, no experience necessary, and it's pretty cool!
I was able to get my first flight during the holidays at one of their open events to introduce flying simulators to the public. They have 2 sims and I tried both of them in 1 session. I was able to pull off a safe landing in the first simulator which has no hydraulics, so I decided to up the difficulty and asked for some turbulence..I Crashed.But it was no problem since it was just a sim. It gave me the chance to safely experience the rigors of bad weather without the anxiety associated with danger.
After my flight I was able to chat with Mr. Tamanaha and he explained his vision for increasing flight education in Okinawa. It was interesting because there is also a major shortage of Airline pilots approaching in the next few years and using his FSO could be a great way to prepare for this opportunity. He often gets parents that want to get there children into flying and teach them the responsibility associated with becoming a professional pilot. Grooming them from a early age could could give them the jump start into becoming aviators.
Phone :  098-975-6173
Hours : Mon-Friday 0900- 1800   Weekends by appointment
Address: 411-3, Ihei, Chatan, Okinawa (right next to Kadena AB on Kokutai road)
Webpage:fso.co.jp/en