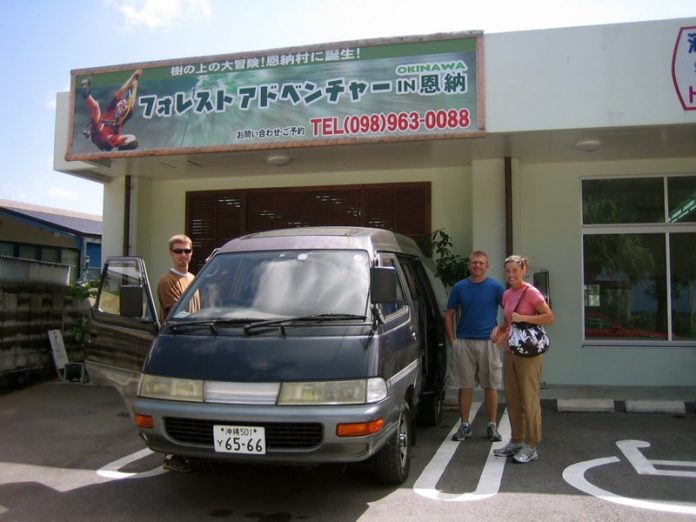 CONTRIBUTED BY SHILOH CROFT
· First stop was the Forest Adventure office in Onna where we read the rules, signed a waiver and paid admission.
· Next we drove our vehicle across the street to a dirt parking area, and climbed into a shuttle van, which took us to the park itself.
· After a short trek on foot from the shuttle van to Wipeout Lodge, we were aggressively buckled into harnesses by a professional assistant and given a quick demonstration on using the safety clips.
Note: these harnesses are no joke! Be prepared to have all "your business" squeezed, squashed and spilled out for everyone to see.
· Final stop before actually riding the lines is a guided safety and skill demonstration on a mini-course. Not all of the guides speak English, but we had a spunky lady from Scotland and she was a riot. We each got to practice our new-learned skills on the mini-course, until the guide was confident that we knew what we were doing.
· At that point we were free to go through the course unsupervised. It was great!  There was no one clipping us in and out and no nets below. I felt a sense of freedom to just go along at my own pace and by my own power.  I only saw a couple of employees during the entire course.
· The course itself is a series of zip lines, hiking paths and other obstacles. To ride the zip lines we were challenged to climb ropes and cargo net ladders.  Midway through the course is a complimentary cold drink case, where we got to choose between orange or grape soda – 1 per customer, please!
· The last section is a giant sized multi-level jungle gym complete with swinging board bridges, ring bridges, and the final zip line of the day. It also has a Tarzan Swing, a big free-swinging rope that's reached by climbing a series of tall ladders. You fasten your clip into the rope, and then launch yourself off the platform! After a short free fall, you swing Tarzan-style right into a floppy cargo net! It's a hoot!
· There are plenty of chances to take pictures and video. If you haven't gone already, plan the outing right now!
If you would like to buy tickets for Forest adventure please click the book now button below.
[adrotate banner="154″]
Directions:Take Highway 58 to the Renaissance Resort (Marriott). Turn onto Highway 6 for roughly 3 Kilometers and watch for the Forest Adventure Park Office on your left.
Operating Hours: Park is open daily from 9-5; last entry must be by 4 p.m.; closed for bad weather and holidays. Call 098-963-0088 for updates and reservations.
Price: 18 and older is 3,500 yen. Under 18 is 2,500 yen. Family of three is 8,000 yen; family of four is 9,500 yen; and family of 5 is 11,000 yen.
Reservations: A group of 8 or more requires a reservation; the reservation office is open until 6 p.m. daily.
Restrictions: Participants must be at least 140 cm tall (roughly 4 foot 6 inches) and weigh less than 130 kg (about 286 lbs). No pregnant women or flip-flops/slip-on shoes allowed on obstacles.
Amenities: Port-A-Squatty bathrooms are available behind the Wipeout Lodge.
Additional Internet Forest Adventure Park reviews/information:
travelbuddy okinawa renegades japanupdate kadena  official site in Japanese
WELL?! Why are you still sitting there? Get off your duff, find out if it's open and GO!