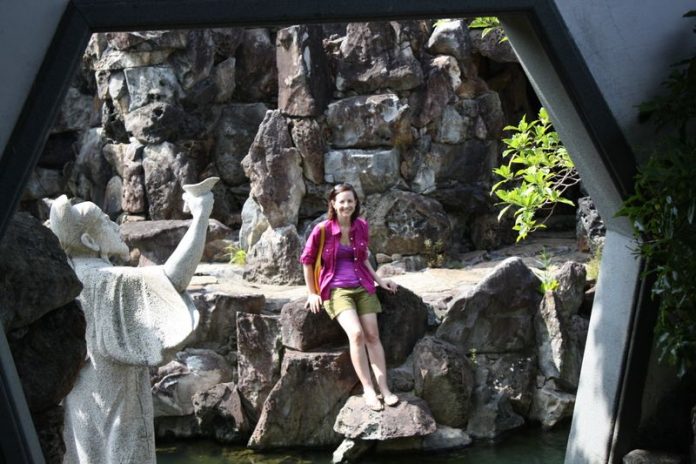 Editor's Note: Fukushen Garden was originally reviewed on Okinawa Hai on August 14, 2009; you can read a PDF copy of that original review HERE. The post below is an updated take on this attraction, published April 11, 2016.
CONTRIBUTED BY LOUISE DUPUY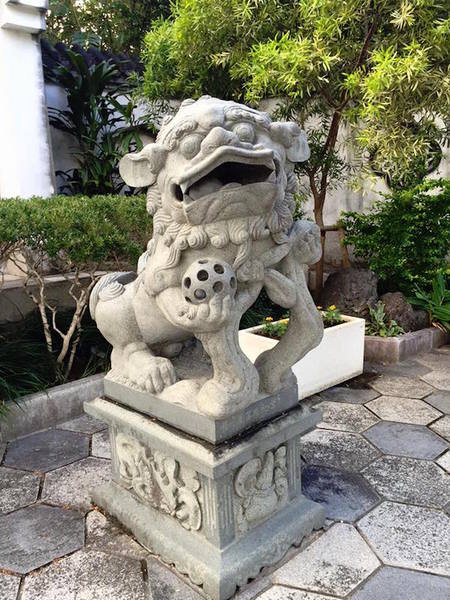 Fukushen Gardens is a traditional Chinese garden located in the Kumemura area of Naha. Kumemura was synonymous with Chinese culture for centuries, acting as a hub for the Ryukyus, an apt place for such an attraction. It was built in 1992 in celebration of Naha's appointment as a sister city to Fuzhou, China. It's constructed almost entirely from materials originating from Fuzhou, and with the help of its artisans.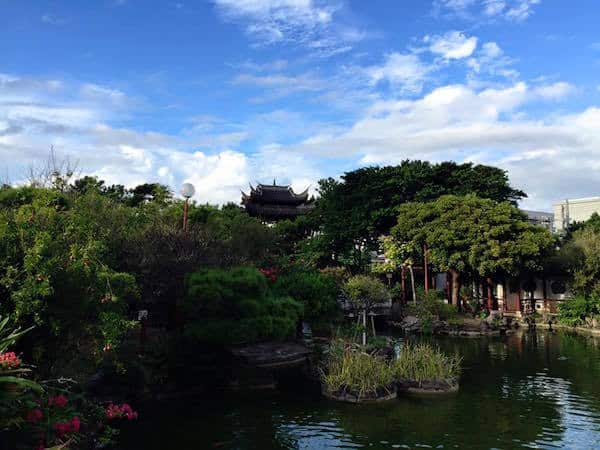 Fukushen is traditional in design, completely walled off, with a large body of water running throughout, and adorned not only with opulent structures and statues, but Chinese flora also. You'll find Koi carp and turtles residing within its waters, symbols of longevity and wisdom in Chinese folklore. For 100 yen, you can feed the Koi, a crafty bunch who know where and how to play the tourists!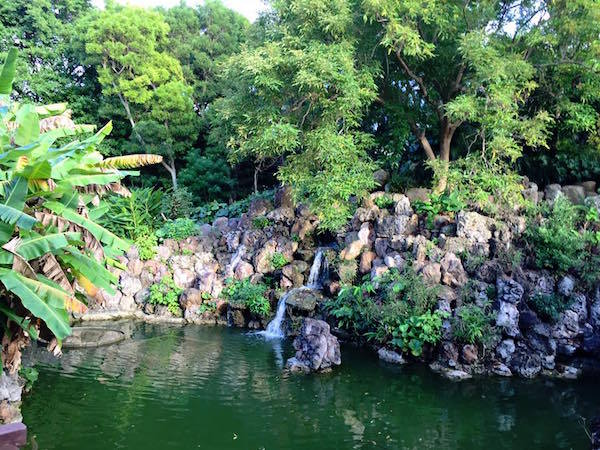 Enter through its East Gate, and be greeted almost instantly by a cascading waterfall on the opposite side. Atop this sits an observatory, great for getting a bird's-eye view of the entire grounds. A lake spans out in front, filled with the aforementioned Koi and turtles. Meander round to the side of the waterfall, and take a stroll through its man-made cave. Wear sensible shoes and bring a flashlight, and tread carefully, it's dark all times of day and very slippery.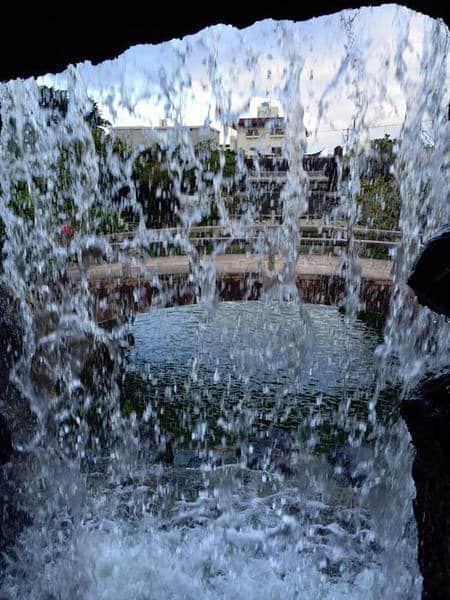 You aren't short of features to admire. All the flora has little tags nearby, so you can see what species grows there. Keep exploring and you'll find the Four Cardinal Gates of Direction: various statues cast in wood and stone.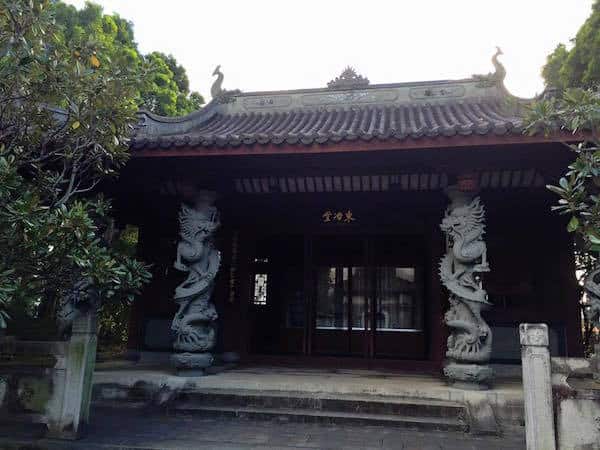 There's also six sided pavilions, bridges (my favorite being the Zodiac bridge, featuring the 12 animals of the Chinese Zodiac), large Chinese vases encased in a wooden pavilion, and, if you're lucky, a suspicious looking crane with his beady eyes planted firmly on the plump Koi!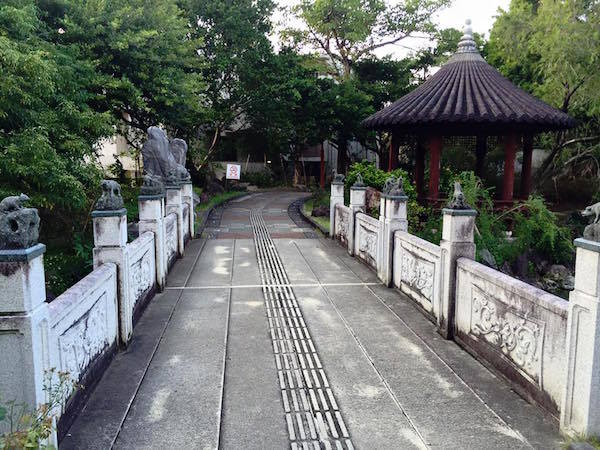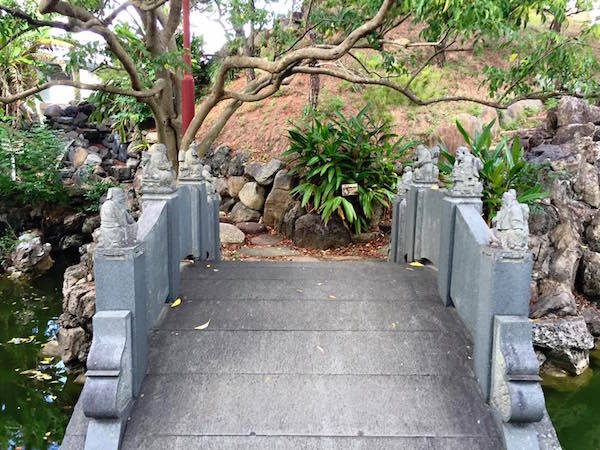 It's serene and peaceful, you can almost forget you're in a busy metropolis. Free admission adds to the attraction, and you can get information from the kind staff at the little information desk, as well as access the vending machines if all that walking around makes you thirsty. It's open daily 0900-1800, except for special holidays. Lose yourself in an Oriental haven.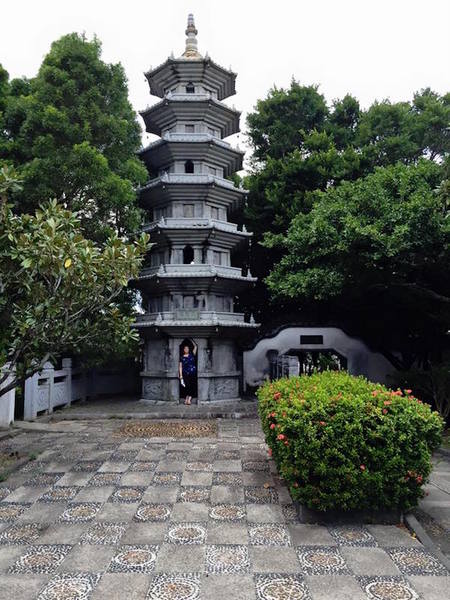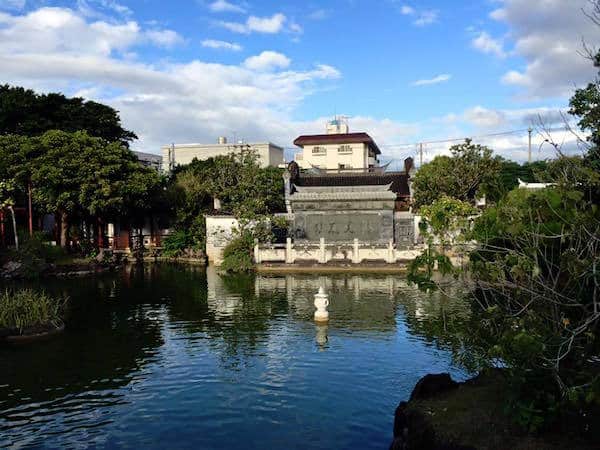 ---
Fukushen Gardens
Admission: Free
Phone: 81 98-951-3239
Address: 2 Chome-2-29 Kume, Naha, Okinawa Prefecture 900-0033, Japan
GPS Coordinates: 26.2167819, 127.6768022
Directions: Take 58 South towards Naha. You'll pass Camp Kinser and as you approach downtown, look for Rte 42. Take a right there and go straight. You'll be traveling opposite or away from Kokusai street direction. The Gardens are on your left. Look for 2 giant shiisa dogs in front. There is a park on the right side and a parking lot next to the park. Admission is free.