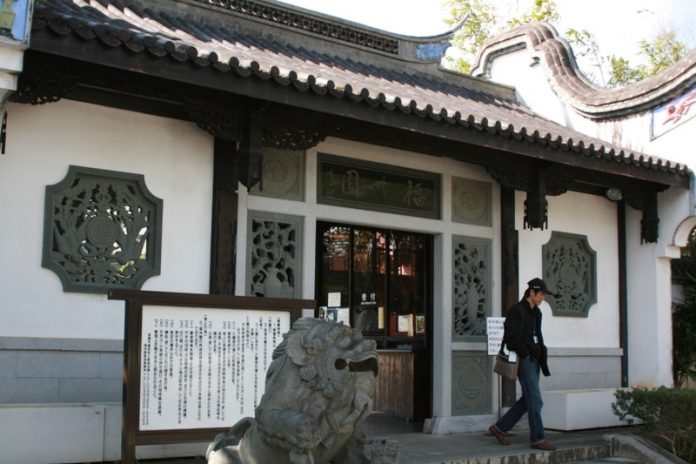 CONTRIBUTED BY BAMBI CALDWELL
This garden was beautiful!  The entry fee was free and you just tell the people at the front entrance how many people (at least on the day we went — Adventure Okinawa says it is 300 yen for adults and 100 yen for 10-16 year olds). You can pay 100 Yen at various machines to get food to feed the fish and turtles in the ponds around the gardens.  There were a lot of beautiful gardens and a great place for the kids to run around.  There were rock paths to hike up and over the waterfalls and also a bridge that had a cement statue on every post that was of every Chinese Lunar Calendar creature (Rat, Horse, Snake, Etc) and plenty of places to sit and enjoy the beauty you are surrounded by.
It is peaceful and located in downtown Naha.  The garden is a quick trip if you are chasing a running toddler, but we spent 2 hours there and could have spent longer if the kids weren't ready for lunch!  The gardens are within walking distance of Kokusai Street (I would say 4-6 blocks) so you could make the trip an all day affair.  We walked to McDonald's because it is on the same end of Kokusai Street as McD's.  The gardens are open year-round and closed on Wednesday's.  The hours are 0900-1600.
Directions to Fukushu-en:
-From Kadena travel toward the airport on 58
-After you pass Hwy 222 (there is a walkover bridge) begin to look for the Blue/White Sign that says Fukusheun Gardens
–Turn RIGHT at the light with the Fukushu-en Garden Sign (Route 42 Intersection)
-The gardens will be down on your Left 0.6km
-The gardens will have a large concrete wall surrounding it
-Turn Right at the entrance of the park and you will see a parking lot on your right (free!)
A few landmarks that you will pass on the way:
– Mona Kids, Camp Kinser, both large bridges
Travel time, depending on traffic, at least 30 minutes from Camp Foster.