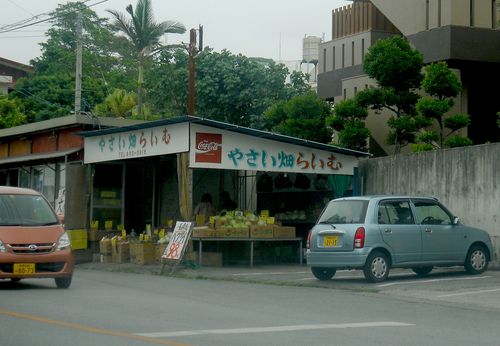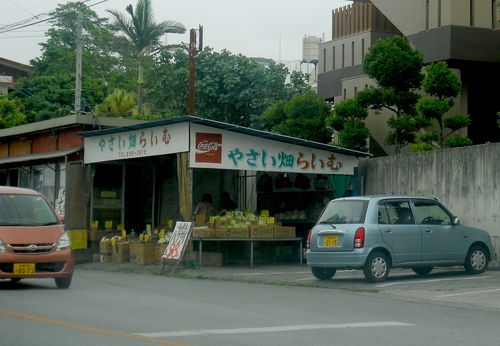 CONTRIBUTED BY MEGAN PARKER
I have been searching high and low for a produce market that isn't too far off the beaten path and yet still has a large selection.  I finally found it, at the suggestion of two friends, and it fits the (Yen) bill perfectly!
The market is conveniently located to Foster, Futenma and Kinser.  I live on Lester and don't think the drive is too far, and because it is right off of 58 it is in close proximity to other errands I might need to run.  Perhaps most importantly, the price is DEFINITELY right!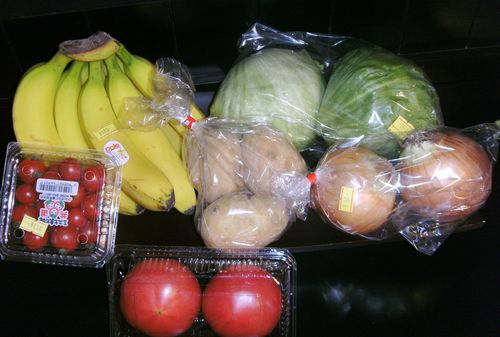 Check out what I bought on this particular occasion:
Two small heads of lettuce 100Yen
Box of cherry tomatoes 138 Yen
Two medium tomatoes 100 Yen
Two medium yellow onions 98 Yen
Three small potatoes 128 Yen
One huge bunch of bananas! 180 Yen
Grand total 744 Yen!
You can't beat that price, and everything is so fresh!  Aside from what I bought today, they also carry other staples like carrots, cucumbers, eggplant, cabbage, and various types of lettuce in addition to other less-common items such as asparagus, pea pods, strawberries, kiwi and mushrooms.  Of course, they carry lots of Okinawan items (goya, various noodles, etc.) and typically have cartons of fresh brown eggs for only 200 Yen.
A great find and a quick stop – with such close parking, I was in and out in less than 10 minutes, even with my 1-year old!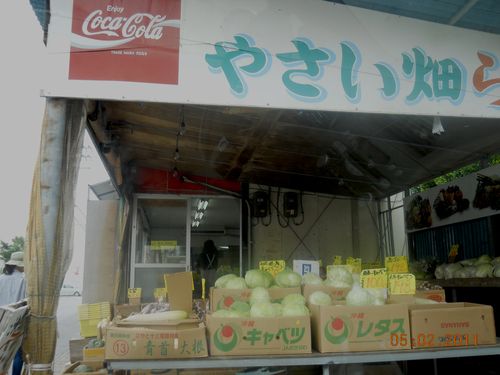 Hours:  Due to conversational ineptness on the part of the author, the hours are unclear. However, I can tell you that I have visited this market as early at 9:30 a.m. and as late as 3:00 p.m. during the week, and I know friends who have visited there on Saturday.
Payment: Japanese Yen only
Directions:  Take 58 South past Foster.  Turn left at the traffic light for MCAS Futenma and then make a quick right at the first opportunity.  Follow the road down about one kilometer and you'll see the produce market on your left-hand side, almost directly across from the Family Mart on the corner.  There are four parking spaces available.