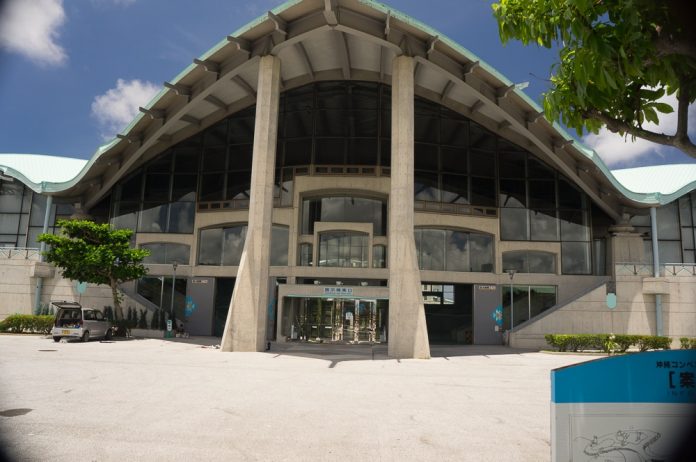 CONTRIBUTED BY MARISSA MATSUZAKI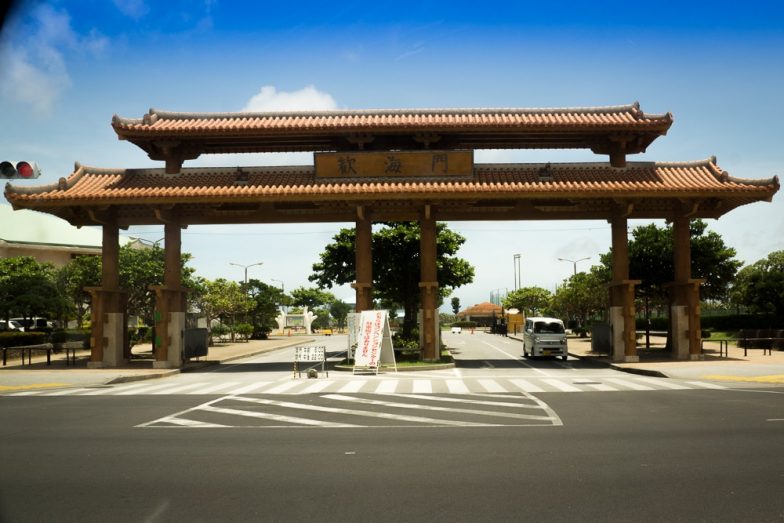 There are so many parks in Okinawa to explore. What type of parks do you fancy? How about one with a beach, a fish pond, the seawall, a playground, a field to play sports, or many trails for walking and running? Ginowan Seaside Park has all of those things and more.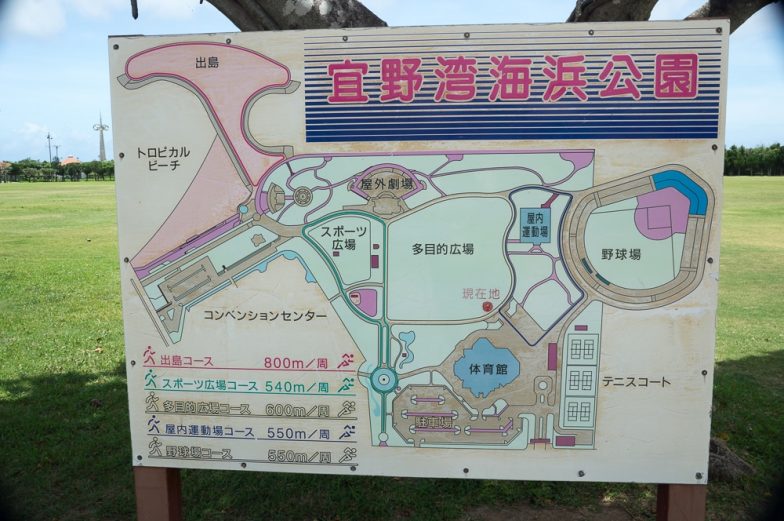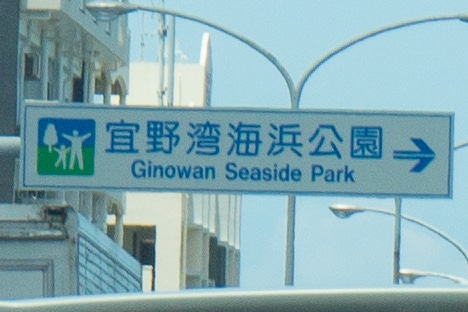 Like so many others, I am always curious about the attraction names I see on the white signs that line the main roads here. Ginowan Seaside Park caught my eye the other day and I just had to check it out! On my way to Nitori I saw the large Torii Gates that graced the entrance and realized I had seen signs leading to this park from route 58. Access to the park is very easy and they have plenty of parking. Beside the parking lot there is a stream and a fish pond full of Koi and even a few turtles.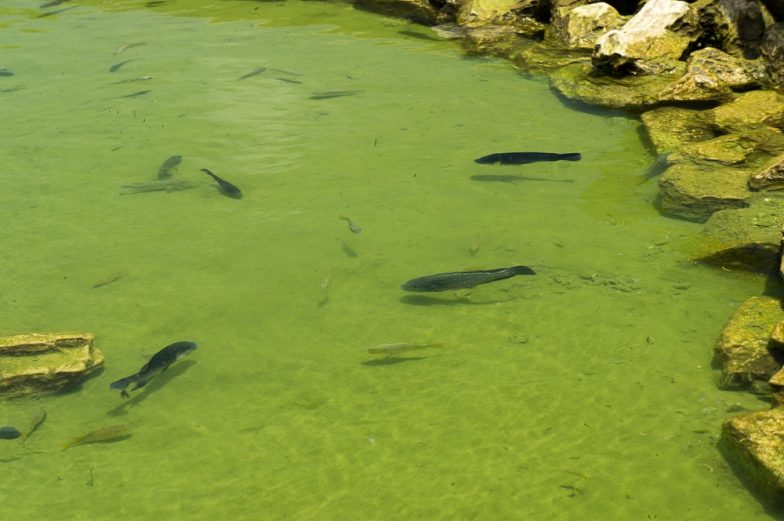 I moved toward the trail with the stroller and found that there is a large loop around a huge field as well as several other trails that branch off from the main loop, including a walk on the sea wall. In several places, you can find a map that lets you know the distance of each path—which I find to be an excellent tool for setting running goals.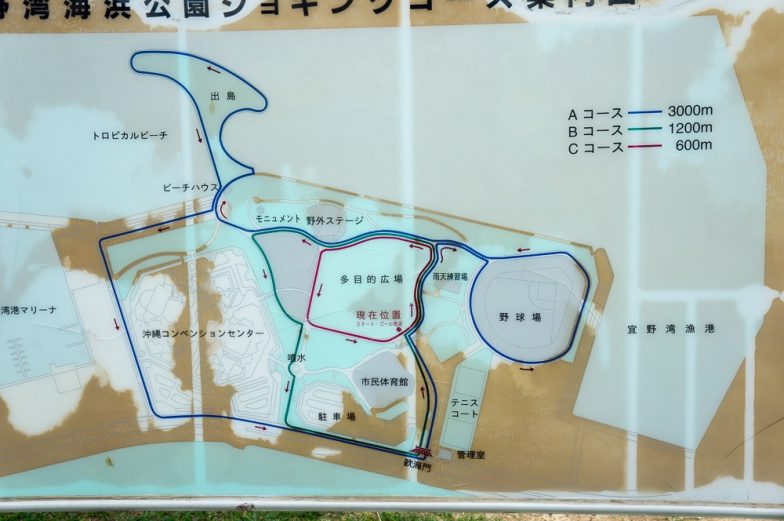 Throughout the track there are several exercise stations complete with signs that instruct you on how to use the outdoor equipment. It was like being at the gym only with fresh air, nice scenery and a lot more space! I plan on using this park in the future to get in some good workouts with my baby and stroller in tow since there is ample opportunity for strength and endurance training on paths that are stroller friendly.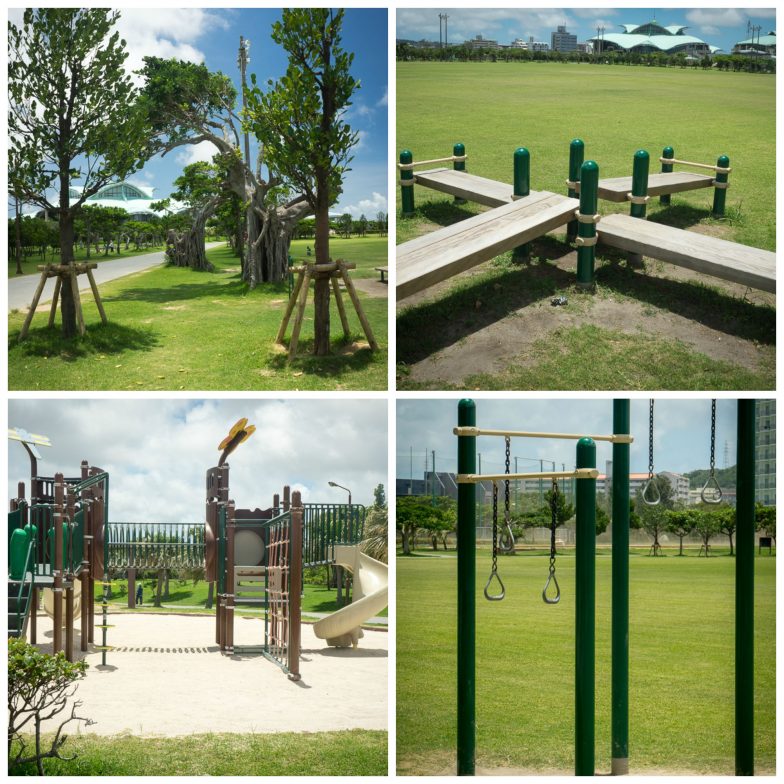 As if the trail and sports area isn't enough, there is also a beach, equipment rentals, a gift shop, lockers, an observation center and several vending machines.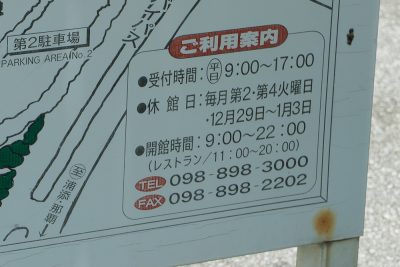 Hours:
Reception Hours: 9:00 a.m. to 5:00 p.m. 
Closed Days: Every Second & Fourth Tuesday and December 12 through January 3
Opening Hours: 9:00 a.m. to 10:00 p.m.
Restaurant: 11:00 a.m. to 8:00 p.m.
For hours of operation for the beach area, you'll want to utilize the phone number provided as that area of the park likely changes with the tide (literally). Overall I found this to be a very nice park for workout buffs and families. It is also conveniently located near Kadena and Camp Foster.
Phone: 098-898-3000
Directions:  Going south on 58, shortly after Foster's Commissary Gate, turn RIGHT at the first large stoplight. There will be a sign saying "Convention Center." Keep going on this road for at least 3 kilometers or more. You will pass the 100 Yen Shopping Plaza and ANA Hotel. On the right side, there will be a red, Asian-style entrance gate.
Turn RIGHT through those gates and turn LEFT into the parking lot. Continue to the end of the parking lot where you will see a whale fountain. Follow the path on foot toward the play structures.
Address: 4 Chome-3-1 Mashiki, Ginowan-shi, Okinawa-ken 901-2224, Japan
Coordinates: 26.2814275, 127.73280699999998