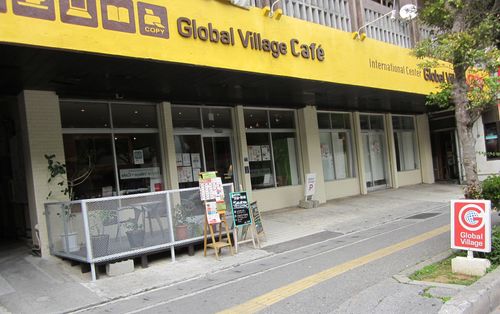 CONTRIBUTED BY WENDELL JOHNSON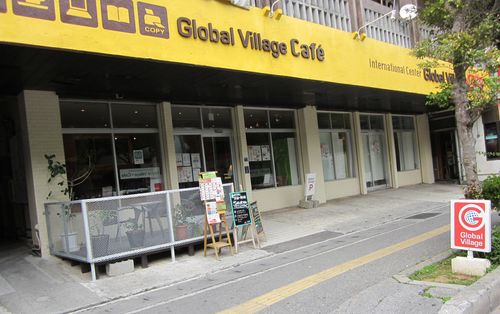 Though I had been on this wonderful island for a year and a half, I had little ability to speak in Japanese to make a conversation. I knew basic complimentary phrases but could not engage in some meaningful dialogue. Several Americans and Okinawians informed me that to speak Japanese fluently takes a long time. However I was not going to let that factor be an obstacle. I had a personal goal to speak to someone in Japanese for three minutes.
Last December I noticed a flyer titled 'Learn Conversational Japanese @ Global Village' while eating at a Mexican restaurant on 58.  After reading the flyer I new it was a sign to begin my goal for the new year.
The exterior of Global Village has clear windows with signs of wireless access and postings for up coming events such as an international cooking class and Spanish class. The facility has a terrace near the side walk with a table and chair to feel apart of the local community.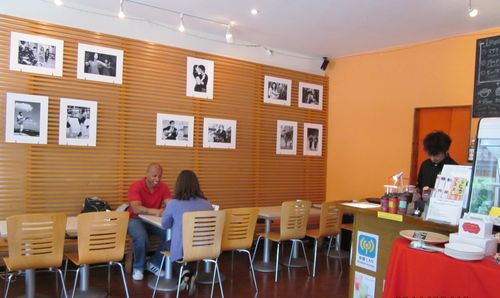 The inside of Global Village is warm and relaxing with pastel colored walls accompanied by soft jazz and island music. The facility has an espresso coffee shop with delicious sandwiches and tasty muffins near an artistic picture gallery. The food menu is presented in Japanese as well as English. The mood of the environment is very positive which has a mission to embrace other cultures and connect people together.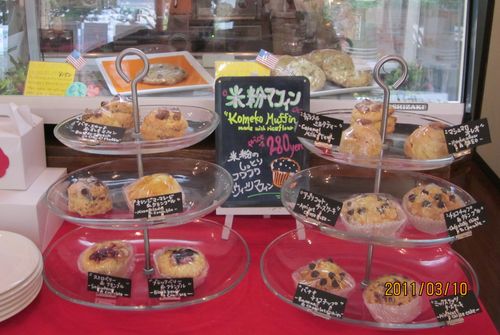 During the first month of taking lessons my emotions were mixed with excitement and anxiety to speak Japanese in a conversational manner. My instructor Tomoe noticed my anxiety to learn fast. Her encouragement to be patient was very beneficial. All of the instructors I have met are very friendly and fluent in English. After the first session the instructors began to speak to me in Japanese to assist me in learning. I really appreciated it. Presently I am in the middle of my third month and feel very confidant in my ability to engage in meaningful dialogue. I can not speak for three minutes yet but I am getting there. I had wished I had known about this place a lot sooner. I deeply appreciate the staff and instructors at Global Village for giving me an experience that I will always remember.
Directions:  Global Village is located off of 330 under the walking bridge traveling on 81 next to Camp Foster.
Hours:  The facility is open Mon ~ Fri 11:00 to 21:00/ Sat 0900~2100. Global Village is closed on Sunday and Japanese holidays.
Address:  2~2~3 Futenma, Ginowan City, Okinawa.
Website:  https://gvokinawa-en.com/
Phone:  098~896-1577
Other classes offered: Yoga Flow, Contemporary Hip Hop Dance, Traditional Balinese Dance, Belly Dance, Practical Self Defense Basics, Discover Ryukyu's Soul Music through sanshin, Indian cooking, Exotic Blinese cooking, Indonesian cooking, French cooking ( Parisian casual style), French Cooking (Parisian party style), Artisanal Bread Making, Apple pie, Cheese cake making and English conversation, Graphic Design with Illustrator, Getting to know British culture, Okinawan Bingata Style Hand Dyed Fabric, Presses Flower art beginner/intermediate , Traditional Yukata Dressing, Custom Stamp Making, Original gel candle making, Make your own custom beach sandals, A Journey Through World Music, Enjoying Band Session, Irish Fiddling for everyone (adults and kids), Spanish for beginner/ intermediate , French for beginner/intermediate, German for beginner/intermediate, Korean for intermediate, Italian for beginner/intermediate, and Chinese for intermediate.