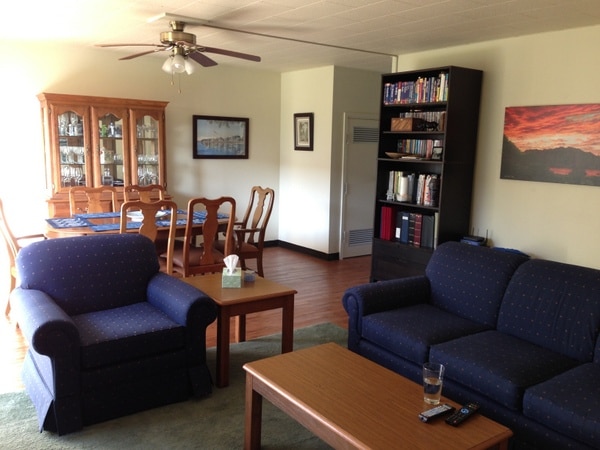 CONTRIBUTED BY LORI
Lori contributed a write-up about her on-base housing in New Lester last week and agreed to tell us about her experiences using government furniture while stationed here in Okinawa.  We have two other posts on this topics in our archives; Part 1 HERE and Part 2 HERE.  We have closed comments on those older posts in order to keep the new conversation going on this one, but the input from our writers and readers over there is still invaluable.  (And, as you can see from the pictures across all three entries, not much has changed in this area since 2008…)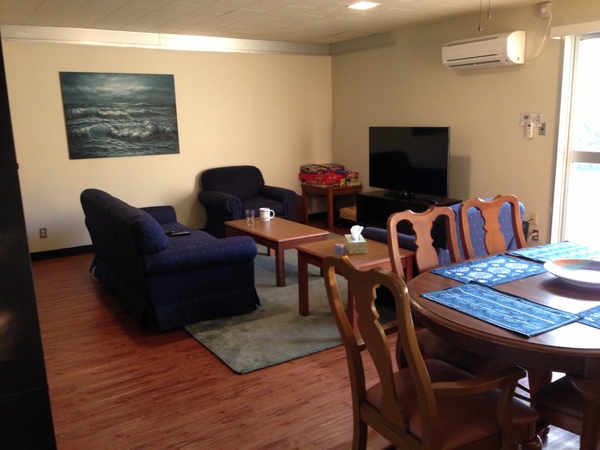 Government furniture. Are there two less inspiring words in the English language? Still, it was a source of curiosity for me before we moved here and remained mostly a mystery until ours arrived.
What to bring is one of the biggest dilemmas before moving to Okinawa, especially given that you won't know where you're living until you arrive. Would we be able to live off base? If so, would our furniture fit through doorways and stairways, then into the space we had? And if we're living on base, what will be provided and what should we bring?
The dilemma was mostly moot for us, since we were on weight restriction. This meant that what furniture we didn't sell on Craigslist went into non-temporary storage. We learned too late on this that if you're storing dressers, you need to either remove your belongings yourself or let your packers know that it needs to be packed separately. It's fortunate that we moved to a warm climate since most of my sweaters, long-sleeved shirts, and socks will reside in Florida for the next couple of years.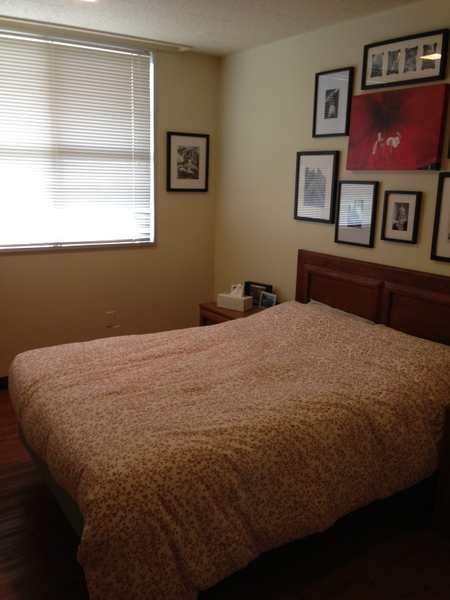 We had heard that there would be some opportunity to choose our furniture from a list or catalog, but were told by our housing agent that it wasn't an option anymore. She said she'd try to add a bookshelf to our order, but otherwise, we'd just get the standard set for a couple with no children. (We didn't get the bookshelf, but were pleasantly surprised when our shipment came to find that we hadn't sent ours to storage.) Our furniture would be delivered before we could pick up our keys. If there was anything we only needed temporarily or didn't want, we could schedule a one-time pick up. Anything we wanted to return after that, we'd have to bring ourselves.
What we got was a couch, two chairs, coffee table, two end tables, dining room table (seats 8 with two leaves put in), six dining chairs, China cabinet, desk, desk chair, double bed, two nightstands, tall dresser, and a large dresser with a mirror. Is any of this a style of furniture we would choose for ourselves? No. But the couch and chairs were brand new and everything is clean and in good condition.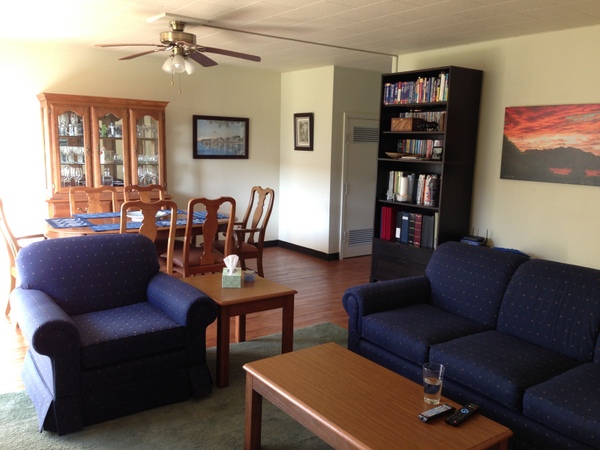 The one problem we had was the bed. My husband is 6'2 and easily takes up a double bed by himself. We asked about the possibility of getting a queen size bed, but were told they were for senior officers only, so we had to buy one. The only other thing we needed to buy was a microwave since they aren't built into the kitchens in our housing like they had been in our previous homes. We did also buy a grill and patio furniture we found on Okinawa Yard Sales since we have a patio and small yard here.
When we first moved in, our living room looked a lot like a dorm common room to me, lacking in any personality. But then I bought a rug from some neighbors about to PCS (who had the same furniture we do, so I felt confident it would go nicely) and a tablecloth from Uptight Imports, both of which helped to break up all of the oak furniture and flooring. Once our shipment came, we put up our artwork, added in the furniture we did bring (TV stand, cedar chest, ottoman, bookshelf) and filled the China cabinet with our own glassware, wedding cake toppers, and my grandma's cookie jar. With our bedding on the new queen size bed in our room and the government double bed in the spare room, decorations from home and things we collect here, it feels so much more like home already.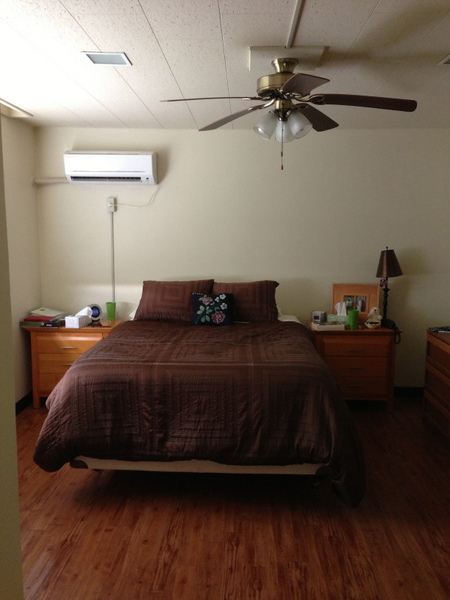 I'm never going to fall in love with the looks of my government furniture and I know I'll be happy to have our own furniture back when we get back to the States. But already I can tell that we'll have great memories evening spent lounging on our couch and dinners eaten around the table with friends that will make me look back fondly on them.
My advice? Bring or buy the things that will make your base housing feel like home and embrace the government furniture for the rest. Anyone you might want to impress with your decorating taste probably has that very same blue couch anyway.
Editor's Note: I've lived overseas twice, in Germany and Okinawa.  Both times we took advantage of using government furniture while living abroad; the first time because we were newlyweds who hadn't yet lived together and didn't own any, and the second time because the Army severely restricted our weight allowance.  I'd love to echo what Lori has said: what you're given to use during this tour might not be even close to what you'd choose to purchase for yourself, but it works.  With a little creative decorating – a few colorful throw pillows here, a one-size-fits-all slipcover there, and a $10 tablecloth to hide the scratches on that dining room table, you may find that you can infuse your own style into it pretty easily.  For more tips about how to spruce up your living quarters on and off base in Okinawa, check out all the posts in our Making Your Home category.
We would also like to note that with the exception of some senior personnel, all government furniture is equal.  He gets it, she gets it, and that family over there likely has the exact same coffee table, dressers, and bedside tables that are in your house, too.  Though leaving the majority of your furniture behind in non-temporary storage for a few years stinks, knowing that you don't have to spend your hard-earned money to replace it when you get here is one of those often unrecognized benefits afforded to us.