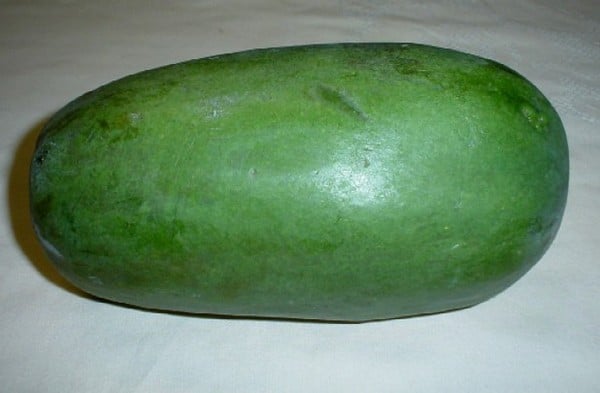 CONTRIBUTED BY SARRA MCMILLAN

Green Papaya
Even though I have been living in Okinawa for 2 years, there are still moments where I am struck with fear in Japanese grocery stores, standing in front of vegetables that I couldn't name, let alone know how to cook. OkinawaHai offers a great wealth of knowledge for deciphering some of these strange-looking foods (goya and daikon, for example) and, as one of my goals here is to be less clueless about cooking, I want to add to these resources!
Have you ever seen one of these?
In Japanese: 野菜パパイヤ or yasai papaiya; in English, this vegetable is called green papaya. Although most readily available between July and September, green papaya can be found year-round. Not only is it a great source of potassium, a green papaya also contains more Vitamin A than a carrot!
Ok, so it's good for you. But how do you use this vegetable? Here are two delicious recipes that will hopefully spark a long-term love affair between you and green papaya.

Green Papaya Stir Fry
Green Papaya Stir-Fry
(from: cookpad.com)
– 1/2 green papaya
– 1/4 carrot
– 1/3 green bell pepper
– 2 tbs. tuna, drained
– Salt and pepper, to taste
– 1 tbs. dashi
– 1 tbs. mirin
1. Slice the papaya, carrot, and bell pepper into thin strips. Heat the papaya in the microwave for 2 minutes.
2. Heat a pan and add oil. Add the papaya and carrot to the pan and sauté. When the papaya becomes translucent, add the bell pepper and tuna.
3. Add the dashi, salt, and pepper, and mix well. Add the mirin and sauté until the mirin has evaporated.
Green Papaya Salad
(adapted from: thaifood.about.com)
– 1 small green papaya of 1/2 large green papaya
– 1/2 cup peanuts or cashews
– 1-2 cups bean sprouts
– 1-2 tomatoes, cut into long, thin strips
– 3 green onions, sliced into long pieces
– Basil, to taste

Green Papaya 2
– Dried red pepper flakes, to taste
– 2.5 tbsp. soy sauce
– 2 tbsp. olive oil
– 1/2-1 tbsp. honey, to taste
1. Prepare dressing by missing together soy sauce, olive oil, and honey. Set aside.
2. Peel the green papaya, then slice it in half and remove all the seeds. Use a potato peeler to peel the papaya into thin strips. Place into a large bowl.
3. Add the tomato, green onion, bean sprouts, and basil. Add the dressing and toss to combine.
4. Add the peanuts or cashews (you can either leave them whole or roughly chop) and red pepper flakes. Toss again. You can also add lemon or lime juice for more flavor.
How do you use green papaya? Inquiring minds want to know!
For more posts about "unknown" fruits/veggies, check out our Nani Kore?  (What's That?) section here.