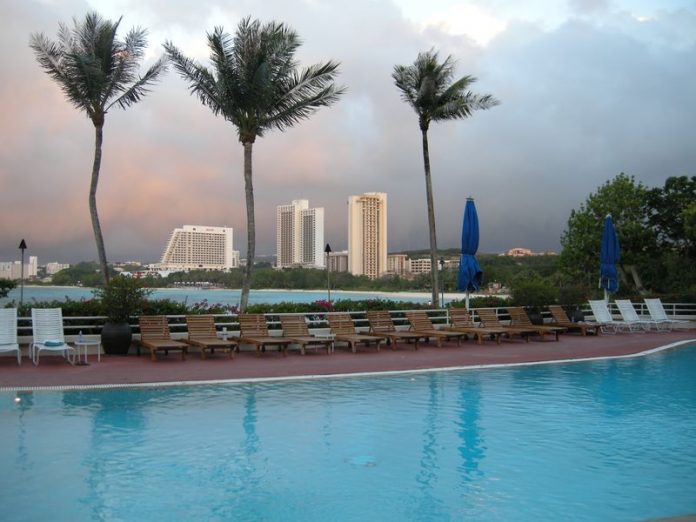 CONTRIBUTED BY JOY BARNES
I grew up as a "military brat" and from 1980-1983, my family was stationed at Anderson Air Force Base in Guam.  This duty station was a fundamental milestone in my family's life, setting the foundation for a love of new experiences and a love of travel.  So, now, as a Marine Corps spouse with my own family living in the Pacific, I couldn't pass up the opportunity to travel back to Guam to revisit this unique island.
Originally, we had planned to make this a Space-A trip, but because of time constraints and because we found really reasonable airfare, (and, qI'd be lying if I didn't add, because of my husband's impatient personality), we flew commercial from Naha to Fukyoka to Guam for a total of about 5 hours of flying time.
The island of Guam is about a quarter the size of Okinawa, and has an even more tropical feel.  It stays in the 80's nearly year round, only dropping to the 70's in December and January.  It is comparable to Hawaii in many ways but has a tourist industry that I can only classify as curious.  They seem to cater to the many Japanese tourists and offer an odd mix of very upscale and very kitschy.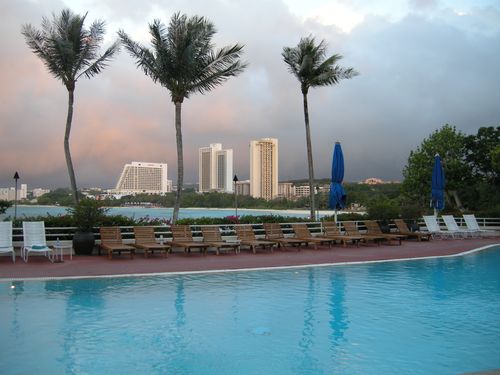 There is one strip of major tourism along Tumon Bay.  This few-mile stretch is referred to as Hotel Road and has all the major resorts, upscale shopping – think Gucci and Prada, and even a Planet Hollywood and a Hard Rock Café.  (This is a dramatic departure from the days when I lived on Guam and Denny's was the best import from the States.)
We stayed at the Hilton Resort and Spa which had beautiful grounds with five pools including a spectacular infinity pool overlooking the bay.  Amidst all the high-end resorts and retail on Tumon Bay, there are also your usual beachy souvenir shops, "massage parlors," and countless Japanese restaurants.
We rented a car for a few days to do our sightseeing on island.  Outside of the Hotel Road area, the sites on Guam mostly fall into one of two categories: historical or natural beauty.  There is a rich history on Guam dating back thousands of years when the island was inhabited by the indigenous, Chamorro people.  Later, Guam was ruled by the Spanish for 300 years.  Then it fell under Japanese occupation during World War II, before becoming a US territory in 1950.
To discover some of this history (that is, on the days we left the pool to go sightseeing) we viewed ruins of old Spanish forts, churches, and bridges and my husband took a morning to tour the National Park marking the landing beaches of US Marines during WWII.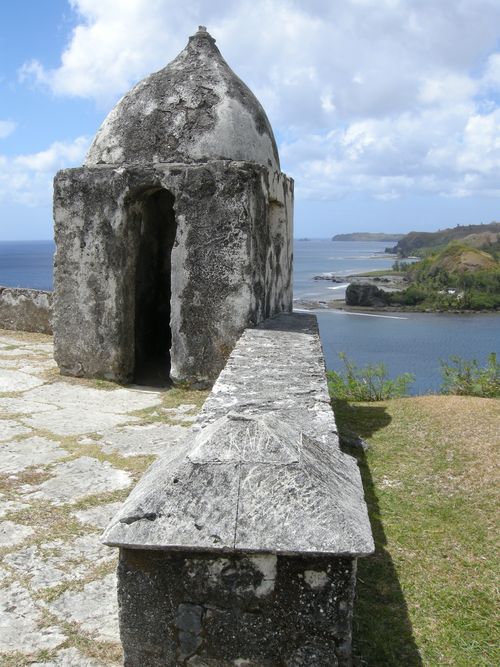 Perhaps the best asset of Guam is its natural beauty and miles of undeveloped land.  While driving around, we were in awe of the breathtaking views of bluffs overlooking the ocean, or stretches of dense jungles that islanders refer to as boonies.  We visited two of the major attractions that classify as natural beauty on Guam- Two Lovers Point and Talofofo Falls.  Two Lovers Point is a cliff where legend says two lovers, one of whom was betrothed to another, plunged to their death so they could live together for eternity, rather than being forced to marry someone else.  The story is touching, but the view is absolutely amazing.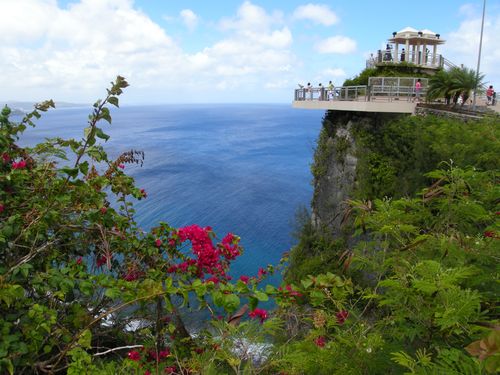 As for Talofofo Falls, it is a beautiful series of waterfalls deep in the boonies.  We use to hike in to the falls, but now Talofofo Falls is a park complete with a sky lift to bring travelers straight down to the water's edge.  The park has an odd combination of natural beauty and tacky tourism, but still worth the visit for the scenic drive and the boonies experience.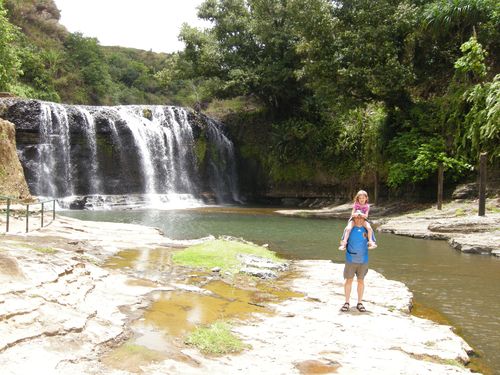 The most personally significant sight we visited was related to my own "trip down memory lane."  We drove up to Anderson AFB and I found my old house on Paradise Drive.  Because it was base-housing, things really hadn't changed much in 30 years!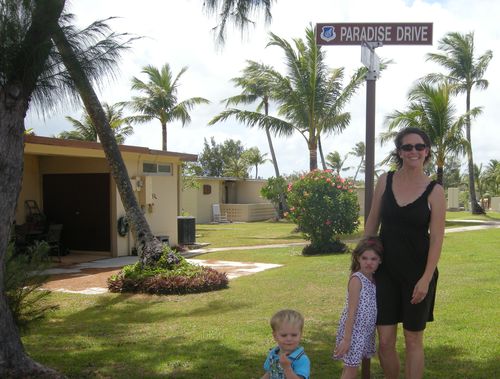 We also drove over to Tarague Beach on base – a location where, back in the day, my family spent many weekend afternoons.  And, after going back, I can understand why.  Even despite the rain the day we went, the beach was beautiful, lined with coconut trees and surrounded by cliffs.  Now, there is a small beach bar on Tarague with good food and cheap drinks.  Even if you don't have a sentimental reason to visit Tarague, this beach setting is definitely worth a visit.
The small-scale of the island of Guam made it possible to hit the major sites but still have time to enjoy the beach.  While my own intentions of visiting Guam were to relive a portion of my experience growing up there, Guam proved to be a great destination for a relaxing family vacation as well.