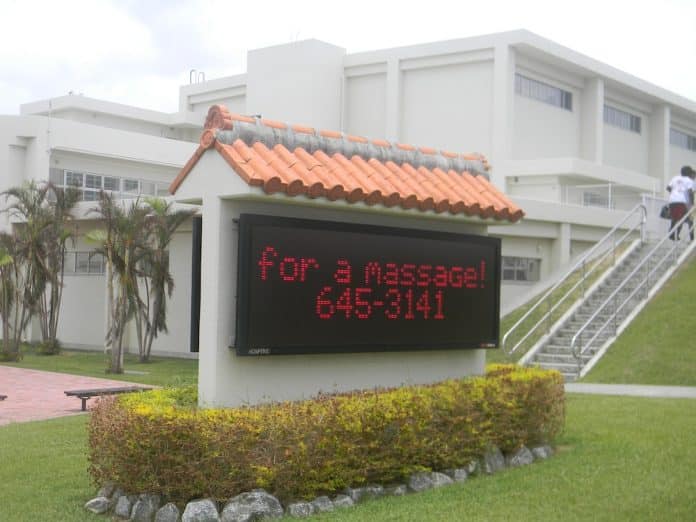 Gunners Sign
CONTRIBUTED BY SUZIE SMITH
I'll admit it, I'm a bit of a massage junkie; but after arriving on island I was a bit disappointed with the local shops. Now don't get me wrong, all the places I've been to are fantastic if you were fortunate enough to have inherited the family wealth from your Great Aunt Mildred. All I wanted was a straightforward deep muscle massage with no bells and whistles and I found it in the strangest of places…
My husband booked a massage for me at Gunner's Gym for my birthday. He'd already heard my grievances about how costly some of the other spas had been and knew how much I wanted to find a good place to get a regular massage. I was bit reluctant at first, I mean how ambient can a gym be?

Gunners Front
Surprisingly, I was very impressed. We checked in at the front desk and the lady had us pay before I went in the massage room. The room, though small, was very relaxing. Tranquil music played in the softly lit space with the smells you would expect from a high-end spa. My massage therapist, Shoku, had me sign in then asked about where I would like her to focus on during the massage and how much pressure I would like. I let her know my preferences and then she left to allow me to prepare myself.
The massage that ensued was brilliant! Not only did Shoko massage out all those troublesome knots in my mid-back, she also used hot towels to relax my muscles and really enhance the experience. She even hit my favorite spots (hands, gluts, and scalp) that most massage therapists seem to leave out. When it was over I was in a state of bliss, I didn't even want to get off of the table. Too bad they don't have an option to nap afterwards.
Shoko was amazing and I highly recommend her, but I also cannot get over that I got an entire hour massage for $30! By far the cheapest I've seen on island. Massages are offered at most all MCCS gym for the same price. They range from Deep Tissue and Swedish to Pre/Postnatal. In my opinion, skip the 8000 yen boutique parlor and head on over to your closest Marine base for the best massage on island!
Payment:  Massages can be paid for by cash or credit card. They are available on camps Foster, Courtney, Futenma, and Kinser most days of the week with an appointment.
Website:  MCCS
To make an appointment with Shoko please call 645-3141.