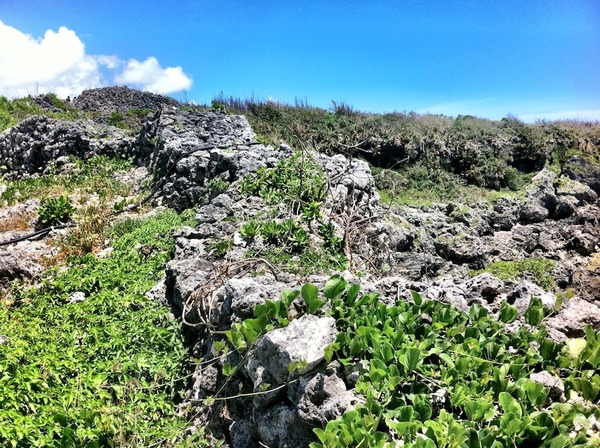 CONTRIBUTED BY QUENTIN RICHARDSON

Kyan View
These two sites provide fantastic views of the southern coast as well as secluded snorkeling opportunites (given the sea condtions). Both sites are amazing places to take a loved one; however, kids need to be closely watched if present. Both sites can be visited en route to other places, such as Okinawa World & Peace Park, and are free.
The Gushikawa ruins lie facing the coast. The ruins themselves are slighty preserved and seem to have some restoration underway.

Kyan Ruins
There is a spectacular view of the sea from here. On the left you are able to climb down to the ocean. Once near the bottom you will see a cave that looks up into the ruins.

Kyan Cave
Going further down and to the left (east) you walk for about 100-200 meters to find deep tide pools ideal for snorkeling, one is marked with a swinging rope.

Kyan Swinging Rope
Cape Kyan is nothing more than a scenic lookout with many Japanese visitors. There is a lighthouse that seems abandoned, a few monuments and a raised picnic area. This site, unlike Gushikawa, does not have access to the ocean.

Kyan Lighthouse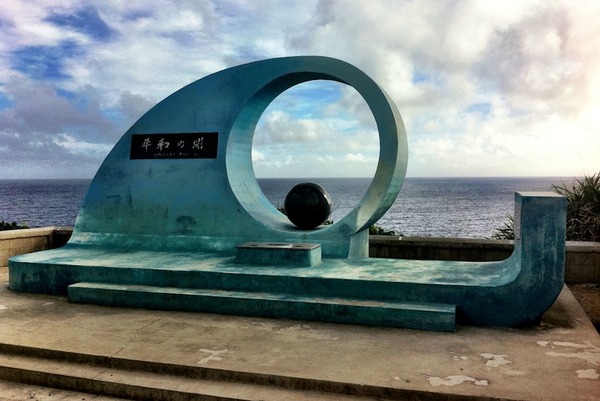 Kyan 331 Sign
Directions:  To get to both sites, you need to drive south on 331. From Kadena, the fastest way to get there would be using the Okinawa Expressway on to the Airport Expressway until it ends on Route 331 and turn left (southbound). From Kinser or Foster, head south on route 58, it turns into Route 331 in Naha. Continue on Route 331 until you reach the sign that says Nashiro/Cape Kyan (next to Nanbu Hospital) and make a right.

Kyan Sign
Follow the signs as they lead you to Route 3 (I think it's the first light) and turn right. Stay straight on Route 3 as you will see a confusing wide open intersection with no lights/signs. Use the narrow road next to a small store marked by a large Coca-Cola sign and you will see white signs pointing you towards both sites the rest of the way.

Kyan White Signs
At some point there will be split, the ruins will be dead ahead and the cape will be a left turn. Follow the signs and you can't go wrong.  (Map point below is at the point of some of these white signs.)