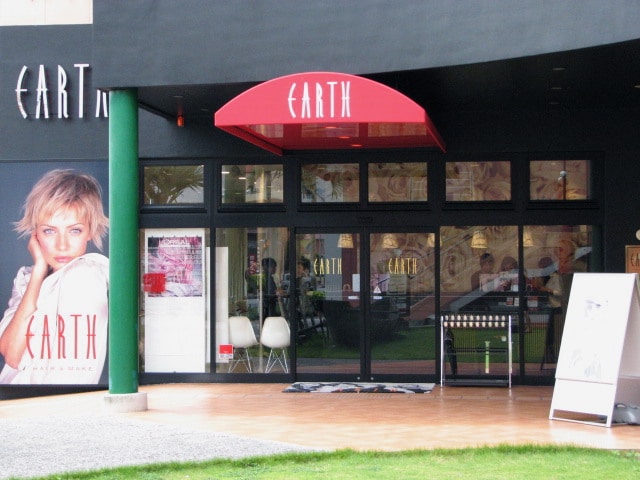 CONTRIBUTED BY KAHO
With one toddler and a baby, to get a hair cut dropped down on my list of priorities. When flipping through Japanese women's magazines, I see all these beautiful models with cool hair. I want their hair! These days, I feel that if I can blow dry my hair in the morning, I'm lucky.
Anyways, before I left Okinawa in mid July to move back to the States, I went to this one hair salon in Chatan called "EARTH".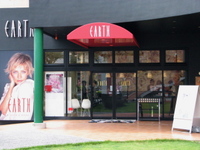 I had to get a hair cut before leaving Japan because I knew that I would probably not have another chance to go to a salon in a long time.
I started looking for a place that would give me a groovy hair cut and be inexpensive. I knew a few salons I used in the past, but I didn't know if I could take my baby with me. She was 5 months at the time and needed to nurse pretty frequently. I thought "would they allow me to have a baby sit next to my chair during the hair cut?" Then one day I saw an advertisement of EARTH, which said that they had a children's room. Very cool!! I grabbed the ad and called to make an appointment for the following week.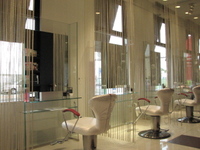 I made an appointment at 10:00 a.m. to give enough time for me to drop off my older daughter at her pre-school and drive over to the salon. I was very excited. I love getting a new hair cut.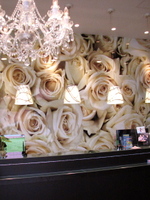 The night before my appointment, my older daughter got sick and started running some fever. As guilty as I felt later, the first thing that crossed my mind was, "Crap! I will have to cancel my hair appointment if she doesn't get well by tomorrow!"
I didn't take my daughter to school the next day. I almost cancelled my appointment, but shamelessly I admit that I took both of my kids to the salon. I figure that my older one who wasn't feeling so well could stay in the children's room with her baby sister.
I got to the salon with my daughter hanging on my leg and another daughter in the car seat. One person lead me to this chair right next to a tiny children's room surrounded by glass walls. It was much smaller than I imagined, but it was fine.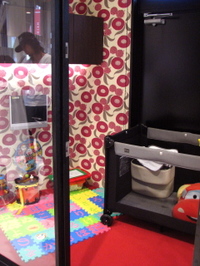 About 1.5 – 2 hours later, my haircut was done. That was as much as my baby could tolerate. During those two hours, my daughter finished a small box of cookies and some crackers and watched two "Anpan-man" movies. The employees at the salon were very sweet. One female employee came to the children's room to check on my daughters. When my baby started fussing about an hour in, she came to hold her. My hair stylist was a guy, and he even offered to hold her while I took my older one to the bathroom. They were totally cool about it.
This children's room is free of charge, but you must make a reservation at the time of making an appointment. It's a small room, so probably 2 children would be max.
I personally think that this children's room can be useful if your child is either a tiny baby who would not move around or old enough to be entertained by movies. My baby is 8.5 months now and very active. I don't know if I could use the room now. It works only if the timing works out and she takes a nap soon after we get there.
It is a Japanese hair salon, so many of you probably worry about the language and the haircut by a Japanese person who probably don't know much about different hair types other than thick Asian hair. You can request a hair stylist of different levels. I think that it was something like hair stylist, senior hair stylist and trainer level hair stylist. Additional charge will be made for the senior and trainer level hair stylists. (Please check with the salon for more accurate information.)
If your concern is the language, I recommend you that you take a picture of the hair cut you would like to have. That's what I always do wherever I am. When I asked if there was any staff members who would speak English, the answer was unfortunately no. However, they say that they have some non-Japanese customers, so they do fine with a little English. Maybe they are being humble.
I asked for a senior hair stylist. I was happy with the end result. The whole experience was good.
Another cool thing about the Earth salon in Chatan has what they call a "premier celebrity booth". If you pay 1,500 yen, you can use this private room to get a hair cut. You can watch DVD, listen to CD, or use internet while you get a hair cut. If you go as a couple with your friend, family member, etc., the fee for this room would be 2,500 yen for two people.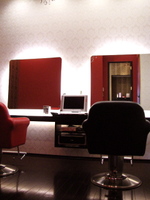 They also have what they call "men's booths". This area is for men.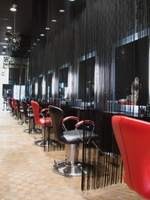 Phone: 098-983-7055
Website: https://hairmake-earth.com
Hours:
Weekdays (perm & color) 10:00〜20:00
Weekdays (cut) 10:00〜21:00
Sunday&Holidays(perm&color) 10:00〜17:30
Sunday&Holidays(cut) 10:00〜18:30
Address: 15-67 Mihama Chatan, Nakagami District, Okinawa Prefecture 904-0115 Japan
GPS Coordinates: 26.3163889, 127.75686489999998
Directions:
Leave the main gate of Camp Lester and drive straight. Turn right at the second stop light. You drive pass JUSCO on your left and towards Makeman (Japanese Home Depot). The hair salon "Earth" is almost accross the street from Makeman. It is in the center called Gourmet Kan.
A peek at the hair cut menu…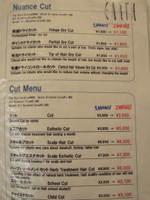 Lastly, here is the picture of some of the staff members. They are so cheerful!!