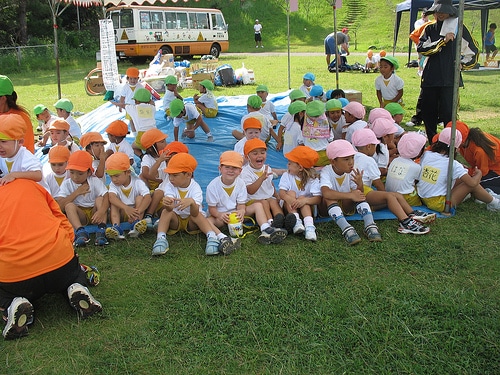 For all you parents looking for a preschool that suits your kids, we're hoping to add a little something to aid in your search. Parents of children who attend various preschools on island have filled out a series of questions about the schools for the benefit of the rest of us. We welcome more than one voice on each school since everyone has a different experience, so please feel free to add in your two cents in the comments.
If your child attends a school that has not been reviewed on this site, please contact our Submissions Manager for the template.

CONTRIBUTED BY JENNIFER
Name: Gushikawa Hanazono School
Address: 93-1 Konbu, Uruma-shi
Phone: 098-972-2772 (Japanese speaking)
Website: www.gu-hanazono.jp/ (in Japanese)
Ages Accepted: 3-6 years
Age of child in School: 4 years old.  They have classes for 3-6 years old, they occasionally will take younger children on a case by case basis.

Admissions/Enrollment:

There are 4 classes. The youngest and two oldest classes have approx 8-12 students. The 3-4 year old class has about 20 kids, half of them American.

Is enrollment open/year-round enrollment or per semester?: I think year round, the school year starts in April, we enrolled mid-August and started on Labor Day. In previous years there has been a wait list according to neighbors, but we had no problem enrolling.

Does my child have to be potty-trained to attend? Not sure, my son was mostly potty trained before starting, I do send him with an extra set of clothes in case he has an accident while napping, or is too busy playing and forgets.

Can I bring my child in for a pre-enrollment visit?: Not sure, I always had both my kids there when doing paperwork though. They prefer that you come after 2pm for any inquiries or paperwork.
Days & Hours:
Drop off between 8-9AM. Pick up 1:00pm. There is after-care available from 1pm to 6pm. Naptime, snack and playtime occur during the aftercare time.

Is the school on a Japanese or American schedule?: Japanese. The school year begins in April.
Lunch: Lunch is prepared by the school except for 2 days a month when we send a bento box. The lunch and afternoon snack is on display in front of the school so you can see what they had when you pick up the children. HERE is a picture. It usually consists of rice, vegetable, meat or fish and soup. Sean's lunch is often better than mine. The lunch ladies are there beginning to prepare lunch first thing in the morning. Afternoon snacks vary- crackers cookies, cereal etc. I like that the teachers eat with the students in the classroom and they have plenty of time to eat.
How flexible is the school with pickup and drop-off times?: I'm not sure, they seem to have gotten a little flustered during the first 2 weeks when I picked my son up a little early to accomodate his sister's naps.  There hasn't been a problem when I have dropped him off a little late.
What are the registration fees?: Not sure, the first few days, I just felt that I kept bringing more and more yen.

What are the tuition fees?: For the 3 year-old class it is 16500 yen a month, 6000 yen a month for lunch.  A school bus is available for 3500 yen a month.  The after school care costs only 5000 yen a month!

If any, what are the assessment and school supplies fees?: School supplies were 6700 yen for an art kit, 5580 yen for a pianica(?sp) and I believe 1290 montly for additional books and supplies. HERE is a picture of the supplies. There was a uniform to purchase, which was kind of pricey but very durable. I don't remember the initial uniform cost, but there is a sports uniform, which is a white shirt yellow shorts, long sleeves for winter and hat, colors according to class. There is also a cute green uniform, looks like lederhosen, with a white shirt, short sleeve for summer long sleeves and jacket for winter, with a white hat for summer and dark hat for winter uniform.
Are any discounts offered for referrals, siblings, volunteering, working there, etc.?: Not that I know of..
Is there a late-pickup fee? Not sure.
How and when does the school require payment (in yen, dollars, etc.)?:  Payment is in Yen each month.  An envelope is sent home with the amount required.  Envelopes are also utilized for miscellaneous payments, like extra uniform pieces.
Does the school encourage spontaneous visits from parents?: No, they really seem to like them to be dropped off and picked up on time.  There was a special day earlier this month for parents to come and participate in the days activities with their children, but that was the first one there had been since we started in September.

How do you communicate with parents? Is there a regular newsletter, or a notice board?:  There is a monthly calender, however it is all in Japanese.  Whenever there is an activity where family is invited, a sheet in sent home with details and a slip to return with the number of people attending.  When this comes home, the teachers explain what it is for.

Is there a daily report or other process for informing parents of what children did during the day (naps, BMs, snacks, etc.)?: No, but they are happy to chat after school. The language barrier is huge for me but there are always people who help or rely on body language. There is a book which is sent home everyday, I suspect that the japanese teachers and parents communicate this way.  Ours just has an introduction from the first day and that is all.
Are there parent/teacher conferences?: Not that I know of…
How are the kids grouped?: mixed ages / grouped by age: By age, although they frequently do activities together too.
What's the teacher-child ratio in each group?: There is one teacher for each class and a teacher who floats between.
Is there a playground for the children to play?: Yes!  This was the big selling point I used with my son. The other (American preschools) schools in town don't have their own playgrounds. HERE is a picture of the playground.
What do the children do on any given day? What's the general schedule/routine?: There is a routine for everything. My son never tells me exactly, but there is generally artwork, dancing, singing, playtime.
Are there extracurricular activities or field trips?: I don't think so, at least none so far.  They took one trip to a sports field where their sports day was held prior to the actual day.
How does the school discipline children?: Not sure, I've seen teachers separate out children who are causing trouble take them aside and talk to them.
How does the school comfort children?: The first two weeks my son would cry when I left him, they would get down on his level and try to bring him into the classroom to play.  Now he screams and cries if I pick him up to early!
FINAL COMMENTS & OBSERVATIONS ABOUT THE SCHOOL:
My son really enjoys this school and is extremely happy there. Sometimes the Japanese schedule is tough because there may be school six days in a week and my son gets tired.  There is a monthly activity where the parents are invited to attend, since September there was grandparents day celebration, sports day, Halloween party, dish making and bazaar and a volunteer day to wash windows and screens, paint, and minor repairs, and a Christmas party later this week. The teachers are wonderful and warm, and though their English is limited, they are able to get the important stuff across and really care about the kids.  My daughter is about to turn 2 and all the teachers know her there, and I can't wait until she is old enough to attend too.