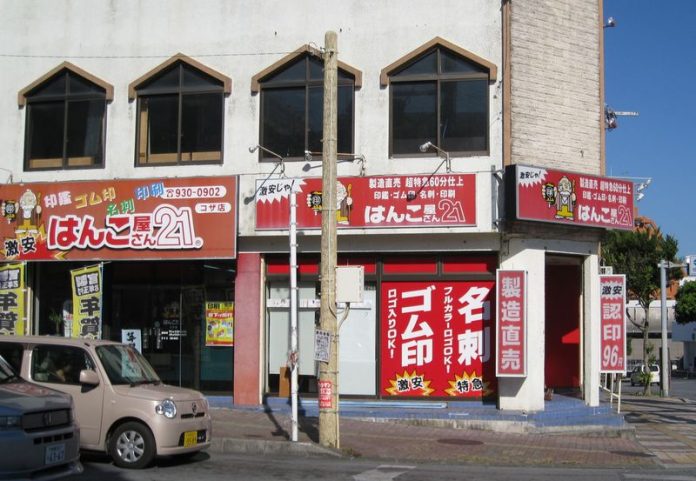 CONTRIBUTED BY JEANINE CZUBIK
In many Asian cultures, a name stamp or seal is often used instead of a signature.  Here in Japan, name stamps are called hanko and are used in business to signify acknowledgment or ownership.  As a foreigner, I have had only a few opportunities to use my name stamp for attendance paperwork at the Japanese school where I work, but enjoy adding my mark at then end of a note to friends and family back home.
A few weeks ago, I visited Hanko 21 to purchase as stamp as a gift.  If your name is of Chinese or Japanese descent, you can have a hanko written in kanji.  You may also be able to have your name in kanji if your name is easily translated into kanji.  For example, the hanko I purchased was for a friend named Dawn, which is translated to asahi, meaning morning day sun in kanji.  Otherwise, your name will have to be in katakana, the Japanese writing used for all foreign words.

Once you determine how your name will be written, the staff at Hanko 21 will advise you on the stylistic options (font), as well as the diameter required for your stamp.  My katakana hanko is slightly wider than Dawn's kanji hanko.  The length of name will also determine the diameter of your stamp.  Production is usually quick – mine was ready in one day and cost around $25.
---
Hanko 21
Hours: Monday through Friday 0900 – 1900, Saturday 1000 – 1800. Closed Sundays and Japanese holidays.
Phone: 098-930-0902
Address: 2-10-8 Uechi 上地 2-10-8 Okinawa 沖縄市
GPS Coordinates: 26.3344266, 127.8055832
Location: Route 330. From Kadena Gate 2, continue straight and turn right onto Route 330. Hanko 21 is approximately 2 km down on the right side.  (Four Seasons restaurant is a few stores down on the left.) You will turn right at the light marked Sonada North.  There are several pay parking areas or street parking further down the road.