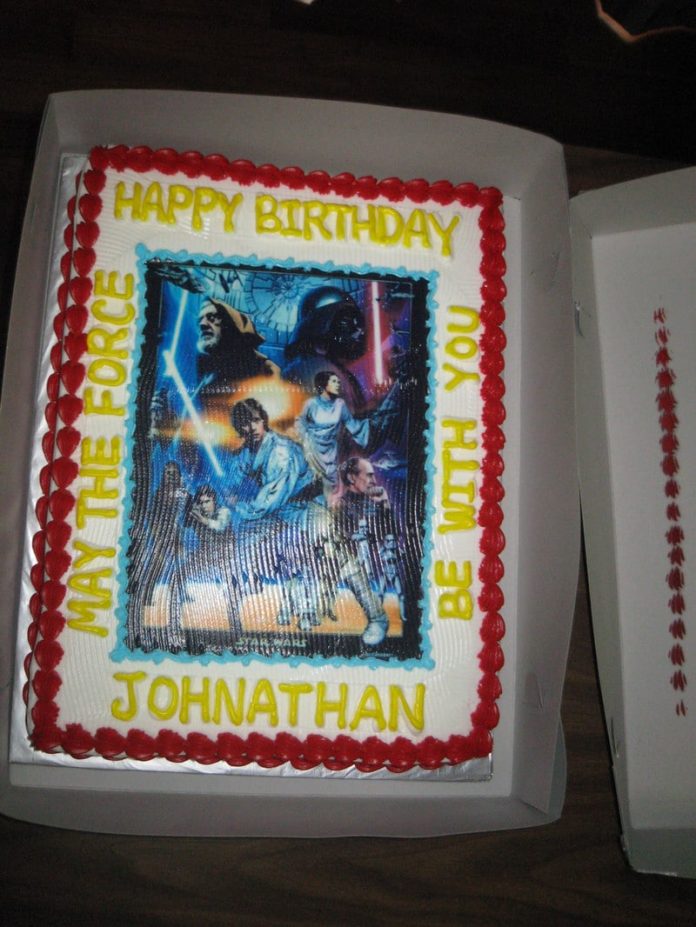 CONTRIBUTED BY DIANA MIDDLETON
Happy Birthday to You, Happy Birthday to You, Happy Birthday Dear Okinawa Hai Reader … Happy Birthday to You! Yippee, let's eat some cake! Oh, it's not your birthday? Oh well, let's eat some cake anyway. Yummy!
Speaking of cakes (was that segue too cheesy, maybe too cream cheesy?), where do you get a nice birthday cake on Okinawa?
Let's see, you could make your own. Like the cake I made for my daughter's cat-themed birthday party: View this photo  But if you're like me, that kind of thing only happens once in a blue moon. Even I surprised myself with that one.
You could also go to your local commissary, which have produced some pretty decent cakes for me a few birthdays, like for my daughter's pirate-themed party a year ago. See: View this photo
Here's one not too many people know about though, and it's a pretty awesome place–the Banyan Tree Club on Kadena. There are three reasons why I prefer the Banyan Tree Club over other options:
1) They can print any image you want. Yes, that's right. Any image. The image has to be on a cake at least 12X16. It can be a photo, clip art, or whatever. They can scan the image in for you or you can send it to them via email.
2) They taste way better than any cake I've purchased here (or made for that matter). You can choose from butter cream topping or whipped. The butter cream is the more popular choice because not only is it yummy to my tummy, but according to the nice ladies there, it holds up to the heat better. The cake flavors they offer are chocolate, marble, white, and yellow.
3) The prices are better (meaning, more affordable so that you don't have to mortgage your right leg just to have some cake) than the commissary.
Here are their prices:
8X16 cake (no digital images for this kind, just regular design)
single layer ~ feeds 16-18 ~ $25.00
double layer ~ feeds 32-36 ~ $30.00
12X16 cake
single layer ~ feeds 24-26 ~ $35.00
double layer ~ feeds 48-52 ~ $40.00
16X16 cake
single layer ~ feeds 34-36 ~ $45.00
double layer ~ feeds 68-72 ~ $50.00
24X16 cake
single layer ~ feeds 60-62 ~ $55.00
double layer ~ feeds 120-124 ~ $60.00
When you go in to order, they have a huge chart they will show you samples of cakes and their sizes (Because if you're like me, you'll think … hmmm, how big is 12×16??? Yes, I'm a visual learner, show me the actual size so I don't have to figure it out in my head). Here is the picture of my son's 12X16 Star Wars-themed cake from there:
To order a cake, you'll need to stop by the Banyan Tree Club and go straight to the manager's office which is to the right when you first walk in the door. You'll see the cashier's cage first, go into the open door on the left side of the cage. This is the lounge area. The manager's office is on the right side once you're in the lounge.
Contact Bobbi Jo at 634-0644 or email her for more information. You can also send your image via email to them.  And of course, you don't have to wait for a birthday to order a cake from here, any occasion will do! Happy eating!!