CONTRIBUTED BY CAPTAIN IAN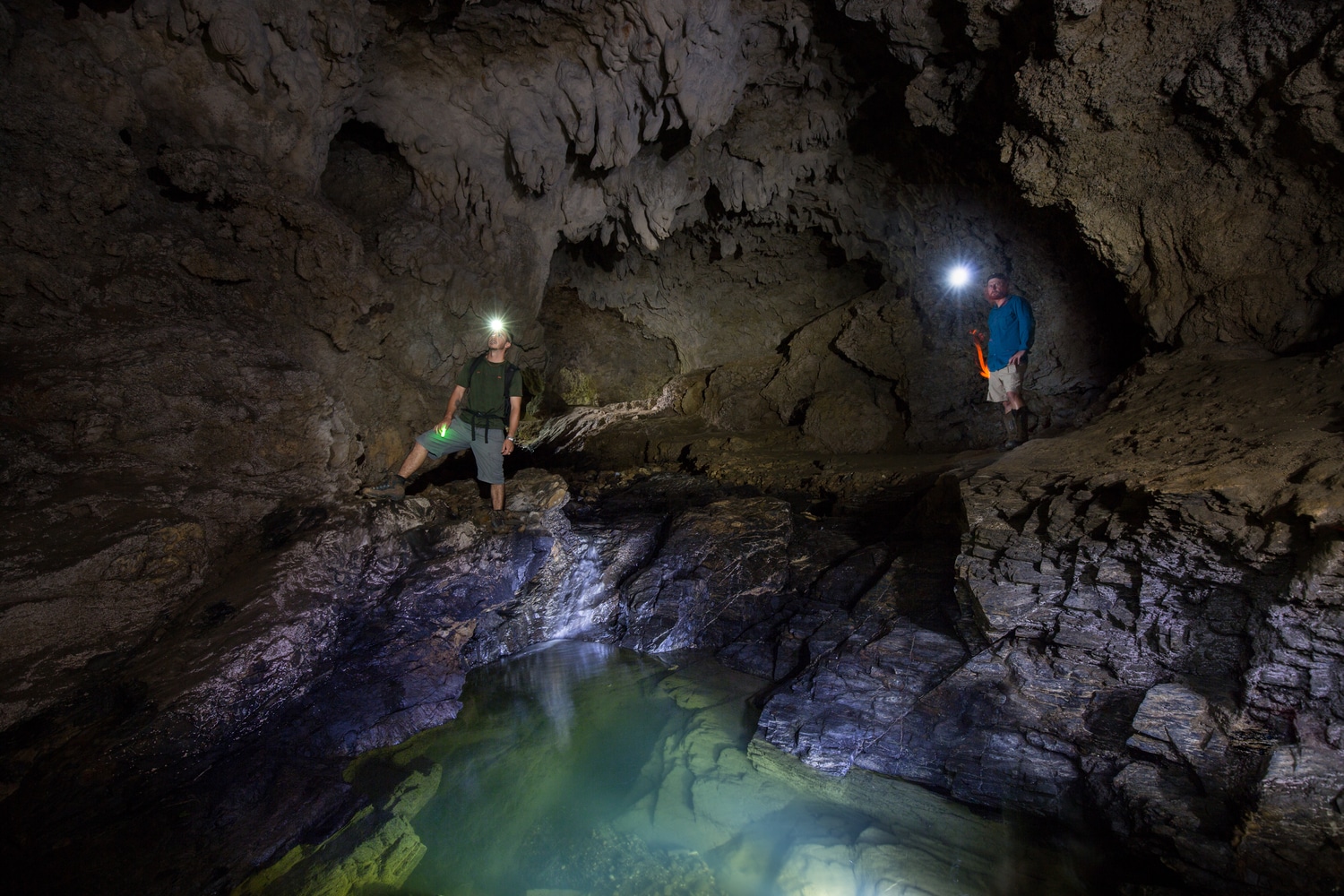 In world war II the Japanese began leafletting propaganda from airplanes over Okinawa preceding the immanent invasion of the American Naval fleet in 1945. Because of the heavy propaganda and confusion during the war, most Okinawans didn't choose sides. They simply hid in caves and tombs.
Happy cave in Yomitan has an amazing story! Before explosions caved in the connection between Happy Cave and Sad Cave (the other side of the same cave), you could walk nearly 2.5 kilometers between the two entrances. Both of these caves housed anywhere between 1,300 and 3,000 people for almost three months straight. The men would go out and collect food, while the woman, children and elders would stay inside the dark cave to wait for the war to end.
In Happy Cave, two former Hawaiian taxi cab drivers managed to convinced the 1,500 Okinawans not to commit suicide as American ground forces approached. Because the taxi drivers spoke both English and the local Okinawan language, the group in happy cave decided to take their chances with the Americans and surrender. They were quickly taken to a refugee camp in Nago and largely survived the duration of the war.
However, Sad Cave was not so lucky. Over 2,700 men, women and children committed suicide the very same day the people in Happy Cave surrendered.
I heard this story second hand from a woman in my church. Her aunt was in Happy Cave and shared the story with my friend before she passed away. Happy Cave is very fun to explore. Bring a flash light and extra batteries. Prepare to get muddy if you are going to explore further than the first cavern.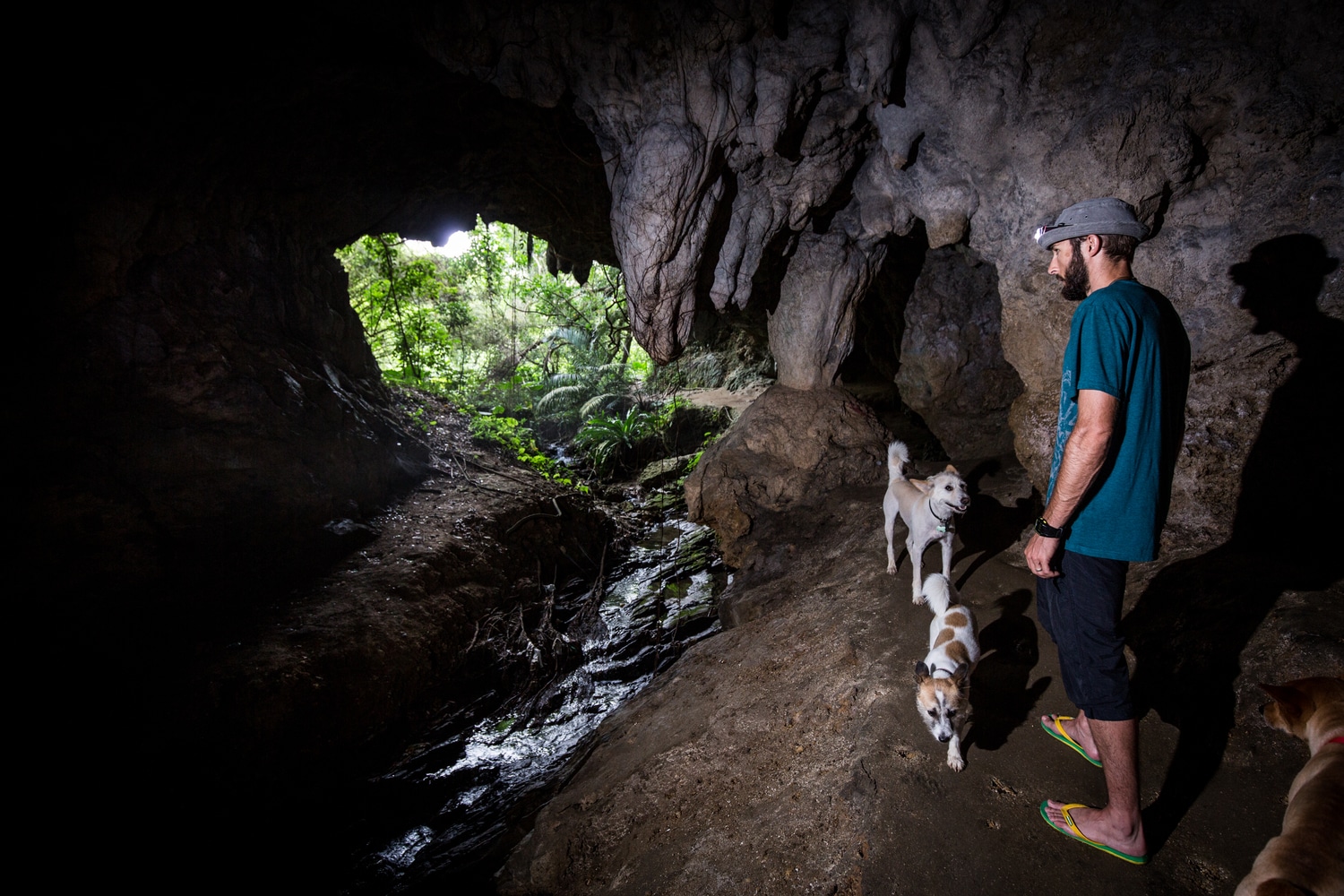 There are a total of five caverns, and each is bigger and more glorious than the last. You can walk, duck and crawl through the cave for over an hour before you reach multiple dead ends and are forced to turn back. Do not get stuck without light, but don't worry about getting lost. Follow the small stream that runs through the whole cave. Watch for bats, old landmines and snakes. And have fun! Haha. It's really not too dangerous. Just pay attention.
UPDATE FROM COMMENTS:
Address: 444, Namihira Yomitan, Nakagami-Gun, Okinawa Japan 904-0322
GPS Coordinates: 26.4026766, 127.7322694
Directions: From Kadena gate 3 go left on 74. Go right on 58. Make a left on the new big street directly after Sakia on your left. If you pass Bee's honey, turn around and go back to the 4 lane road. Continue on that 4 lane road until the 4th traffic light, make a right at the 4th light. Go about 150 meters and make your second right (It's a sharp 120 degree turn around a few tall cones). Keep on that street 300 meters until you see a white, 3 pole fence following a street left. Go left. Be careful, it comes up quick. You will see a park on your left side. Drive 50 meters past the park and park on the right. Walk down the small hill to your left and follow the cut trail on your right for 100 meters. You should be able to see the small beaten path that leads to the cave.