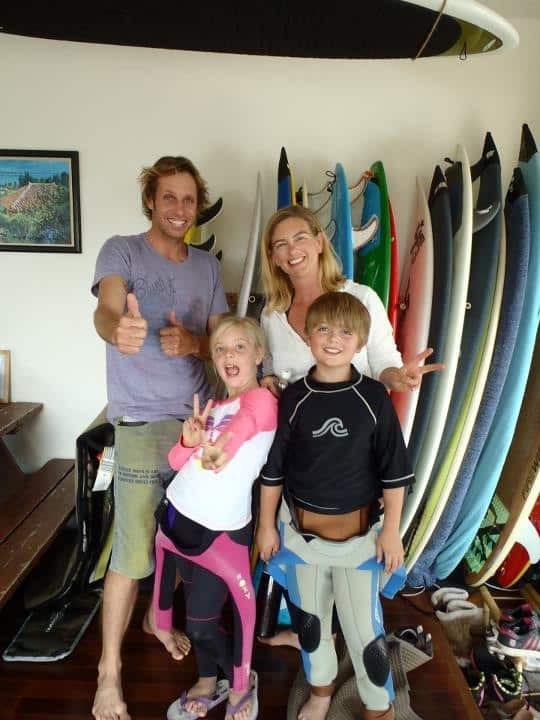 CONTRIBUTED BY SARAH HOFFMAN

Happy Surfing Exterior
I had surfed a bit as a child on the US east coast, and wanted to introduce my children to surfing too. I live by the Sunabe Seawall and see a lot of surfers, so one I asked around for a surfing instructor. A few people recommended I call Danny Helhado from Happy Surfing Okinawa. I'm so glad I did!
Danny was great with me and my children (ages 8 and 9). They had never surfed before, but are good swimmers. He made sure the conditions were just right for beginners (meaning we couldn't go right away… I think we waited about 8 days from the first phone call until the conditions were what he wanted them to be.) We headed over to Yomitan and had a blast!
You should check out his web site or just drive by and say hello. His entire family is nice and even his children were helping us and cheering us on! His wife took pictures of us (yeah, FaceBook!) and his daughter helped turn the kids around as they surfed in. We had so much fun, my husband went back and took a stand-up paddle board lesson! It's a great family experience! And what a great gift idea for a tween or teenager!

Happy Surfing Family
Things to know:
1) He is CPR certified!
2) He (and his family) speak English (and Japanese!)
3) He gives a military discount! (20%!)
4) He provides the appropriate size board for your level and size.
5) He provides wetsuits and booties too!
6) He is GREAT with kids!
7) Afterwards, you go back and take a nice, hot shower
8) You can have a home-made brick oven pizza or fresh pancakes after!
We've already been for our second lesson! We loved it. I think everyone who is able should try surfing and/or paddle boarding at least once while in Okinawa. I'm 45 and I did it! You can to!
Website: happysurfingokinawa.com
Email for Danny:  danmelhado@aol.com
Address: 436 Toya, Yomitan 
Phone: 090-1943-8654
Directions: Take 6 past Torii Station. Take a left IMMEDIATELY at the Family Mart/laundry mat (it is small, it looks like a driveway). Follow to end and take a left. Begin following the Jakkepoes Pancake House signs. Less than 1km, follow Jakepoes signs (small Happy Surfing sign) and turn right. Directly behind (they share a driveway) the Pancake house. Easier to find than it sounds!