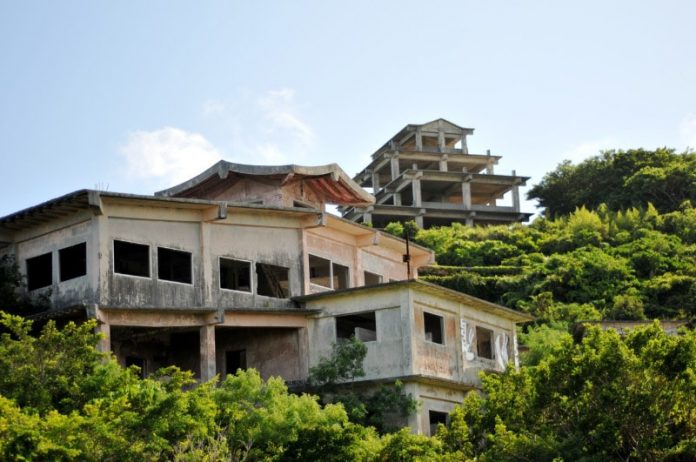 CONTRIBUTED BY STACI HAWLEY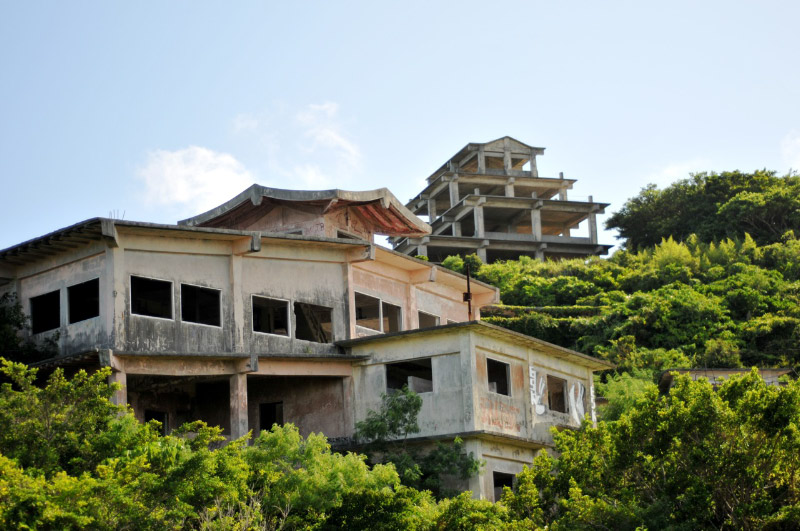 The deserted hotel. It's haunted. It's ominous. And I've been hearing about it since I moved here. But then again, I was wondering if it's like those popular urban legends that you hear about in any community back home. You've heard em…The McDonald's ball pits (filled with hypodermic needles), people getting their kidneys "stolen" in Vegas…You know the ones…but I knew their must be an interesting history of this cryptic concrete jungle. So I asked. And a lovely fellow reader and talented photographer, Pamela Oliveras shared her amazing photos and insight into this shallow skeleton of a hotel. So view the pictures, and you decide. Maybe check it out this Halloween. Thanks Pamela.
What is the story of that place? Do you know?
The story is that in the 70's a rich business man started building this theme hotel (with no blueprints). However, he was warned by locals that it was too close to sacred sites. He never listened and as workers started having fatal accidents, they jumped ship, so to speak. The site was abandoned. The businessman went bankrupt, went insane (and apparently still is in a mental institution on Island).
It is featured in the Ghosts of Okinawa book. That's where I first read about it. Then a few photographers went up there with Suwanee and some models. We were there for about 3 hrs. Since then, it has had a pull for me, I am partial to abandoned building and graffiti. I have been up there about 5 times now. Some on photo shoots of my own and others with other photographers and the PhotoOkinawa group on Ning.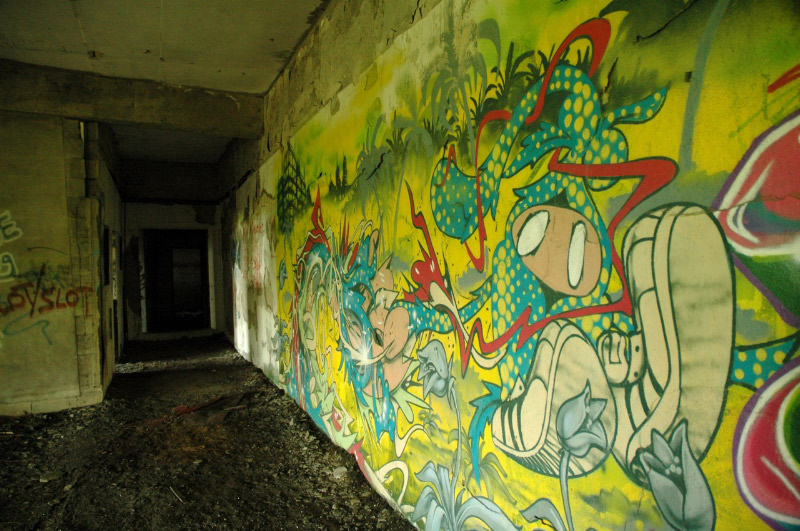 When was it deserted?
In the 70's but apparently a monk lives there, has built an alter, helping spirits stay calm. However, I've never seen a monk, nor an alter, not to say it's not there! 
What is the weirdest thing you saw there?
The weirdest thing is the stairs leading to nowhere, but nothing weird, like, ghostly weird, YET!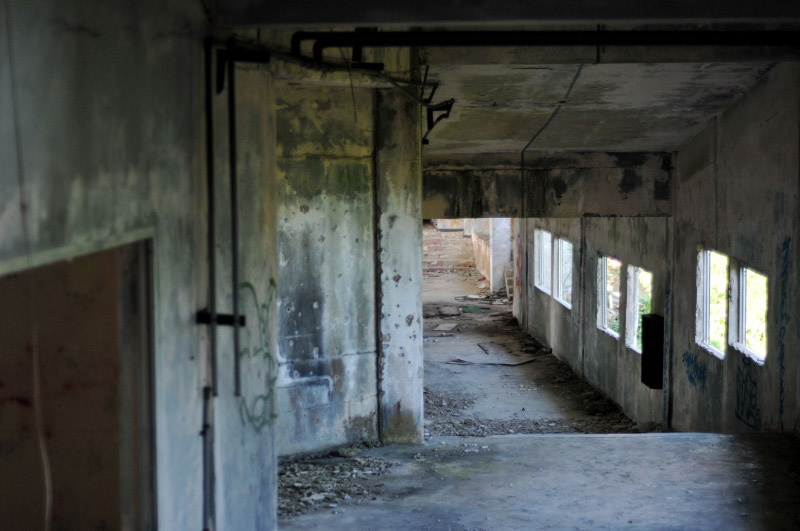 Does it have an ominous feeling?
Oh yeah, it has a very eerie feeling, from the huge banana spiders, to the dark hallways that lead to derelict bathrooms…it just feels 'dangerous'. It is so silent up there. The way the building lurks on the top of the hill is very ominous indeed!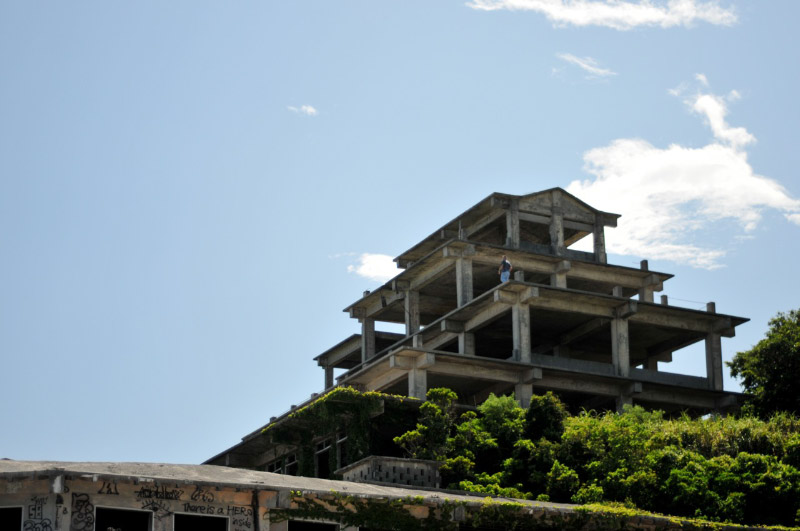 Would you go at night? Alone?
NO WAY, you couldn't pay me, I have way too much of an active imagination for that!
Do local Okinawans check it out? Or mostly Americans?
People say that locals won't go there, but I have seen a couple of young locals checking it out and one of the workers in Kitamura has a photo book of the place. Once, there were a bunch of young military guys, I think they were trying to scare us, but we made them come out and model for some photos LOL. I think a lot of people go (or used to go) and paintball/bb gun up there. MCCS Okinawa is having a haunted tour and I think they go there. I am going on the 25th with my 8 year old, she loves that place too! My son will stay with Daddy, I couldn't get him on the tour. People would be running from his screams!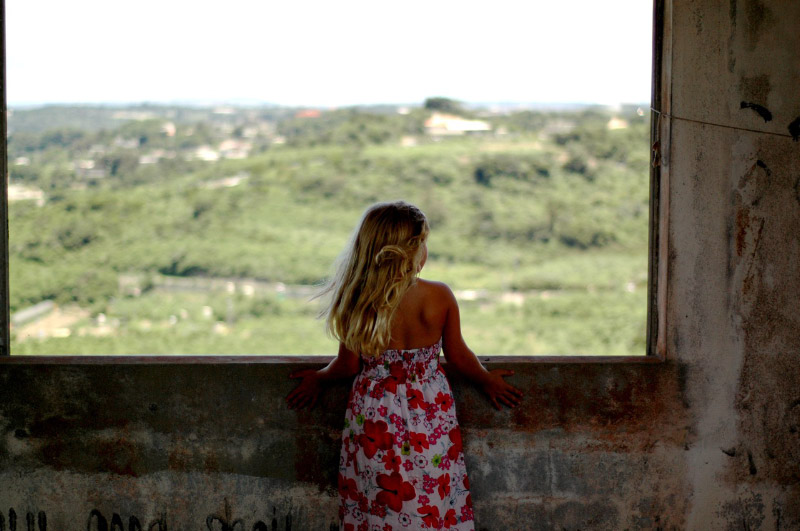 Do you think its like an "urban myth" or was it really haunted?
Well…it definitely has urban myth written all over it. BUT, I believe in spirits and such, and as I wouldn't go up there at night (even with others, I don't think) I will have to say it is haunted! If that makes any sense! There have been reports of orbs in photos and stuff but who knows?
Other stuff…you can see where there was a water theme park built with water slides going into it. The whole place was built to look like a small town, with walkways and building on either side. There is a ton of great graffiti. Great for photography and crazy light pockets and walls. The top has some great views, the best in Oki according to Daniela!
Thanks again to Pamela for sharing her gorgeous photos as well as an interesting narration of the place. Once I'm done with my wobbly 7 month pregnant body, I'm surely going to head to the hills and check it out myself.
Readers, have you been out there too?
What did you think?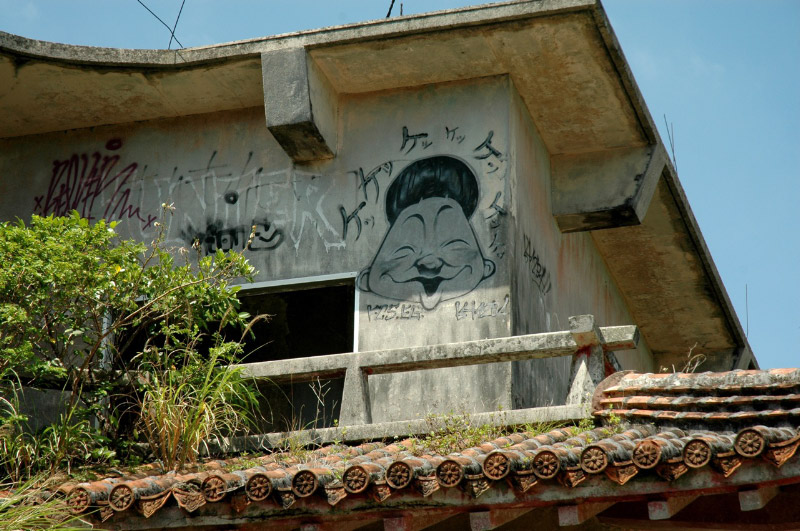 EDITOR'S NOTE:  The Haunted Hotel is now deemed "Off-Limits" for SOFA-status Americans.  Please keep this in mind before making a trip to this location.