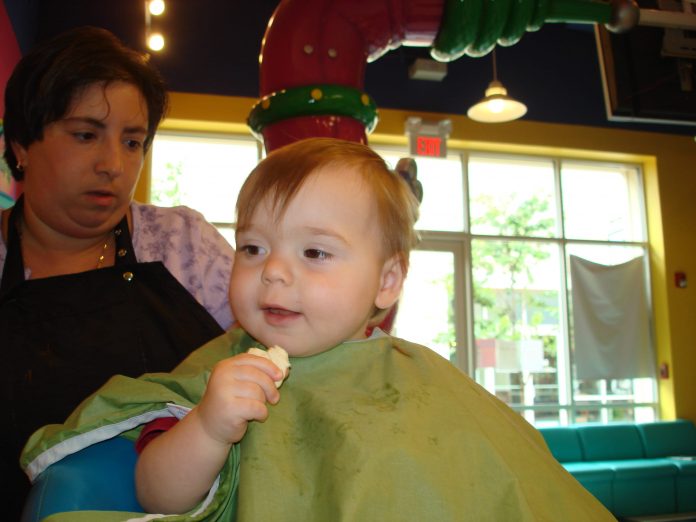 CONTRIBUTED BY HEATHER GELORMINE
As a parent, there are many milestones that we anticipate for our children: first time rolling over; taking their first steps; saying their first words. Getting their hair cut.
When my daughter was just over a year old, her hair was growing out a bit erratically; her bangs were too long and in her eyes, but it was still short in the back. She just didn't have enough hair to justify bringing her into a salon to get it cut. So I did it myself.
I'll never touch my children's hair again. Ever.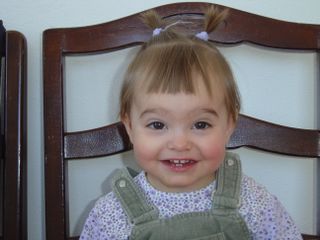 So when it came to her first real haircut, my husband and I did it up. We brought her to a kid's specialty hair salon, where she was strapped into a special kid-sized seat and was able to watch a princess movie on the private screen right at her own booth. We paid a premium price for the service, but she came out unscathed (and looking much better than when I butchered it six months earlier!). It just so happened that when my son needed his first haircut right before his first birthday, we were able to bring him to the same kid's salon.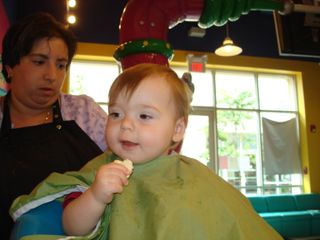 Unfortunately, I haven't been able to find such a place since we moved here to Okinawa. Now I take my daughter to one of the salons on base; my husband brings our 22-month-old son to the barber shop with him and holds him on his lap so he can have his hair cut "just like Daddy!" It works for us; my kids don't have an aversion to getting their hair cut, and normally sit still pretty well. But I'm sure there are other options out there… right? I mean, our Okinawa Hai readers can't all bring their children to the base salons and barbershops, can they?
One of our readers, Carol, wrote to me to ask about "baby's first haircut"…
I have seen posts regarding information about adult haircuts, [but] …I am specifically interested in a [kid's] first haircut. My son is 14 months old and very wiggly. It doesn't need to be "An Event", but I am looking for resources or names of people who are good with kid's hair and active little boys so the haircut isn't a trauma. Thanks!
I'm afraid I had to tell her I was stumped. So I'm asking you, our faithful readers, for your advice. Where do you bring your children to get their hair cut? Do you also use the base salons, or do you take them to American stylists who work out of their homes? Or do you have a local stylist that works well with kids? Has anyone found a kid-specific salon or barbershop on the economy? Please share!
[Editor's note: One trick I have discovered that works well in keeping wiggly toddlers relatively still during a hair cut is providing them with animal crackers or a box of raisins to eat. Something they can focus on that will take their mind off of what's going on a little north of their mouth…]
Another Editor's Note: As I was searching the Oki Hai website for a completely different topic, this post came up, with more reviews of the Good Boy barber shop as well as other stylists on island.  Somehow it never showed up in my previous searches.  Gotta love how Google works, huh?