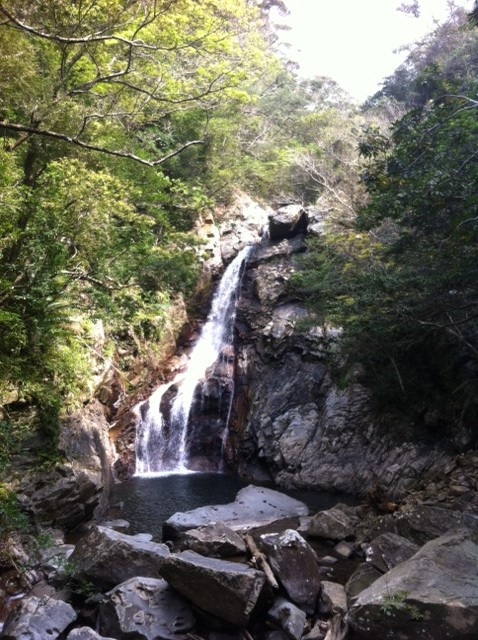 Editor's Note: Hiji Falls was originally reviewed on Okinawa Hai on August 7, 2007; you can read a PDF copy of the original review HERE. The post below is an updated take on this hike, published

May 4, 2015. 
CONTRIBUTED BY ADAM BAKER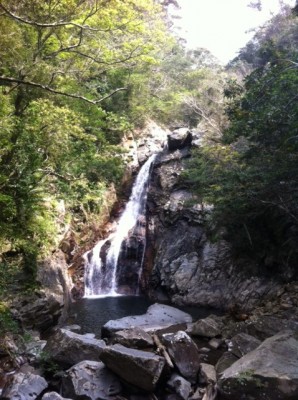 If you are looking for a day trip to the north side of the island, or are staying at Okuma, you should definitely consider adding a hike to Hiji Falls to the agenda.
The path to the waterfall (1.5 km) has several steep steps and poses a moderate challenge. However, the five people in my group were able to finish the round trip, to include sightseeing and picture taking, in less than two hours. The hike offers beautiful views and is just challenging enough to feel like an accomplishment.
The trail is well maintained and includes a bathroom and picnic area at the halfway point. After finishing the hike, our group enjoyed some shaved ice in the charming café at the trailhead. Overall, the hike was a great way to spend the afternoon and a refreshing dose of mother nature.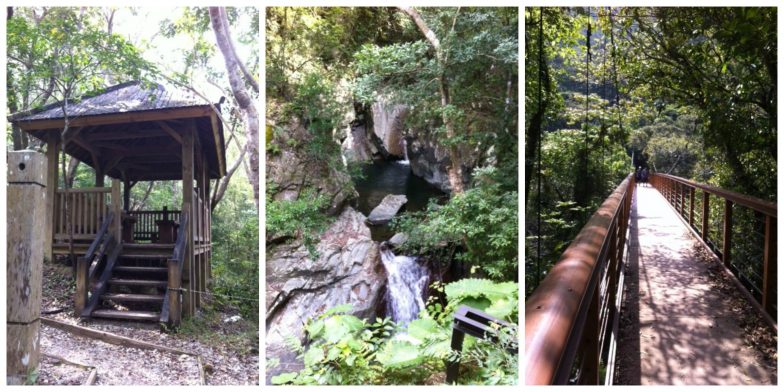 Hours:
Summer (April-October) 9am – 4pm
Winter (November-March) 9am – 3pm
Cost:
Adult — ¥500
Child (under 15) — ¥300
How to get there:
If you know your way to Okuma it is easy to find (3 km away).
It is about a 2-hour drive north from Kadena. From the end of the expressway (or around the Ritz Carlton sign on 58), you will continue north on 58 for around 36 km–approximately 40 minutes past Nago.
The turn to Okuma, as well as a Family Mart, will be on your left.
To get to Hiji Falls, you turn RIGHT instead and drive 1.5 km to a parking lot.
Note: Not pets allowed
Like our blog?
Grab a T shirt or souvenir from our shop. Or click through to Amazon using one of our links and do your usual shopping. It helps us keep the site going. Thanks for your support! Cheers