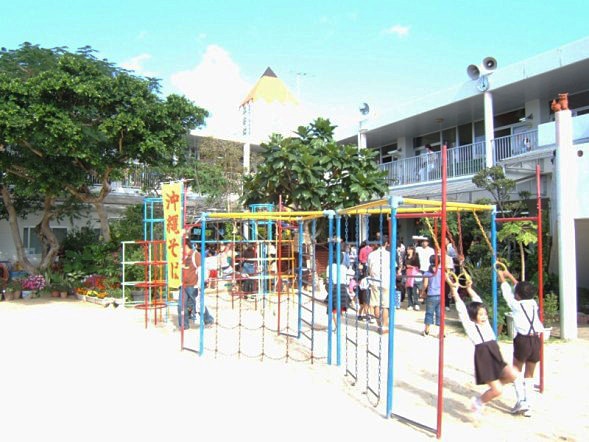 For all you parents looking for a preschool that suits your kids, we're hoping to add a little something to aid in your search. Parents of children who attend various preschools on island have filled out a series of questions about the schools for the benefit of the rest of us. We welcome more than one voice on each school since everyone has a different experience, so please feel free to add in your two cents in the comments.
If your child attends a school that has not been reviewed on this site, please contact our Submissions Manager for the template.
CONTRIBUTED BY STACY HAWLEY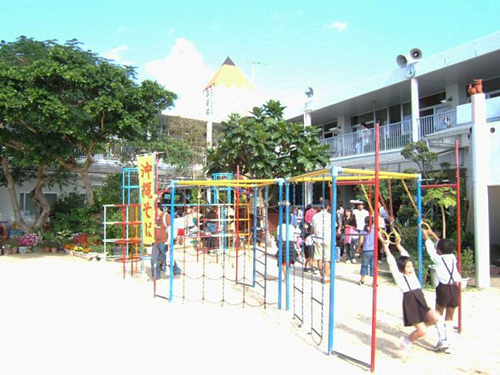 Name of School: Hirayasu Yochien
Address: 346 Noborimata, Nakagusuku-son, Nakagami-gun
Phone: 098-895-6655
Website: www.hirayasu.ed.jp (in Japanese)
Ages Accepted: preschool (3 to 5)
Ages of Your Kid(s) in this School: 3
Admissions/Enrollment:
Is enrollment open/year-round enrollment or per semester? Enrollment is only once a year. Last year I signed up my son and paid the registration fee (300.00?) in November- so that he could start school in April.
Does my child have to be potty-trained to attend? No. Actually they do a fabulous job of training them. They also taught him to dress himself.
Can I bring my child in for a pre-enrollment visit? Sure. There is one teacher that speaks English, so it is best to go through him for your correspondence with the school.
Days and hours:
What are the school's hours? You can drop off as early as 7:30- at that time kids are outside- but the actual school day starts at 9:00.
Is the school on a Japanese or American schedule? It's on a Japanese schedule- with Japanese holidays. My son has also been off from school for all of August.
How flexible is the school with pickup and drop-off times?  Drop off is flexible-pick up time is 2:00. At that time, the part time kids are getting ready to go home- and the full time kids are preparing for naptime.
Costs:
What are the registration fees? (I think I paid around 300.00 to hold his space as well as his registration fee)
What are the tuition fees? 26000 (around 260.00 per month- part time, Mon-Fri)
If any, what are the assessment and school supplies fees? I want to say that I plunked down about 300.00 for school supplies (really cool stuff- as well as his summer and winter uniforms).
Is there a late-pickup fee? Not that I am aware of.
How and when does the school require payment (in yen, dollars, etc.)? They require payment in yen, monthly- by the 5th of each month.
Parent Involvement and Interaction:
Does the school encourage spontaneous visits from parents? Yes. It's a busy and lively place. Parents can also volunteer to read on Tuesdays. They also expect/hope that parents will volunteer with one major festival throughout the year. There is a summer festival (9/6), Sports day, Winter festival (12/20), Music Festival (2/21) and a Bazaar (11/15- where I went to buy some used uniforms).
How do you communicate with parents? Is there a regular newsletter, or a notice board? It's entirely in Japanese. You need your own translator- or have a laissez faire approach.
Is there a daily report or other process for informing parents of what children did during the day (naps, BMs, snacks, etc.)?  They have a daily record book of BM's, child's temperature, mood, hours of sleep, etc. but again, it's in Japanese. Again, laissez faire here.
Are there parent/teacher conferences? Yes. An English-speaking teacher will be there.
Classroom Structure and Size:
How are the kids grouped? By age
What's the teacher-child ratio in each group? 15 with a teacher and two -aides
How many full-time teachers do you have? I think it goes up to Kindergarten.
What is the school's educational philosophy?  Is the school program developmentally-based or does it have an academic focus? I'd say it's a healthy mix of both- but more of a traditional Japanese school (so I have been told).
Is there a playground for the children to play on? Yes. It's outdoors and quite large. They also have a goat!
What do the children do on any given day? What's the general schedule/routine? Morning- PE time, they have music (with the piano and the kids are taught rhythm as well as to feel the emotions in the music)…Example: scary sounds: be a shark. They also play a 3 colored harmonica. They also work on memorizing flags of the world, various art projects, reading your name in Kanji, etc. They also eat a really healthy Japanese lunch every day.
Are there extracurricular activities or field trips? Field trips this year- potato digging in October.
Final Comments or Observations about the School:
Things that I appreciate:
My son LOVES healthy Japanese food
He's learning great routines
He's soaking up Japanese
He's learned to adapt to an intense environment
Things that are hard and real:
I have to be okay with the fact that I don't always know what's going on
It is stressful to be the only kid who speaks English in your class
He has "two lives"- he definitely interacts differently with his Japanese classmates, as opposed to is American friends
I feel that it's important for him to have an English social life outside of school- so there is work in keeping him involved in other activities
Directions: If you leave the Legion gate out of Foster, go straight across the intersection (with the lights). You will make your first right (across a busy street of traffic) and head straight. The expressway will be on your left side. Pass the expressway entrance, keep going straight. There will be a light. Veer left (you will have a mountain on your right, expressway still on your left). Look out on your left hand side- you'll see a school that had a pencil top roof. There will be a large red sign (I think it says Hirayasu in kanji- turn left into a huge dirt lot). There you are!