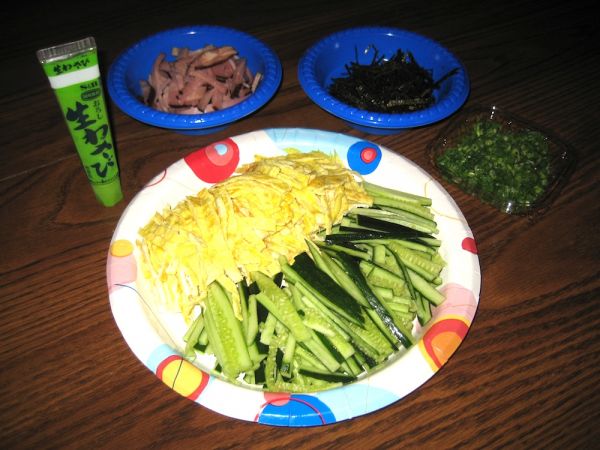 CONTRIBUTED BY CALYN PAQUIN
Just how many of you crave for a bowl of hot soba noodle soup in the middle of Okinawa's hot summer weather? As much as I like them, unless I've been in a building with cold AC, that won't be my first choice. Recently, the caterer for the school I worked at brought Hiyashi Cyuka for the school lunch and it looked so good and the kids ate them up in no time that I asked how I could make them. So one of my colleagues showed me.

Hiyashi Package
You can buy these noodle packs at San A stores for about 198 yen. It includes 2 packs of yellow noodles and 2 packs of sauce. It says Hiyashi Cyuka right on the pack to make it easy and the pack of sauce is already in it so you don't have to buy them separately. According to my friend, even the locals like to buy them pre-packed and she is not sure if they do sell the sauce separately. The sauce taste like soy sauce but it's lighter and has a little sweet taste to it. You put the noodles in a bowl and mix it well with the sauce. No cooking or boiling required. Set aside.

Hiyashi Ingredients
Next, are the toppings. You can make it simple like we did by thinly slicing ham, cucumbers, eggs, green onions and nori (dried seaweed) or you can add sliced carrots, pickled ginger, cherry tomatoes, crab meat, shrimp, boiled eggs, etc, etc. There is no cooking involved except for frying the eggs in our case.
I was in such a hurry to eat, I forgot to take a picture of my bowl! Basically, you fill your bowl/plate with noodles, topped with everything you want and lastly, the sliced nori and then you enjoy it all.

Hiyashi Prepackaged
Here's a picture of one being sold at coco's for 315 yen. It cost more at San A. My husband was hesitant at first to try it but he enjoyed it and asked for it again 2 days later. The kids will enjoy it because they get to put whatever toppings they like. So next time you go to San A, go get those noodles!