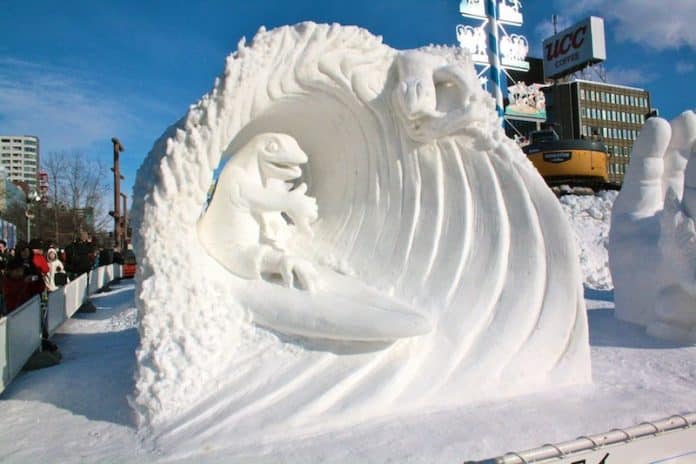 CONTRIBUTED BY SARRA MCMILLAN

Hokkaido Snow Sculpture

Hokkaido TV Tower
Early in February, I purchased Heat Tech products from Uniqlo. I dug out a winter jacket, mittens, leg-warmers, wool socks, and every sweater I own. I found those hand-warmers that my mother always took on skiing trips. I put all these things in a suitcase and I left our sub-tropical island (where 55° F is cold, even for this Canadian!) and I headed north.
Hokkaido (北海道 in kanji) is the northernmost prefecture in Japan. The largest city is the capital, Sapporo. In January, the average temperature ranges from 10.4 to 24.8° F and snow falls in abundance. This is not just ordinary snow, though. Snow sport lovers rejoice as the powder snow and great quantity of mountains in Hokkaido make it perfect for snowboarding, skiing, sledding, snow-shoeing, snow angels… the list goes on!
Visiting Hokkaido in the winter and seeing the famous Snow Festival was high on my "Japanese Life Bucket List." The Snow Festival lasts for one week near the beginning of February (in 2012, the 63rd festival was held from February 6 to the 12). Every year, about two million people head to Sapporo – from Japan and around the world – to see the hundreds of snow statues and ice sculptures that are created at the 3 different sites.
Odori Park is in the center of downtown Sapporo and is the main festival site. Concerts are held in front of monumental and breath-taking sculptures and vendors sell food from around the world. There are plenty of photo ops, starting at the Sapporo TV Tower (which, if you head up, offers views over the city and the mountains surrounding it), stretching for miles down past an outdoor ice rink, sledding for children, and a large jump, where skiers and snowboarders demonstrate their skills.
The website for the snow festival is here and I strongly urge you to check it out later this year, as the 2013 Sapporo Snow Festival should not be missed!

Hokkaido Snow Sculpture 1
I'm going to be honest: one of the main reasons I travel is to eat. My friends designate me as the food-finder and seeker of restaurants. I was in culinary heaven in Hokkaido. As I am ramen-obsessed, I was beyond excited to visit the birthplace of ramen, Sapporo. Good miso-ramen is available everywhere and all you have to look for are the signs of a good ramen shop: small, maybe a little run-down, but crowded with people lining up outside, even in the harsh Hokkaido winter winds.

Hokkaido Ramen
Although not a beer-drinker myself, I can't write an honest review of Hokkaido without mention the breweries for which Hokkaido is famous. The top four include Kirin, Sapporo, Suntory and Asahi. I didn't make it to any of them but if you love your beer, a visit to Sapporo Beer Factory is a must.
Hokkaido is perfectly situated as a seafood paradise. Crabmeat, salmon, scallops, sea-urchin, salmon roe…plentiful and all available fresh! All-you-can-eat crab restaurants are popular among tourists. However, we headed to a sushi shop in Otaru, a small, must-visit town, outside of Sapporo.

Hokkaido Otaru Sushi
Otaru, located northwest of Sapporo, is a popular tourist destination and the streets are lined with sushi shops. Running through the city is a canal, with Victorian-style street lamps. At the same time as the snow festival, the canal is decorated with floating lights and there are ice-candles and sculptures, made by citizens, decorating shopping streets and sidewalks.

Hokkaido Otaru Canal
Genghis Khan is another famous culinary treat that Hokkaido is famous for. Many restaurants specialize in this special helmet-shaped pan made from cast iron. One of the few places in Japan you can feast on mutton, Genghis Khan nabe is especially fun because you get to cook your own food, which always seems novel at a restaurant (but never after a long day at work!)
I recommend checking out the Japan National Tourism Organization for more insight in what-to-do's in Hokkaido. Another great site is Hokkaido Experience, an English booking site. We used this to book a snow-shoeing tour, one of the most memorable parts of our trip. They offer to book walking tours with English guides, snow-mobiles, and more.
Hokkaido is a definite must while you are living in Japan. If offers a completely different experience from the one available in Okinawa (and the food is to die for!) Consider planning a vacation to Sapporo for the 64th Annual Snow Festival!