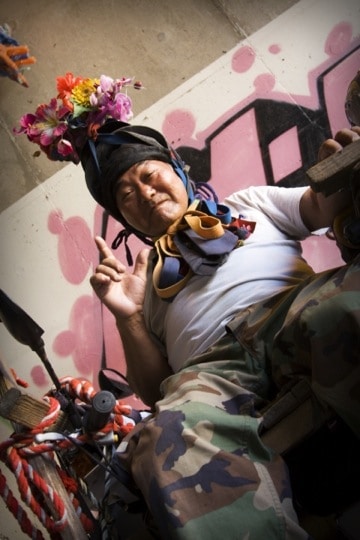 CONTRIBUTED BY ERIN STRAIT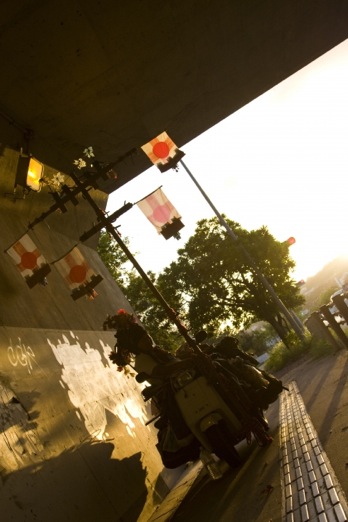 Of course Okinawa has plenty of homeless people, and there are those few faces that you recognize time and time again. One specifically I have seen all over the island, usually hanging out in underpasses with that Okinawa-famous flower hat. Like many homeless regulars of small towns this guy owns the typical rumor of being rich. It is said that he was once extremely rich but something happened to his son that made him go insane.
Tonight on my way home from work I took a different route, just for change, and I saw him. He was sitting on his junk-clad motorbike near the end of a tunnel with a new collaboration of Japanese flags on poles that I had never noticed before. It was beautiful the way the sun was shinning through the end of the tunnel onto him and through his flags. I decided I was going take a chance and take him dinner in the hope of some photo cooperation.
When I first walked up to him, he looked right through me, as most would do to him. I had to literally stop directly in front of him and yell, "Sumimasen," before he took notice of the bag I held out, his eyes with a child-like glint to them. He took the bag of food and said, "Arigato." I told him his new sign was sugoi and asked if I could take a shashin. In perfect English he then asked if I spoke Japanese or English and made me feel foolish for my broken Japanese. I answered English and we proceeded to have a small conversation exchanging names and he told me how he wanted to start a church group up near Camp Hansen.
After our small talk I took a few photos and wished him a good night. As I was walking away I felt terrible for trying to bribe him with food for a few photos and right then and there I decided I would bring him dinner if I saw him again.
Is he really a rich guy that lost his way? I'll never know but his name is Kinjo-San, which translates to golden castle… makes you wonder!