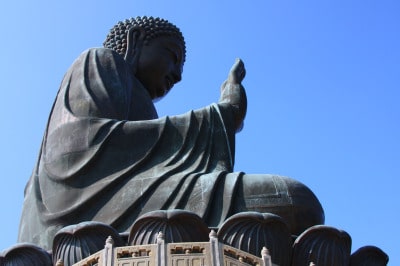 CONTRIBUTED BY MARY RICHARDSON
A short and easy day excursion from Hong Kong is Lantau Island. This outlying island is more quiet and rural than its flashier cosmopolitan sister, which makes it a nice getaway from the hustle bustle and neon. Here, you will find several tourist attractions as well as hiking trails, fresh air, and greenery.
For families and children, Lantau island is the site of
Hong Kong Disney
, built in 2005. We did not visit this park, but it is designed after the original California Disneyland with recreations of many of the same rides and layout, though on a much smaller scale. Tickets for the park can be bought at the gate, online, or at the Hong Kong Ticket Express Counter at Hong Kong Station in Central. For more information about Hong Kong Disney, you can view
their website here
. To get to Hong Kong Disney in about 30 minutes, take the Tung Chung subway line. Transfer at the Sunny Bay stop and get on the Disney resort line.
For outdoor enthusiasts, hikers, photographers, and spiritualists, Lantau Island is also a popular destination for viewing the Giant Tian Tin Buddha, the largest seated outdoor Buddha in the world. Built in 1993, this Buddha sits atop a mountain at 738 meters, offering gorgeous views of the surroundings.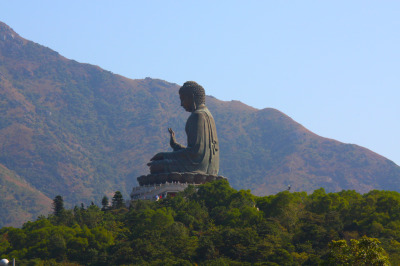 You can reach the plateau where the Buddha sits by hiking up (it takes hours) or paying to take a bus (45 minutes) or cable car (25 minutes). Views from the cable car are really beautiful on a clear and sunny day as you approach the Buddha with a bird's perspective.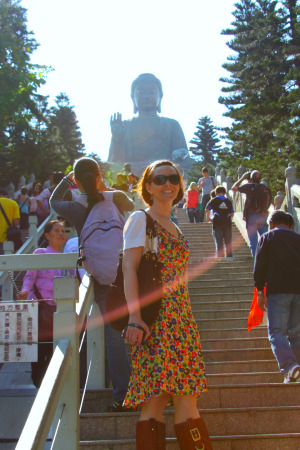 Once you get to the plateau, admission to the Buddha is free, although you do pay your price of admission by climbing up the 260 steps. We were lucky to be there on a cool and humid-free day, so it was a small price to pay!
Nearby the Buddha is the Po Lin Monastery, which houses several additional Buddhas as well as artwork painted on walls and the ceiling. It is a popular spot to stop for lunch as they offer two daily servings of vegetarian meals at 11:30 and 4:30, so it's necessary to plan your schedule accordingly if you wish to take advantage of that.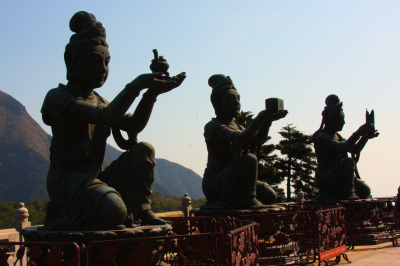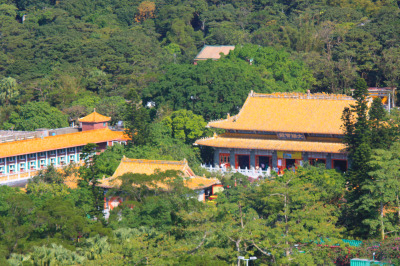 Ngong Ping Village, which visitors will likely walk through to reach the Buddha has several souvenir shops, restaurants, a little museum called "Walking with Buddha" which describes the life journey of Siddhartha Gautauma who lived 2,500 years ago and became enlightened as well as the history and spread of Buddhism around the world. In addition, there is the Monkey's Tale Theatre which shows an animated movie about a monkey who learns life lessons about selfishness and generosity.
Getting to Lantau
is easy from Hong Kong by ferry or subway. Ferries leave every two hours from the Hong Kong Central Ferry Pier, you can buy your ticket there for about $4.00 per person, and they take about 50 minutes to the island, offering great views of the scenery around Hong Kong and the outlying islands. For information on the ferry to Lantau
(Mui Wo)
, including a schedule, check out
their website here
.
We took the subway to Lantau, which took about 30 minutes. Take the Tung Chung subway line until the last stop. From there, you can either take a bus (about $5 person) to the Buddha, which takes about 45 minutes, or the cable car ($15). You can even customize your ticket to include admissions to the museum, movie, and even get a glass bottomed car on the ride up.
*Please note that the cable car option is really popular and be prepared to wait up to two hours to hop on. My recommendation is to get there as early as possible to avoid the lines!