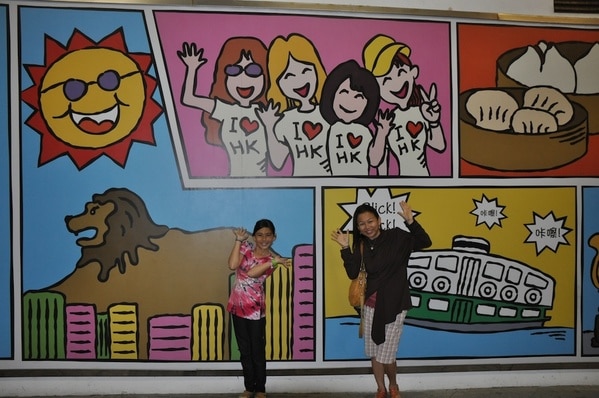 CONTRIBUTED BY CALYN PAQUIN
Ahhhh Hong Kong…. so much to share but I will try to condense it with as much information as I could. The last time I went there was in 1994. Phew that sounds like a long time ago. Wait… it is a long time ago. Sadly, I can't remember much of that trip until I pull out the album with photos taken before digital cameras came along. But this time, I will have my husband and children to help me remember the trip for the rest of my life. Much has changed in Hong Kong as expected. It reminds me very much of Singapore where I used to live. My husband decided we could go to Hong Kong this past spring break. He got us 4 free tickets using United Airline perks and 5 free nights at the JW Marriott hotel using Marriott points. When we checked in, we were given executive category with all day complimentary meals and services at their executive lounge. That was the sweet beginning of our fabulous trip!

HK Love HK
There are three other posts on Hong Kong (see links below), but I am writing to add on other places not mentioned, plus it is traveling there with kids. Hong Kong is not hard to navigate especially with the subways (aka MTR). If your hotel does not provide shuttle from the airport, go to the Airport Express Customer Service Counter to get the adult/child MTR Octopus card. There is a HK$50 refundable deposit each, but that card can be used for bus, tram, convenient store, ferry, etc. You can only buy it with cash so make sure you have enough (HK$150/A and HK$70/C). Every time you top up is a minimum of HK$50. If you plan to take the airport express train, they have different deals depending on how many people are traveling together. Just ask them and they will help you figure out what is the best option for the duration of your stay. Everything at the stations is in Chinese and English and the announcements are made in Cantonese, Mandarin and English. That was basically how we got around the whole time except for a couple of bus rides straight to Ocean Park and Noah's Ark. They have directional sign posts at many cross roads so with a map (from the airport) in hand and a look out for those sign posts, we got around with ease.

HK Street Sign
Eating was not an issue either. If you enjoy Chinese food, your only problem is deciding what or where to eat. If you are not big on eating Chinese every time, there are cafes, western restaurants and fast foods like MacDonald's, Burger King or KFC. My friend recommended www.discoverhongkong.com and it has a lot of valuable information and helpful tips.
I would like to add, before I forget, that if your credit card (for purchases) or debit card (for cash) does not charge transaction fees, it is better to use them. When we checked online, the rate we saw was 7.75 but when we were at the airport, it was 7.1 and at the hotel, it was 7.3. Then when we looked at money changes at different locations, there were all different rates. At one place, the person even negotiated with us and increased the rate 3 times even though we didn't need much. We did notice a couple of places with 7.75. When we checked our statements online later, we did get 7.75 using our credit card and debit card withdrawals so we did that for the rest of our trip.

HK Ocean Park Panda
Now for the attractions. First I will start with Hong Kong's very own Ocean Park theme park. It was very easy for us as our hotel is linked to Admiralty MTR. When you get to the station, go out exit B and take the direct double-decker bus 629 which will take you to the park entrance. *(Before you get to exit B, there is a MTR travel services center where you can get discounted tickets to Ocean Park and Disneyland Hong Kong).
Ocean Park is a park featuring animal exhibits (our favorite was the pandas), many thrill rides for the big kids and adventure land for the not so big kids, cable cars & ocean express train, recreation of "old Hong Kong" street, aqua city plus many shows. Do note that the shows are mostly in Cantonese, some Mandarin and very little English but nevertheless, entertaining. They don't have characters walking around but they do have a mascot meet and greet area where we saw characters like a panda, a red panda, a shark and a dolphin appeared to take pictures with people.
It is a huge park and for HK$280/A (about US$36) and HK$140/C 3-11 years old (about US$18), it's worth the visit. The park is on a hillside so the views are breath-taking. There is a lot of walking up and down hill but they also have escalators. For more details and pictures, go to www.oceanpark.com.hk.

HK Ocean Park View

HK Ocean Park
Next up is Noah's Ark on Ma Wan Island. It opened in May 2009 so it is fairly new. There are many ways to get to Noah's Ark by land or by sea. We bought our tickets via their website and as of Apr 1st 2012, all online purchases get free roundtrip direct shuttle (worth HG$38) for each ticket. So off we went to the Mongkok East station, exit D and followed signs to the Grand Century Place customer care center to claim our shuttle tickets before boarding the bus. Current admissions are HK$130/A (about US$17) and HK$100/C 3-11 years old (about US$13).

HK The Ark
The multi-story building is a full size replica of Noah's Ark in the Bible. It has a hotel and youth hostel located on the top floor, accessible by guests only. The rest of the building consists of gifts shops, a restaurant, ark expo, treasure house (children's museum), ark life education house, rooms and halls for events, conferences and weddings. The outside consists of the Ark garden with 67 pairs of life sized sculptures of animals and a gorgeous view of the Tsing Ma Bridge and the waters. Noah's Ark is not very big so it doesn't take long to cover the vicinity unless you stop and read everything.

HK Close up Ark
If you have more energy after, you can walk over to see the lush Nature's Garden which is free to the public unless they have a wedding or events going on. They do have an open stage performance twice a day but it is done in Cantonese only. A man dressed as Noah walks around greeting people and for the show, he led a group of people dressed in animal costumes on stage and they sang and danced. There are English explanation/signs everywhere but when a person is doing commentary, it is done in Cantonese. The media shows do have English subtitles though.

HK Noahs Ark
I am missing Hong Kong while writing this. Next article, I will write about a few more places to check out!