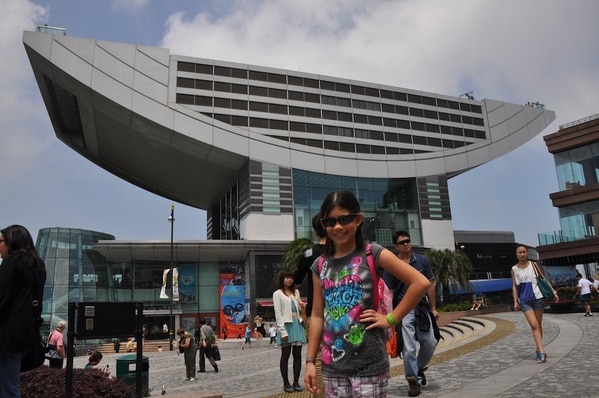 CONTRIBUTED BY CALYN PAQUIN
Hi again, I hope you found the information helpful in Hong Kong with Kids, Part 1. This time, I would like to mention more about the Peak which most people will talk about, but there is so much more than an incredible look out. Well first, you have to make your way to the peak tram to get up there. Take the MTR to Central Station, exit J2 and follow the sign post for a little walk up hill. I do want to add that we saw one of the bus stops for the Hong Kong Big Bus Tour on our way to the Peak tram terminus. We really wished we could have taken that at the beginning of our trip but we didn't have the chance. We did take one in Singapore and they are similar in the way they operate. For about US$25 per adult, you can hop on and hop off within 24 hours and it has three routes that covers popular sights so you can decide what you want or don't want to see.
Anyway, when you get to the Peak tram terminus, you can buy tickets for just the cable tram ride or a combo including the Peak Tower Sky Terrace and Madam Tussauds wax museum admission tickets. We wanted to go to the wax museum but since the sky terrace is only a few bucks more, we added that, too. It was under US$30 for adults and about US$15 for children (3-11). When you get off the tram, you come out to a shopping center. There are restaurants, souvenir shops, etc so lots to see and to spend a few hours or even a day there.

Hong Kong Peak

Hong Kong Peak 2

Hong Kong Peak
At level P1 of the Peak tower is the Madam Tussauds Wax Museum. It has six themed areas: Hong Kong Glamour, Historical and National Heroes, World Premiere, SCREAM, The Champions and Music Icons. We didn't care to go to the SCREAM section so I don't have any comment for that section but the rest of it was fun for us. We took pictures with almost every wax figure; Nicole Kidman, Bruce Lee, Michael Jackson, Princess Diana, the Beatles, Lang Lang, Yau Min and many more. Jackie Chan was the only figure we couldn't use our camera for pictures but they have a photographer to take a couple shots as you enter the museum. You can purchase the picture in different packages as you exit and they are pretty reasonable.

Hong Kong Star

Hong Kong Wax Museum
Another museum that we took our children to was the Hong Kong Science Museum. To get there, take the MTR to Tsim Sha Tsui Station and walk along Cameron Road from Exit B2. Look out for those sign posts. It has many hands on science related objects so the kids had a blast trying on everything they could. My favorite part was the 22-metre-high twin-tower Energy Machine in the building that operates on schedules and it was amazing watching all the balls go from one action to another. The World of Mirrors was fun, too. Admissions were under US$5/adult and half price for children. Wednesday's admissions are free.

Hong Kong Science Museum
Lastly, I want to add a few more activities you can do with your kids. If you don't want to take any of the river cruises (we didn't) you can use your MTR card and ride one of the ferries. We took one from the Central pier to Tsim Sha Tsui and that was short and sweet. They do have nightly harbor cruises and one of the highlights is the A Symphony of Lights multimedia display show nightly at 8 pm. We were told that Tsim Sha Tsui's water promenade where the Avenue of Stars is located has the best views so that's what we did. We took the MTR there, walked around spotting hand prints on the ground of Hong Kong's celebrities before settling down somewhere to enjoy the beautiful view of the harbor. Even without the light show, the brightly lit buildings were breath-taking. The show was alright to us. They announced something on the intercom about the show and then music started playing and lights from more than 40 buildings on both sides of the harbor lit up to accompanied it.

Hong Kong Skyline
I can't end without mentioning about shopping. Besides wanting my family to see Hong Kong, my other key interest was to shop till I drop! I do not fancy high end malls although I don't mind window-shopping there. Pacific Place is connected to the Marriott Hotel where we stayed so it was great for us. IFC mall at the airport express and Hong Kong station is huge. Late night shopping at APM – Kwun Tong station if you want more. My favorites are the street markets. One late afternoon we took the MTR to Mongkok station, looked at the city map, and kept walking and stopping at every street market we saw. The best part was we don't have to back track to find the MTR. If you walk along Nathan Street, you'll hit several MTR stations when you get tired of shopping. You will also see so many eateries! Remember to haggle when you shop at the street markets. If you have been to Asian countries you know the prices they quote you are always way high. As long as you are reasonable and nice about it, chances are you'll get the price you are willing to pay, if not at least close to it. I witnessed someone being told loudly to "get out!" by a merchant for whatever reason I don't know. That said, I hope you get to visit Hong Kong soon or that these two posts brought back sweet memories for you.

Hong Kong Street