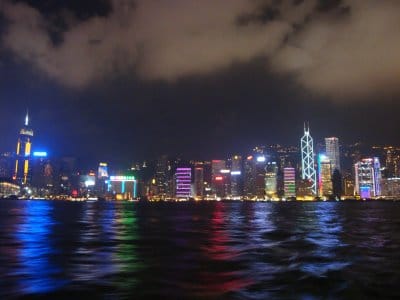 CONTRIBUTED BY CHRISSY MILLER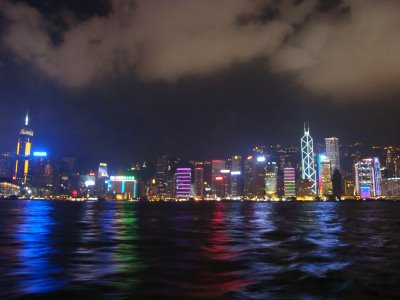 We booked the trip through HIS travel here on Okinawa, so all of our airfare, hotel accomodations, and some meals were included (actually Kev and I enjoy eating out so the only meals that were included were breakfast). Hong Kong is a mere 2 hour flight away from Okinawa, so we were able to fly direct on Hong Kong Express. The HIS guide was supposed to meet us at the arrival terminal but after waiting about a half hour, we started to wonder whether we had been forgotten. I went over to the airport information desk and was told that guides usually wait at another arrival terminal. Terminal B. We were waiting at Terminal A. So after gathering our belongings, we walked over to Terminal B and that's where he was! Our guide didn't speak any English, but he did speak Japanese, so I was able to act as translator for Kevin. Our guide drove us to our hotel which was in Kowloon (about a 45 minute drive from the airport).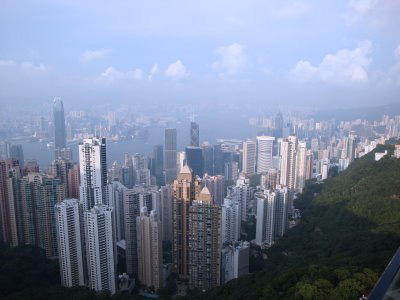 Hong Kong is pretty much like any large metropolitan city, it has several different neighborhoods (all densely populated). Hong Kong island is where most of the luxury hotels are, it's the heart of the city. Kowloon is very much an urban area with tons of people, but since it offers a lot of great sites to see, that's where we opted to stay. Our hotel was a 5 star hotel called the Royal Plaza Hotel. The hotel was located within a shopping mall and had a subway station close by so it was very convenient.
The first day, Kev and I walked around Kowloon, following a "walking tour" we found in our Lonely Planet guidebook. Let me warn you, if you plan to come to Hong Kong, make sure you wear some comfortable shoes….Kevin and I did A LOT of walking, I mean A LOT. We planned to walk, but when following the guidebook, we noticed that some of the routes we were told to take didn't exist or were under construction. Hong Kong is one of those cities that has a lot of construction. They are building new hotels and new buildings for all the foreign investment that is coming in.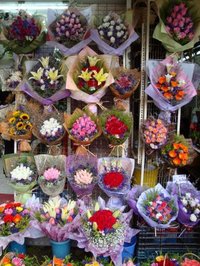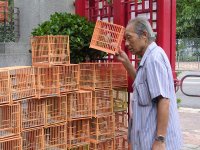 Anyway, I digress. The point I wanted to make is that just expect you have to walk. Yes, Hong Kong has an excellent public transportation system, but still you will have to walk. So back to our tour, we decided to visit some of the more popular sites in Kowloon. Our first stop was the Flower Market. This is an area of Kowloon that has flower vendors selling exotic fresh cut flowers and plants. It was amazing to see all the trucks unloading the flowers. The fragrance in the air was amazing!
After the first day, we went to a small fishing island called Cheung Chau where we ate some interesting seafood.  We also went to Victoria's Peak (very commercialized), Stanley Market and ended our Hong Kong trip with a trek to the island of Lantau to visit the large bronze Buddha.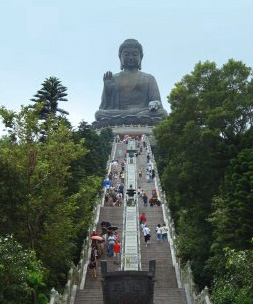 Hong Kong is a great place to visit if you're looking for interesting culture, great food at great prices, and if you need to be in a big, busting city.  If you're not one for crowds, be warned….Hong Kong is very densely populated…think Tokyo but with more people….
However since it is only a 2 hour flight from Okinawa, take the opportunity to go!  And get another stamp in your passport.